Italian girls impress at European Cup for Cadets in Coimbra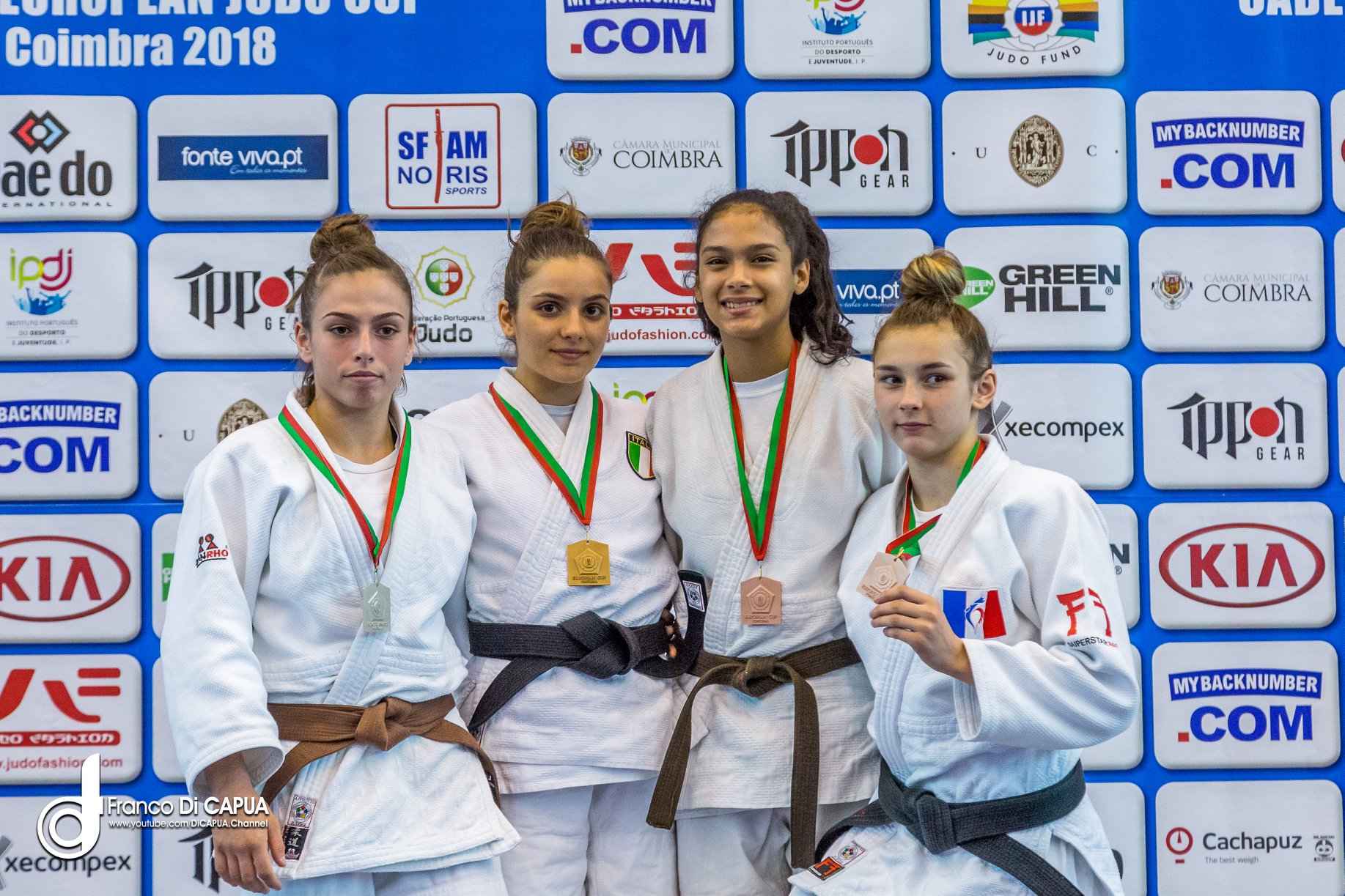 27 May 2018 23:55
Franco Di Capua
The Italian girls showed their capabilities at the Cadet European Cup in Coimbra. In Portugal the Italians took five gold medals and 10 in various colours. The Azeri young men were strong with seven medals including three golds, but also the Italian boys were able to claim seven medals.
The first gold among the boys was for Italy's Cristian Miceli. Jacob More won gold U55kg, the only oversees title. Azerbaijan won three gold by Zamaddin Poladov U60kg, Vugar Talibov U66kg, both categories with more than 40 young men. On Sunday heavyweight Toghrul Salmanov took a gold medal for Azerbaijan. Normally Russia is dominating these European Cups but in Coimbra a small team of 9 athletes appeared and Daler Shonematov took gold U73kg.
Czech Republic cadets are rising and with two gold medals for Martin Bezdek U81kg (his second this season) and Ester Svobodova U70kg there's a new wind blowing. The last victory for Bulgaria at cadet level was in 2015 by Denislav Ivanov, but on Sunday Borislav Vladov showed his name in the result with a gold medal U90kg as ultimate performance.
In the girls U40kg Bulgaria was very close to a second gold, but Italy's Giulia Giorgi, her second and twenty gold medals for Italy's cadets so far this season. Silvia Drago won her second gold this season as well. Then Assunta Scutto U48kg who won gold on that amazing Saturday. Why not take a fourth gold medal? Federica Silvi advanced with gold against Veronica Toniolo who was posied to win her fifth title, but what a dominance by the Italian girls, a new generation coming up.
Laura Vazquez Fernandez took gold for Spain on Sunday U57kg and Portugal celebrated its only gold medal as Joana Crisostomo, seven years older than her brother Joao Crisostomo who showed himself at the Senior Europeans in Tel Aviv lately and competed in Hohhot GP. Joana surprised with her first medal this year and first gold since 17 April 2016 in the cadet European Cup for Portugal. Gold for Ester Svobodova (CZE) as mentioned and the heavyweight gold, of course for Italy by Erica Simonetti.