The latest Judo News offered by JudoInside.com
Interview with judo siblings and super talents Hifumi and Uta Abe
IJF media Department IJF Media Team / IJF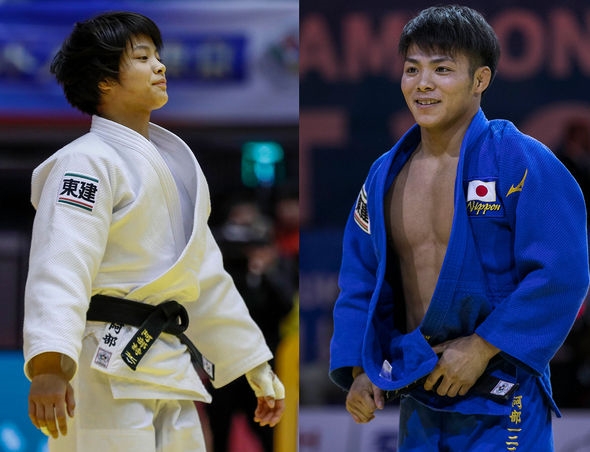 One of the most remarkable siblings in the world of judo are brother and sister Abe. Two world titles went to the same household in August as the Abe siblings both won gold and are now on the lips of everyone in Japan with Tokyo 2020 on the horizon. Hifumi Abe is the world champion U66kg, but his sister won the World junior title and is as lethal as her brother and became the youngest ever winner in the IJF World Tour. Get to know more about the Abe's.
Uta: When we were young we played video games together, but he always gave me a hard time and really annoyed me.
Hifumi: Yeah, but she always ate all the icecreams out of the freezer, but that's about the only thing I can think off. In the past we used the fight a lot and used to make a mess in the house. But today we don't fight at all I see her as my little sister. I feel it is my responsibility to take good care of her.
Abe Hifumi, who rose to domestic fame by winning the Nanjing 2014 Youth Olympic Games, has been surrounded by hype and subject to an intense media spotlight due to his staggering success while still a teenager on the IJF World Judo Tour.
The U66kg world number one, now 20, won two Grand Slams in 2017 (Paris and Tokyo) either side of winning the World Championships at his first attempt. Abe has a 37-2 win-loss record on the IJF World Judo Tour and is unbeaten since 2015 with a winning-streak of 28 contests. His two IJF defeats came at the hands of Mongolian ace Davaadorj Tumurkhuleg but the Tokyo 2020 favourite beat him for the first time in the Tokyo Grand Slam quarter-finals in December.
Junior world champion Abe Uta, 17, is the youngest Grand Prix winner in history after winning the 2017 Düsseldorf Grand Prix at the age of 16. The -52kg star won her home Grand Slam in December and will now be fast-tracked from the junior age group to be integrated into the senior team full-time with the 2018 World Championships in Baku in mind.
Hifumi: When Uta started judo, at first I was a bit worried as she is my little sister and I care about her a lot, but when I realized she had a passion, it was great with her.
Uta: I grew up watching my brother, so my attacking style came naturally to me. It might be in the genetics, as my father is a very passionate person, although he is not a judoka, but he works hard and is a very positive person, he has a big influence on me.
I am very motivated to win, as my brother leads by example. I really look up to him and try to follow in his footsteps, at least I hope in the future.
The five-time Grand Slam winner, who has one of the poster boys of Tokyo 2020 since before his Worlds triumph, can expect to have his every move watched with a magnifying glass now and to be the subject of many more campaigns in addition to seeing his face on posters at the Tokyo Skytree, the world's tallest tower and one of the leading tourist attractions in Japan.
Hifumi: Seeing my sister make her debut in the international scene is a very special thing. We have the same goal and passion to support each-other under pressure. And we try to support each-other in a positive way to overcome the next obstacle.
Our parents are always so nervous, they don't even have an appetite, now with both of us, it must be double.
Uta: We were watching the World Championships with the whole family. After Hifumi won the world title, we all hugged and shook hands and celebrated. I have been thrown by him so many times, but if I was going to catch it would be sode-tsuri.
Related judoka and events
Related Judo Photos
Related Judo Videos
Related Judo News