Foreign women facing trouble winning Grand Slam Tokyo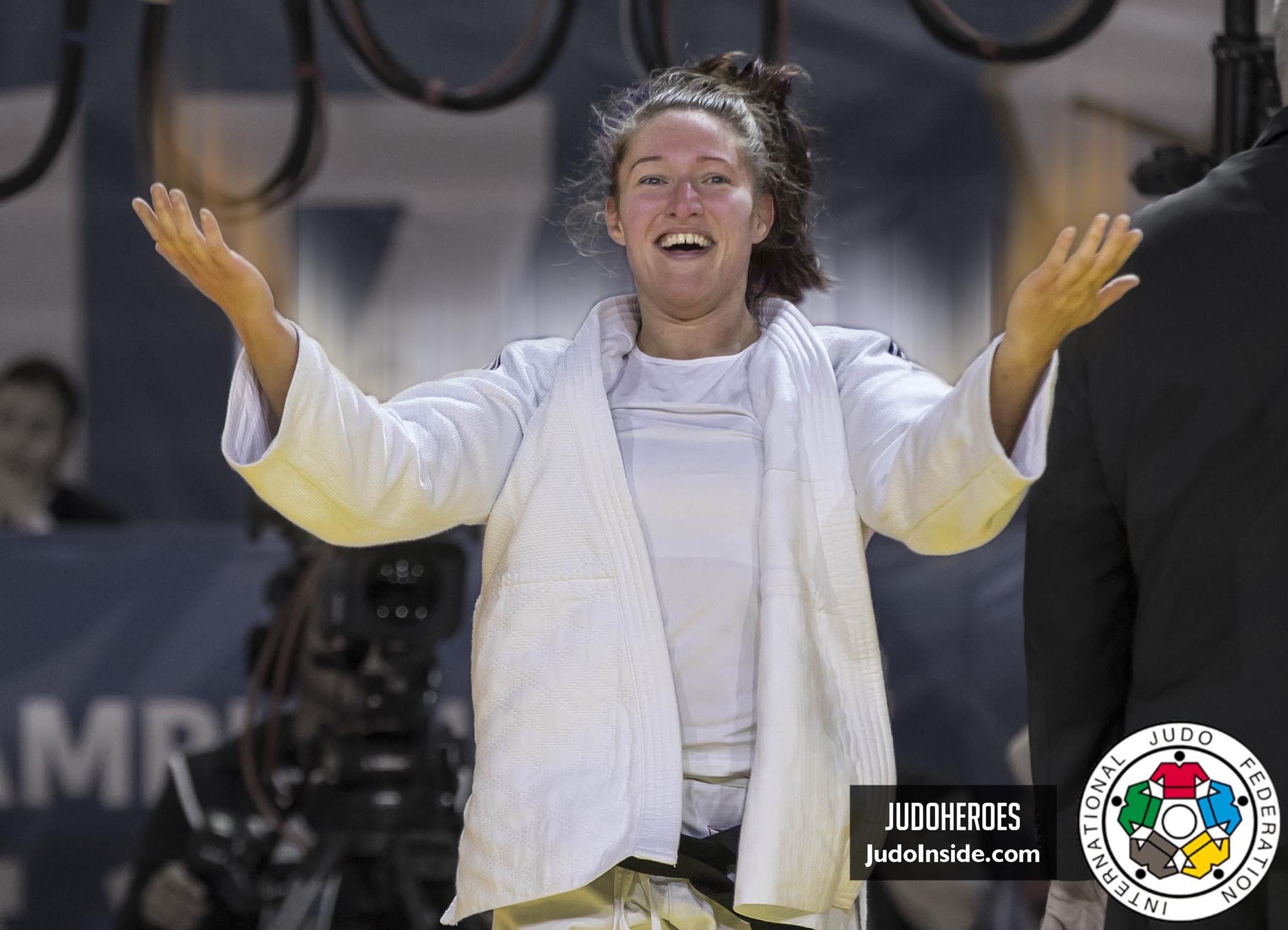 1 Dec 2017 13:55
JudoHeroes & IJF Media / Copyright: www.ijf.org
Only 14 foreign women have ever won the Grand Slam in Tokyo. All other titles were captured by the female home judoka. Kayla Harrison and Urska Zolnir won the Grand Slam twice. Most successful country in France having four women that won the Grand Slam: Decosse, Agbegenou, Emane and Tcheumeo. Last year only Urantsetseg Munkhbat (MGL) and Kathrin Unterwurzacher (AUT) were able to win the precious title.
Women U48kg
World number one MUNKHBAT Urantsetseg (MGL) returns to U48kg obligations in Japan after taking bronze in the -52kg category at The Hague Grand Prix. MUNKHBAT is line to pocket a $50,000 bonus if she can hold on to the world lead until the end of the year but has former teammate and Olympic bronze medallist GALBADRAKH Otgontsetseg (KAZ) only 220 points behind her and with both fighting in Tokyo. The two current standard-bearers for the -48kg category have faced each other eight times in international competition with MUNKHBAT winning five of them while the three wins for GALBADRAKH all come in 2016.
World champion TONAKI Funa (JPN) will don new red backpatch for the first time and the 22-year-old will be under pressure to win her home Grand Slam for the first time. Olympic bronze medallist KONDO Ami (JPN) took bronze at the World Championships this year and looks set to battle it out with TONAKI for Japan's one U48kg place at their home Olympics in 2020.
Women U52kg
World champion SHISHIME Ai (JPN) enters her first IJF World Judo Tour competition since winning gold in Budapest. Like her lighter teammate TONAKI, world number two SHISHIME will wear red on her gi for the first time and also has the ambition of winning the Tokyo Grand Slam for the first time. SHISHIME, 23, was won four medals at Japan's Grand Slam (three bronze and one silver) but starts as the reigning world champion and heavy favourite for the first time.
World silver medallist TSUNODA Natsumi (JPN) and 17-year-old Junior World Championships winner ABE Uta (JPN) will be the leading challengers for their teammate while 2016 Tokyo Grand Slam bronze medallist TATSUKAWA Rina (JPN) will also be in the medal reckoning.
Women U57kg
Olympic champion Rafaela SILVA (BRA) has fought at the Tokyo Grand Slam six times and counts three Tokyo Grand Slam bronze medals among her medal collection. SILVA, 25, lost in the second round at this year's World Championships to Telma MONTEIRO (POR) but responded by taking silver at the Abu Dhabi Grand Slam in October. The gold backpatch of SILVA will be in the sights of world silver medallist YOSHIDA Tsukasa (JPN) and world bronze medallist Nekoda SMYTHE-DAVIS (GBR) as well as former Japanese international DEGUCHI Christa (CAN) who represents Canada for the first time in Japan.
Japan's ranks includes former world champion UDAKA Nae (JPN), 2016 Tokyo Grand Slam bronze medallist and former Junior world champion TAMAOKI Momo (JPN) and 2012 Tokyo Grand Slam winner YAMAMOTO Anzu (JPN) who is been in favour after winning the Kodokan Cup in November.
Women U63kg
Olympic champion and European champion Tina TRSTENJAK (SLO) lost the World Championships 2017 final to her familiar foe Clarisse AGBEGNENOU (FRA). TRSTENJAK defeated the Frenchwoman in the Olympic final last year but that result was reversed in the Worlds final this year as both judoka now have their own coloured backpatches with gold for TRSTENJAK and red for AGBEGNENOU.
The U63kg kingpins were due to continue their story in Tokyo until AGBEGNENOU was forced to withdraw with a collarbone injury which presents a clear path for TRSTENJAK if she can fight to the best of her ability.
World number three Kathrin UNTERWURZACHER (AUT) has been prolific in 2017 and adds to Europe's stranglehold of the category. The European bronze medallist has won two Grand Prix since April and took bronze at the Abu Dhabi Grand Slam in October. Abu Dhabi Grand Slam winner Edwige GWEND (ITA) and The Hague Grand Prix winner Juul FRANSSEN (NED) will also see action (NED) while Japan will look to double world bronze medallist TASHIRO Miku (JPN) and Asian Championships winner NABEKURA Nami (JPN) to win one of the few categories which they don't have all their own way.
Women U70kg
World champion ARAI Chizuru (JPN) is undefeated in 2017 and will be looking to compete a hat-trick of wins at her home Grand Slam event. ARAI, 24, has thrived since Olympic champion TACHIMOTO Haruka (JPN) retired this year with wins at the Paris Grand Slam, Dusseldorf Grand Prix, All Japan Championships, World Championships and was event part of Japan's first mixed team champions on the last day in Budapest. ARAI is in pole position for gold on day one in Tokyo.
European champion Sanne VAN DIJKE (NED) lost out to Kim POLLING in The Hague Grand Prix final by a margin of three waza-ari scores. Only VAN DIJKE will be in Tokyo and the Dutch ace needs to perform as every competition counts ahead of the lengthy battle for the race for the sole U70kg Olympic berth.
Women U78kg
World number one Natalie POWELL (GBR) has not rested on her laurels since becoming Britain's first world number one in October. Instead the 27-year-old Welsh judoka, who won the Abu Dhabi Grand Slam to capture the world lead, headed straight for Japan for a four-week training camp before fighting at the Tokyo Grand Slam. The world bronze medallist competes in Japan's capital for only the second time in her career and first since 2013. World number two Guusje STEENHUIS (NED) won The Hague Grand Prix in November to close the gap on POWELL and took silver at this event in 2015. Former world champion UMEKI Mami (JPN) has never won the final Grand Slam of the year and needs to achieve that to be the early candidate for Tokyo 2020 for Japan at this weight. Double Olympic medallist and former world champion Audrey TCHEUMEO (FRA) is the most accomplished judoka in the Saturday's category and is undefeated at the competition having won it in her only appearance at Japan's Grand Slam in 2010.
Women +78kg
Openweight world champion ASAHINA Sarah (JPN) powered to victory at the revived event in Morocco in her last competition including a win over former Olympic and world champion Idalys ORTIZ (CUB) in their first meeting. The 20-year-old has banished her disappointment from finishing with silver at the World Championships in Budapest and is already the preeminent force in the women's heavyweight category and looks set to control it for the duration of this Olympic cycle and beyond.
World bronze medallist KIM Minjeong (KOR) is a three-time Grand Slam medallist and will be in medal contention while double world silver medallist Maria Suelen ALTHEMAN (BRA) is a four-time Grand Slam winner. Three-time Grand Slam winner INAMORI Nami (JPN) only took bronze at the Zagreb Grand Prix in her last competition and faces being ousted by 17-year-old Junior world champion SONE Akira (JPN) who took silver in Tokyo a year ago.