The latest Judo News offered by JudoInside.com
Slovenian World Championships runner-up Mihael Zgank switches to Turkey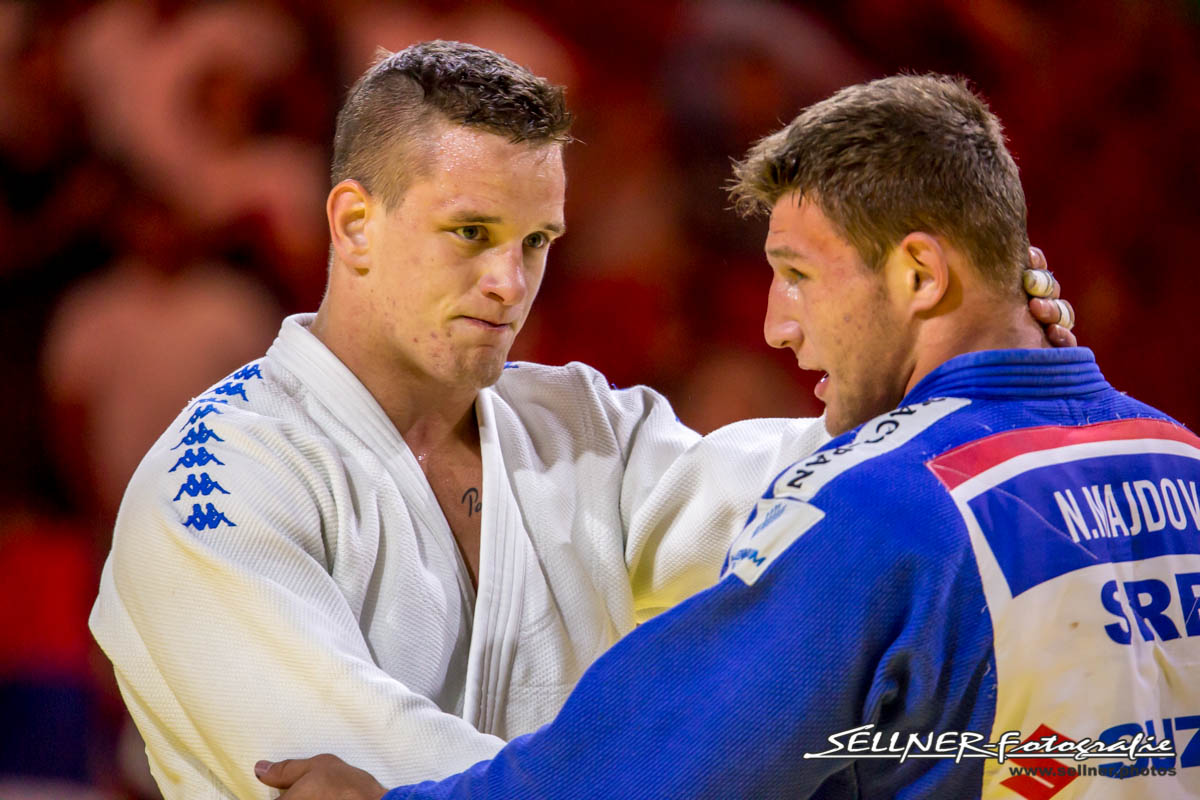 World silver medallist Mihael Žgank of Slovenia received an offer he cannot refuse and by this he will secure his career as from now on in the judo world as he will fight for Turkey in the future. "I may bring with me some additional knowledge that I will obtain abroad. If everything goes as it should, I could start collecting points for the strength scale in a few months, which is a prerequisite for qualifying for the Olympic Games in the national team of Turkey" Žgank said for RTV Slovenia.
The 23-year-old Žgank won the silver medal at Budapest World Championship, where he was defeated by Nemanja Majdov (SRB) with the difference of one shido.
The U90kg Slovenian fighter, was already thinking to quit judo, after he lost at the Europeans in Warsaw. At that time, he said he would finish his career if he did not do anything at the World Championship, but after he won the silver medal, he received the offer by the Turkish judo Federation which he just couldn't refuse.
Reaction Marjan Fabjan: "I am really happy for Miha. He trained with me for a long time, he trained hard and he really deserves this chance. I give him all the freedom that he needs and it is definitely not borom from any conflict. We work hard at the club (Sankaku Celje), we take care of our players also after their careers. We make sure that they get money. But obviously it is clear that if you get about 800 euro per month, and this chance is coming by, that Miha thinks about it. I wish him all the best because he is a great player, he deserves it. So me and the club give him gim all freedom, perhaps the Federation can stop him, that is not up to me. But I don't want him to stop this decision."
Fabjan is the coach of many successful athletes such as Olympic Champions Urska Zolnir (2012) and Tina Trstenjak (2016) as well as 30-year old former European Champion and five time European medalist Rok Drakšić and current silver European medalist Adrian Gomboc (22yr). Fabjan says about Draksic: "Roki will be coach, I cannot yet say which club, but he will be a club coach and we are good together."
Žgank who won his first international youth medals in 2010 made his senior debut in 2012 when he was 18. In 2013 he won the European Cup in Celje, a strong international tournament and in 2014 he won bronze at the European U23 Championships when he was 20. In 2015 he won his first World Cup, in Cluj Napoca in Romania and more smaller tournament wins followed. In the IJF World Tour he picked up bronze medals in Tashkent and was invited for the IJF World Masters where he won bronze. With silver in Budapest he qualified for the Olympic Games but couldn't impress. This year he geared up impressively with bronze medals at the Grand Slam in Paris and the Grand Prix in Düsseldorf, but was unsuccessful at the European Championships. But again in Budapest he won a silver medal at the highest level in the final against Nemanja Majdov where the difference was really close.
Žgank is not the first switcher to Turkey. In the past successful athletes such as Selim Tataroglu and Huseyin Ozkan changed from Chechnya to Turkey in the nineties. More familiar are the steps of Kayra Sayit from France and Bekir Ozlu from Georgia and at lower level Yucel Emirhan (GEO-TUR) and Merivan Tankos (NED-TUR).
Mihael Žgank will give his reaction after he agreed with the parties involved. For now he doesn't want to give a reaction yet as he respects the situation for both Federations that official contracts must be cleared first.
Mihael Žgank will give his reaction after he agreed with the parties involved. For now he doesn't want to give a reaction yet as he respects the situation for both Federations that official contracts must be cleared first.
At 4 November Rok Draksic moved as coach of JC Belgrade
Related judoka and events
Related Judo Photos
Related Judo Videos
Related Judo News
All judo results of
Teddy Riner
,
Daria Bilodid
,
Tadahiro Nomura
,
Shohei Ono
,
Ronda Rousey
,
Majlinda Kelmendi
,
Clarisse Agbegnenou
,
Ilias Iliadis
,
Flávio Canto
,
Fabio Basile
,
Joshiro Maruyama
,
Naohisa Takato
,
Hifumi Abe
,
Uta Abe
,
Rafaela Silva
,
Lukas Krpálek
,
Tina Trstenjak
,
Kayla Harrison
,
Tsogtbaatar Tsend-Ochir
,
Nemanja Majdov
,
Jorge Fonseca
,
Nikoloz Sherazadishvili
,
Guram Tushishvili
,
Varlam Liparteliani
,
Sagi Muki
,
Noël Van 't End
,
Saeid Mollaei
,
Christa Deguchi
,
Manuel Lombardo
,
Marie Eve Gahié
,
Lukhumi Chkhvimiani
,
Distria Krasniqi
and
142000+
other judoka in
628000+
results and
420000+
judo matches including the recent
Grand Slam Düsseldorf
,
Grand Slam Paris
,
Grand Slam Osaka
,
World Championships Tokyo
,
World Championships Baku
and
15000+
major judo events. More judo info than you can analyse 24/7! Share your results with your judo network.
Become an Insider!