The latest Judo News offered by JudoInside.com
Interview World Champion Nemanja Majdov three weeks after that special feeling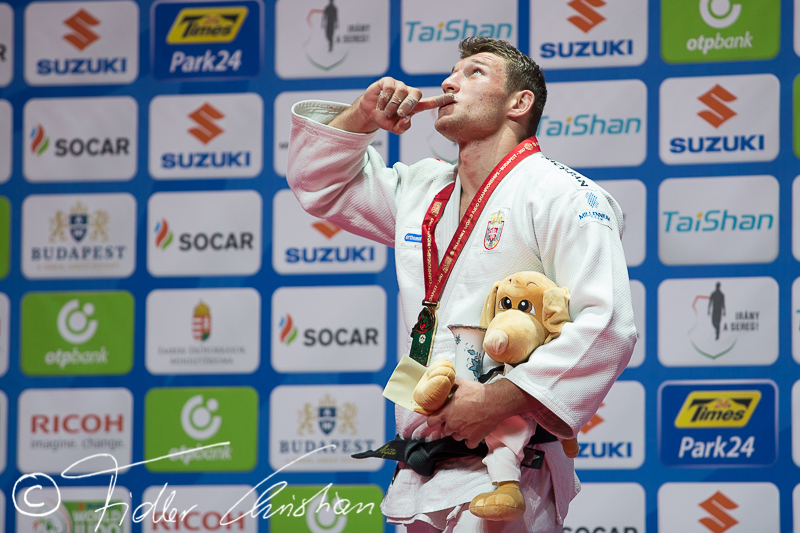 Both Serbian top athletes Aleksandar Kukolj and Nemanja Majdov have very good excuses not to take part at the first European Open in Belgrade. European Champion and world ranking number one got father on Friday of a son. The family is doing well and Aleksandar will do the utmost to witness the event for a short while.
Nemanja broke his rip at the World Championships in his match against Ushangi Margiani. After his world title he had a crazy time, but he knew it was coming. Majdov told everyone public 8 weeks in advance and each week again in his social media that he would be the new world champion.
Majdov who is a strong believer in God was convinced to become world champion at 1 September and in his social media you can witness the build up to that amazing performance. In the morning of 1 September he was the first one in the hall, the first on the tatami, alone... he thought, one JudoInside photographer left. "I was with Kukolj in the room and he was joking because I was up to early and I went to the hall very early. Who took that picture? I really thought I was alone and it was perfect to feel the tatami, to think about what was about to happen."
"I never had a stronger believe than that day, but I felt it coming 8 weeks in advance. I knew it, and although I broke my rib, nothing would stop me. I lost to Toth and lost to Zgank this year, but at 1 September I felt it was going to happen."
"It's either become the king or die. I said it to everyone, it was on the board of our gym that I would be the new world champion, so that's gutsy, but I just felt it. Of course I did have a good feeling before for instance at my second European Junior title in Malaga. I also felt good in Warsaw at the European Championships, and I finished seventh there. I was ready to win, and I was also ready to be criticized if I had lost. I didn't know I had broken my rib, I discovered 20 days after the title and we went to the doctor."
"Really that golden score in the final against Mihael Zgank could have lasted for an hour. There was no way to stop me, and I know that sounds strange or rare to people, but the real athletes know that feeling. After the World Championships it was a crazy time of course, for instance I was with the president and had congratulations of everybody. I am the first world champion in any sport in Bosnia where I live, of any sport, so it's very special. I live in East-Sarajevo where I have my gym, my school everything that facilitates me. In East-Sarajevo I have my roots and I come down to earth.
"In between one of the contest in Budapest, I was preparing for my match in the call room and I sang a song, a Christian song. One week after my world title I went to church and I was a bit late, and people didn't know that I came. When I came in, the people sang that song. This is a message of God. I cried. I still get the shivers thinking about it."
"Now is a period to recover, maybe Golden League or Grand Slam Tokyo, let's see, but I need to be totally fit otherwise I won't fight. I have had too many injuries and I know my body."
Have a look at Nemanja's Instagram account in advance of the World Championships.
Serbian World number one Aleksandar Kukolj has a very good excuse not to take part at the first European Open in Belgrade. The European Champion got father on Friday of a son. The family is doing well and Aleksandar will do the utmost to witness the event for a short while.
Related judoka and events
Related Judo Photos
Related Judo Videos
Related Judo News
All judo results of
Teddy Riner
,
Daria Bilodid
,
Tadahiro Nomura
,
Shohei Ono
,
Ronda Rousey
,
Majlinda Kelmendi
,
Clarisse Agbegnenou
,
Ilias Iliadis
,
Flávio Canto
,
Fabio Basile
,
Joshiro Maruyama
,
Naohisa Takato
,
Hifumi Abe
,
Uta Abe
,
Rafaela Silva
,
Lukas Krpálek
,
Tina Trstenjak
,
Kayla Harrison
,
Tsogtbaatar Tsend-Ochir
,
Nemanja Majdov
,
Jorge Fonseca
,
Nikoloz Sherazadishvili
,
Guram Tushishvili
,
Varlam Liparteliani
,
Sagi Muki
,
Noël Van 't End
,
Saeid Mollaei
,
Christa Deguchi
,
Manuel Lombardo
,
Marie Eve Gahié
,
Lukhumi Chkhvimiani
,
Distria Krasniqi
and
143000+
other judoka in
630000+
results and
420000+
judo matches including the recent
Grand Slam Düsseldorf
,
Grand Slam Paris
,
Grand Slam Osaka
,
World Championships Tokyo
,
World Championships Baku
and
15000+
major judo events. More judo info than you can analyse 24/7! Share your results with your judo network.
Become an Insider!