The latest Judo News offered by JudoInside.com
Soichi Hashimoto claims expected gold medal U73kg
IJF Media Team / International Judo Federation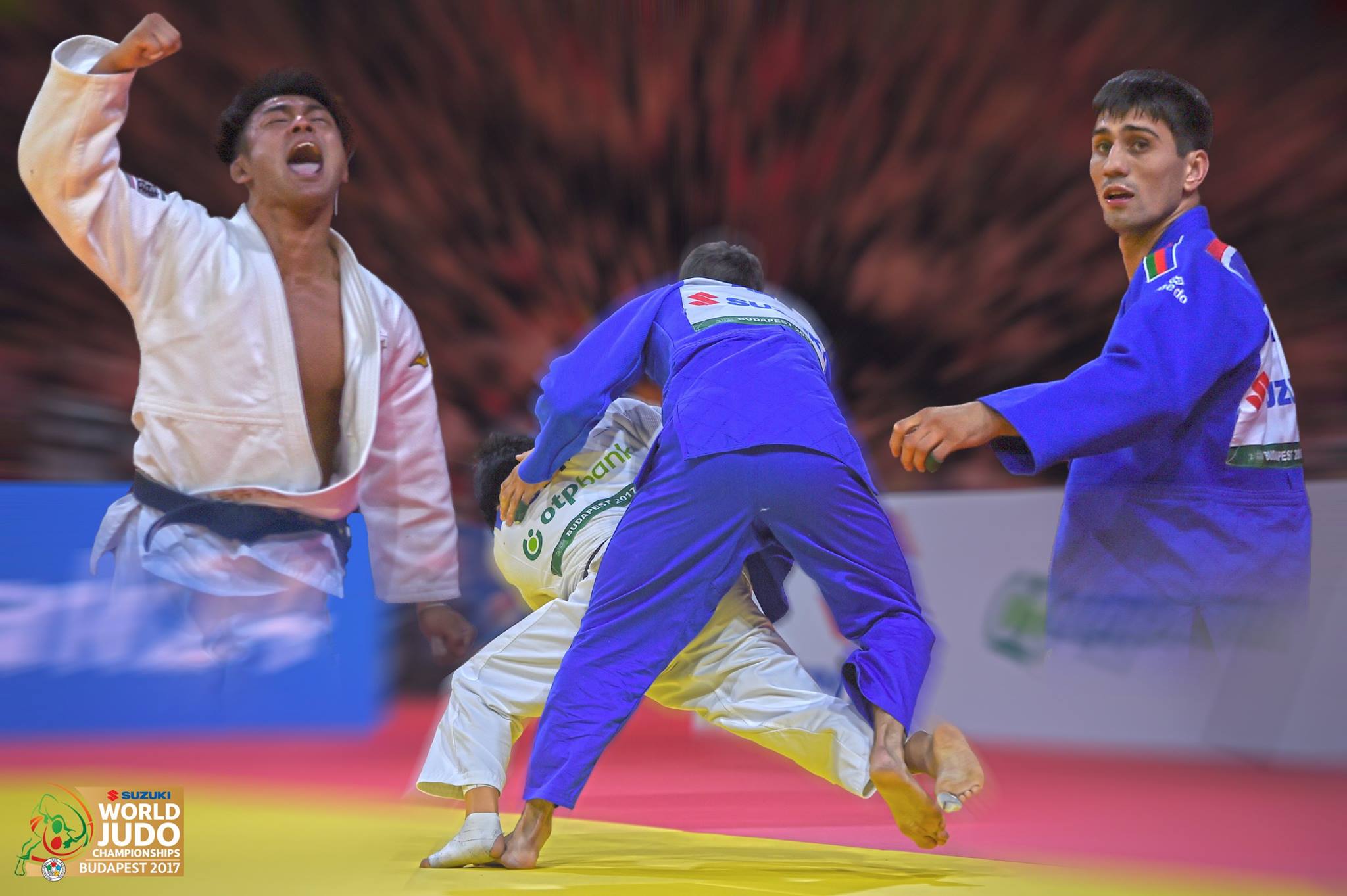 Japan captured another gold medal, their fifth in total and eight medals in total counting juist three days of fighting in Budapest. Soichi Hashimoto was the expected winner, and despite 73 judoka in this category U73kg, still the favourites were able to win the medal. Ganbaatar Odbayar was more of a surprise medal for Mongolia, another one from this relative new judo country.
Surprisingly Hashimoto didn't score in the regular time and Orujov who is in an amazing flow today gave Hashimoto a hard time but after 1:42 Hashimoto scored the decisive point. Many judo lovers didn't agree with the score and the slow motion on the screen showed their doubts, but the score wasn't pulled back after analyzing the footage and Hashimoto won the world title. Perhaps for the feeling it was better to wait for the final score for Hashimoto who was in an amazing shape. It was the dream final between two great athletes. The European Champion on 2016 and runner-up of the 2016 Olympic Games gave everything today but was awarded with silver.
Hashimoto gave Japan the fifth gold medal, an unrivaled performance. JudoInside checked with team manager Kosei Inoue that Hashimoto is undefeated since April 2016. In those two years he did not only win all his matches, but also didn't fall, no score against. Inoue: "No you're right, not that I can remember, no score, but I remember one shido." It says it all about the power of Hashimoto but today's fight was certainly was on the toughest contests of all. The Grand Slam winner, Japanese champion and Grand Slam Ekaterinburg gold medallist came to Budapest to win, and despite the final, she showed finger-licking judo.
The World Champion said in the mixed zone: "I'm really happy to become a world champion. I suffered a small injury in the preparation for the world championships that's why I couldn't train for the last couple of weeks. But during this time I was thinking about what I need to do to reach the gold in Budapest. As a world champion I know there's going to be a lot of pressure on me in the future, but I want to enjoy that pressure."
The first bronze medal bout between Shavdatuashvili and 2015 World Champion An was another thriller. The Georgian who had a huge battle first with Denis Iartcev had to give the ultimate to give comeback in the match and score the equalizer. In thje golden score after seven minutes and eight seconds it was An who steered Shavdatuashvili to the decisive score. A top match, exciting and two top challengers who gave each-other the respect after the match. An at least keeps a medal like in 2015 in Astana.
European Champion Hidayet Heydarov of Azerbaijan was caught by surprise by Mongolian Odbayar Ganbaatar in the bout for bronze. Heydarov who was poised to win the second, or actually first medal for Azerbaijan today was susprised by a an seoi nage of Odbayar who won the bronze. In 2015 Nyam-Ochir Sainjargal won bronze U73kg for Mongolia. He was on the stage with An, Nakaya and Ono. What an amazing competition in this category and what a luxury for head coach Kosei Inoue.
Rustam Orujov was heartbroken but proud. He was actually so excited to reach the final that he couldn't resist to send out a tweet: "I'm in the final. The silver medallist said: "I have already got medal from the Olympics and from the European Games, but I haven't got from a world championship, so I'm very happy to claimed one. I couldn't manage to win it, but I did my best. I tried to find his mistakes, but at the waza-ari it was my fault. I hope, that I can avoid injuries and maybe I will compete at the Tokyo Grand Slam this year."
Bronze medallist An: "I came here to win every fights. I was only focusing on the gold medal. This is my second world championships medal, but I'm disappointed, because I would have liked to get the gold medal."
Related judoka and events
Related Judo Photos
Related Judo Videos
Related Judo News

Vincent Massimino (FRA)
35 years
| Result | City | Date |
| --- | --- | --- |
| 2 | Düsseldorf | 21 Feb |
| 1 | Budapest | 2019 |
| 2 | Qingdao | 2019 |
| 1 | Osaka | 2019 |
| 1 | Odivelas | 2019 |
| Result | City | Date |
| --- | --- | --- |
| 1 | Düsseldorf | 21 Feb |
| 2 | Osaka | 2019 |
| 1 | Tokyo | 2019 |
| 1 | Tokyo | 2019 |
| 1 | Hohhot | 2019 |