The latest Judo News offered by JudoInside.com
Hifumi Abe makes golden expectations come true
IJF Media Team / International Judo Federation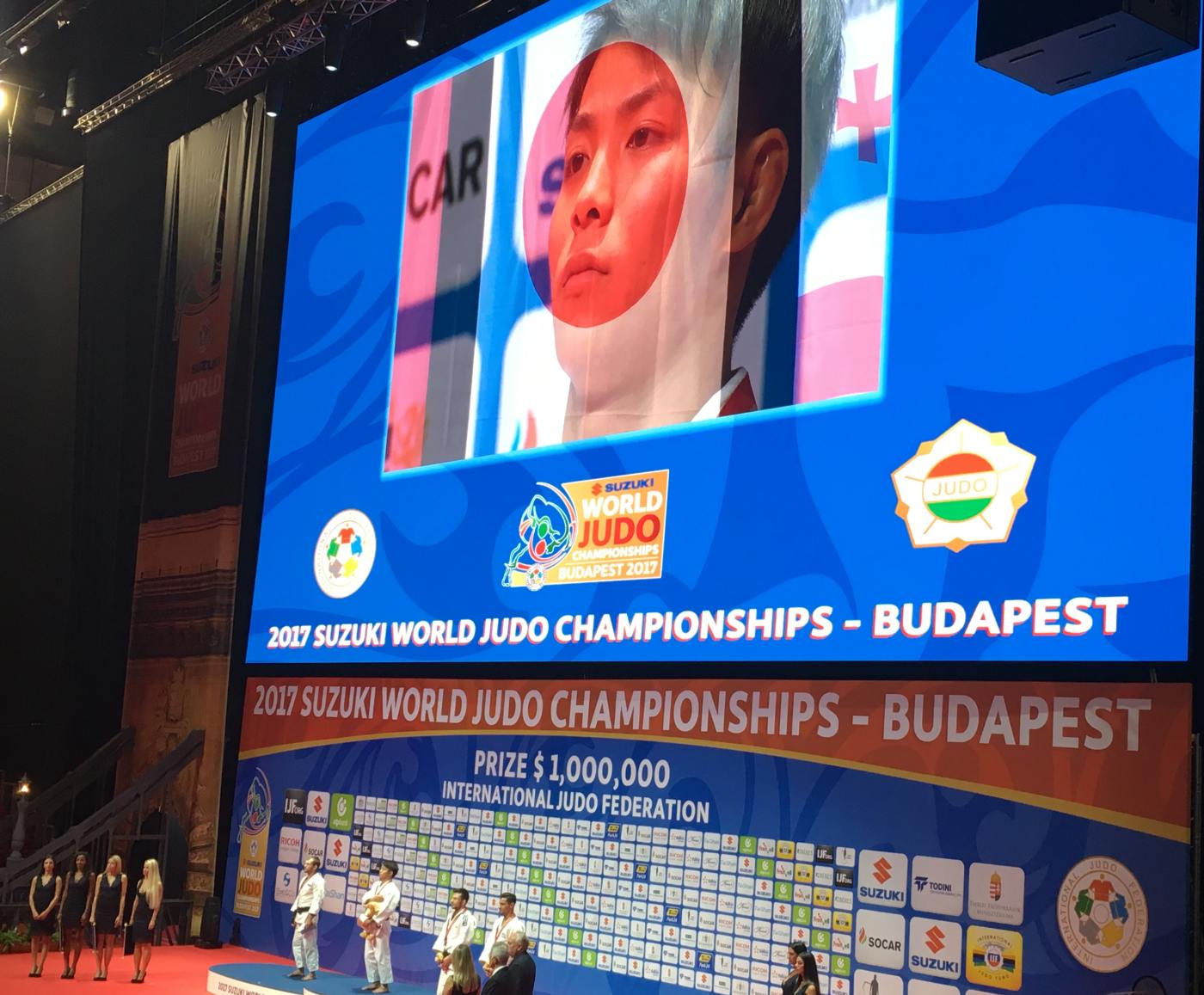 Hifumi Abe won the world title U66kg. In Budapest Abe defeated Russian Mikhail Pulyaev by ippon after 2.33 minutes by a splendid ippon. It was Japan's fourth gold medal, a 100% score.
The first two minutes both warriors got used to each-other but after two and half minute Abe Hifumi launched his great technique and won the expected gold medal. Abe was the favourite in advance given his amazing run since last year with victories at the Grand Slams in Tyumen, Tokyo and Paris and two Japanese titles in this highly competitive category. Abe who just turned 20, follows up An Ba-Ul (KOR) who finished seventh. Before his title in 2015 Masashi Ebinuma took three consecutive titles.
Abe was superb with six victories in this category with 72 judoka. After three victories he defeated European Champion Georgii Zantaraia in the quarter final. Then he overcame Vazha Margvelashvili and Mikhail Pulyaev showed again that is he able to perform at World Championships. For him it was sad to take his third consecutive silver medal at World Championships while at the Olympic Games he lost in the first match.
In the first bronze medal match Vazha Margvelashvili of Georgia caught Korean Kim LimWhan in the last minute of the match and finished the job with oseikomi to win his first World Championships medal. Margvelashvili was strong today and gave a real tough match to Hifumi Abe. Margvelashvili's first serious contender was An Ba-Ul the 2015 World Champion who got surprised far in extra time and Margvelashvili became the winner of this pool of death that included Olympic Champion Fabio Basile, who lost to An Baul in a thriller of a golden score. Abe finished his semi final against Margvelashvili after three minutes by oseikomi.
The second bronze medal bout was between Tal Flicker, the world number one against Georgii Zantaraia, the current European Champion. Zantaraia really thought about retiring before that European title, but it gave him the spirit to come back and proceed. In Budapest he won bronze after a tough match against Tal Flicker, who tried everything he had, but Zantaraia is the master of escapes. In regular time the score was equal, only Flicker had two penalties. Flicker however remained strong and struck with a left o-soto-gari after 29 seconds in the golden score. He took his first medal ever at World Championships and follows up Golan Pollack who won bronze in this category U66kg in 2015.
Profile Hifumi Abe
Hifume Abe won the Youth Olympic Games in Nanjing in 2014 as he and took silver at the World Cadet Championships in Miami in 2013. He fought the World Junior Championships final in 2014. At senior level Abe won the Grand Prix Tashkent in 2015. In 2016 his career rocketed to the top of the world with victories at the Grand Slam in Tyumen, Tokyo as youngest winner ever. In 2017 he won the Grand Slam in Paris with impressive judo. With the All Japanese title he secured qualification for this tournament in Budapest.
Related judoka and events
Related Judo Photos
Related Judo Videos
Related Judo News

Jente Verstraeten (BEL)
19 years
| Result | City | Date |
| --- | --- | --- |
| 1 | Qingdao | 2019 |
| 2 | Osaka | 2019 |
| 3 | Brasilia | 2019 |
| 1 | Tokyo | 2019 |
| 1 | Montreal | 2019 |
| Result | City | Date |
| --- | --- | --- |
| 3 | Qingdao | 2019 |
| 1 | Osaka | 2019 |
| 2 | Chiba | 2019 |
| 5 | Budapest | 2019 |
| 3 | Fukuoka | 2019 |