Preview O78kg: First seeded Larisa Ceric knows the danger of Asahina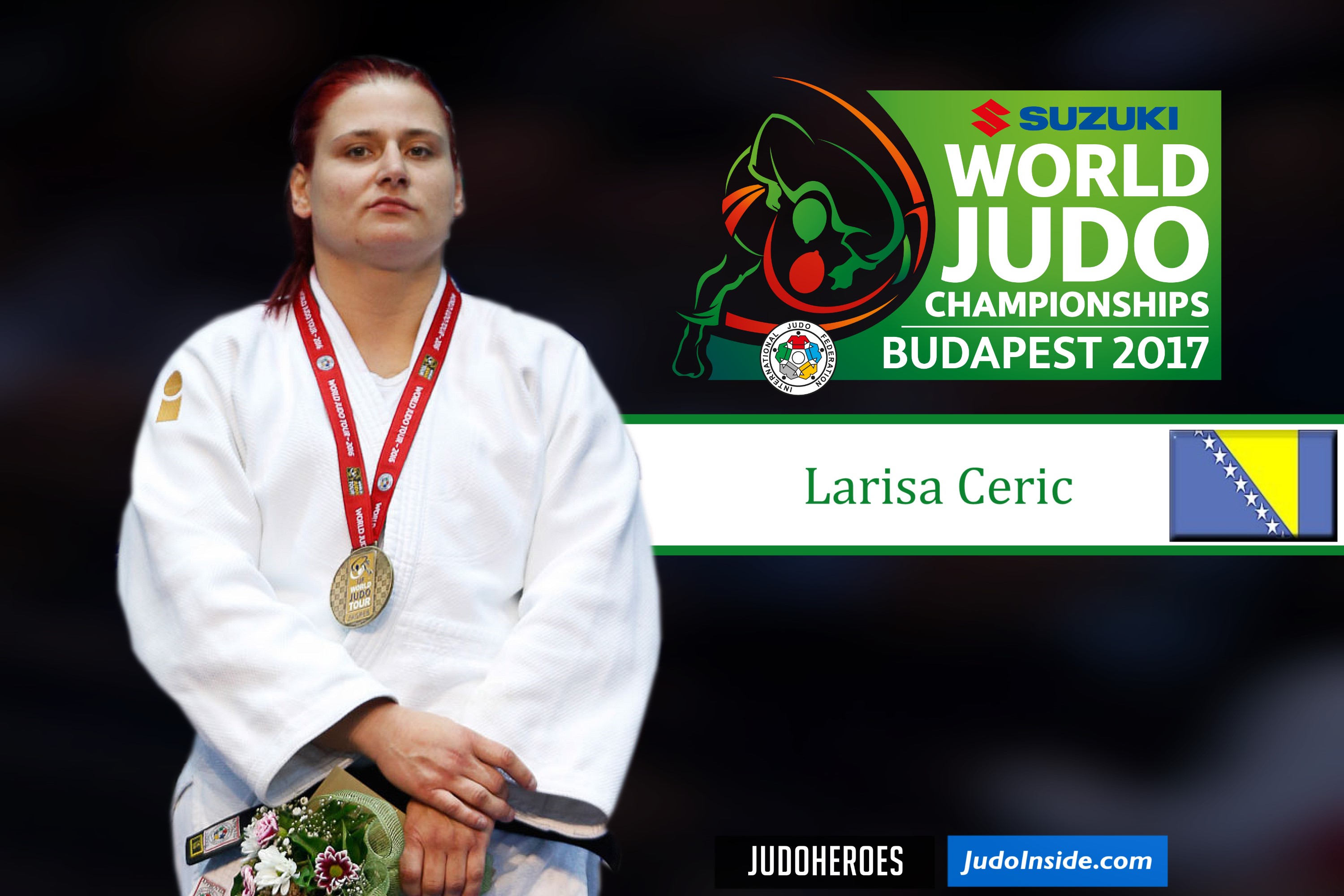 1 Sep 2017 18:15
JudoInside & JudoCrazy
IJF Media Team / International Judo Federation
Who will be World Champion +78kg in Budapest? Perhaps the one with the strongest track record going into Budapest is Japan's Sarah Asahina, winner of the 2016 Tokyo Grand Slam, 2017 Paris Grand Slam and 2017 Ekaterinburg Grand Slam. The 20-year old Japanese debuts at the World Championships.
Bosnia Herzegovina is hoping for its first world Championships medal ever. Larisa Ceric so far made that outlook come true. Ceric is the number one seed in Budapest. She feels well, despite some usual knee habits, but Ceric grew to a more serious attitude during her career and it pays out. She recently overcame world number one and friend Marina Slutskaya who in that match injured herself and needed an operation. Slutskaya won't compete in Budapest and Ceric is perhaps Europe's number one candidate.
French Olympic Champion showed herself in an individual tournament in 2017 in Sofia and she took the gold, which was a nice warm-up for the Grand Slam in Paris where she won bronze, good enough, but she lost to youngster Sarah Asahina. At the European Championships to Szigetvari (HUN) in the 1/8 final, a surprise loss.
Turkish Kayra Sayit should have a great day to win. The former French is strong, and won in Antalya and the Islamic Games, which in her category was not such a bad quality. Brazilian Maria Suelen Altheman is also able to take the gold, She may be opposed to Kim MinJeong in the quarter final, a clash of two giant athletes. Carolin Weiss (GER) and Tessie Savelkouls (NED) are outsiders for a medal.
The Quarter finals could look like this
Larisa Ceric vs Tessie Savelkouls
Sarah Asashina vs Carolin Weiss
Kayra Sayit vs Emilie Andeol
Maria Suelen Altheman vs Kim Minjeong
Previous World Champions
1999 Beáta Maksymow (POL)
2001 Hua Yuan (CHN)
2003 Fuming Sun (CHN)
2005 Wen Tong (CHN)
2007 Wen Tong (CHN)
2009 Wen Tong (CHN)
2010 Mika Sugimoto (JPN)
2011 Wen Tong (CHN)
2013 Idalys Ortiz (CUB)
2014 Idalys Ortiz (CUB)
2015 Song Yu (CHN)
The Game Changers
China's World Champion Yu Song has competed only once since Rio 2016 and that was at the 2016 Qingdao Grand Prix which she won. But she is still certainly someone to count on. Same for Ma Sisi, the previous numbers 1 and 2 of the World Ranking. She won six silver medals in her last 8 tournaments, at a least stable medallist. China won seven out of eleven world titles in the plus category
Iryna Kindzerska switched to Azerbaijan from Ukraine and won the Grand Prix in Düsseldorf this year for the Ukraine and some medals for Azerbaijan, an outsider.
Croatian Ivana Sutalo keeps progressing, although she is not yet top of the world, she might stunt in Budapest, about 4 hours from her home.
From Africa some strong athletes might be able to reach the last eight, but likely not medal: Sonia Asselah (ALG), Sahar Trabelsi (TUN), Hortence Vanessa Mballa Atangana (CMR) and Monica Sagna (SEN).
Check the Stats generator which country dominated this category over history