The latest Judo News offered by JudoInside.com
Sergei Aschwanden made a career transition
https://hub.olympic.org/news IJF Media Team / IJF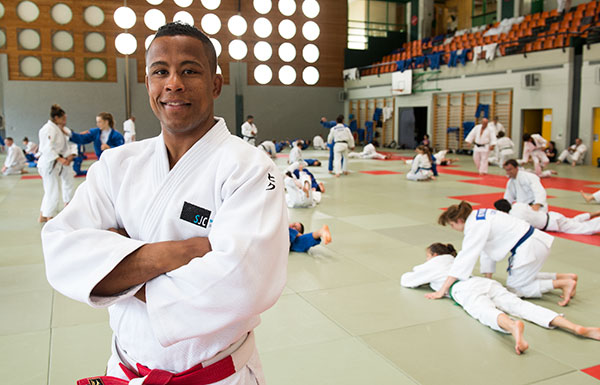 Swiss judoka Sergei Aschwanden, who won Olympic bronze in 2008, immersed himself in studying after retiring from sport, obtaining a Master's in Sports Management, before becoming director of a sports centre and then the tourist office in Villars, Switzerland. Here, he explains how he made the transition from world-class sport into the workplace.
When Swiss judoka Sergei Aschwanden won a bronze medal at the Olympic Games Beijing 2008, he was achieving a lifelong dream.
For 15 years, Aschwanden had been ranked among the world's top five in his sport – winning two gold medals at the European Championships, and a silver medal in the worlds – only to crash out in the very first round on both of his Olympic appearances in 2000 and 2004.
But with bronze in Beijing, Aschwanden could retire on his own terms, having won a medal in each of judo's major championships, and instead of looking back in frustration at what might have been, he could look forward to the next chapter of his career. Crucially, the man from Bern had already been gearing up for this next step by fitting part-time study around a rigorous training schedule.
"When you want to be in the best five in the world for a long time it's a lot of investment, and you don't have a lot of time to do anything else," reflects the now 41-year-old to the reporters of the IOC.
"But I took the decision that I would do a little bit [of studying] to allow me to keep going with something new when I retired, instead of figuring out what I wanted to do and being lost for a year or two."
Aschwanden initially allocated two hours a week to his sports studies, and credits his entourage – which included his parents, coach, manager, physiotherapist, nutritionist, training partners and his friends – with encouraging him to look ahead.
"They told me that I needed to think about my future, and when you hear it every day for 10 years, at a certain point you get conscious about the situation and you start to look for something," he adds.
Having got into the academic groove while still competing, Aschwanden immersed himself completely in his studies upon retirement, completing a foundation course at the Swiss Federal Institute of Sports near Bern, before embarking upon a three-year Bachelor's degree in Sport and Economics at the University of Lausanne.
But despite a support grant from the Swiss Government, and the fact that he had walked away from judo with his profile at an all-time high following his Olympic medal, the transition was not without its challenges.
"The financial situation was not easy," he reflects. "I practised a sport where the media interest is not high, so I didn't have a lot of money, and I had to do some uninteresting jobs to finance my flat and my studies. Also I was not the youngest; I retired when I was 33, so I started to have a family while I was studying, which presented another challenge."
But in the face of these various financial pressures, Aschwanden's persistence paid off. After finishing his Bachelor's, he completed a Master's in Sports Management, and within a month of graduating he began working as director of a sports centre in the Swiss village of Villars, where his responsibilities included managing the construction of a new EUR 18.5 million swimming pool.
The pool opened in April 2017, but by that point Aschwanden had already moved on to a new position, as director of Villar's tourist office. Sport is at the heart of the popular ski resort's booming tourism industry, and Aschwanden believes that his career in elite sport has helped him adapt to a role in which he now oversees the work of seven departments and more than 50 employees.
"When you're practising sport at a high level you have coaching staff and team-mates, and you need to handle all of these people to make sure everyone is getting the best out of one another," he says.
"And it's the same when you're working in a business. You have 50 personalities, and all of them have the professional knowledge, but if you want to really succeed you need to be capable of getting 100 per cent out of every person."
Aschwanden's impressive proactivity during and after his sporting career has been an important factor in obtaining a position of such significant responsibility in the space of only 10 years since retiring, but modern athletes now have an additional resource to help them make this transition from world-class sport to the workplace.
He is familiar with the Athlete Career Programme (ACP), having analysed it during an internship with the IOC in 2008, and believes it can become a vital resource for Olympians if utilised in the correct way.
"It's a very good concept," he says of the programme, which was launched in 2005 and has since reached more than 30,000 athletes from at least 185 countries. "It's important that athletes know that the IOC is thinking about them not only when they're active, but also when they're retired."
Related judoka and events
Related Judo Photos
Related Judo News