The latest Judo News offered by JudoInside.com
Bernadette Graf creates new possibilities with another gold medal U78kg
IJF Media Department IJF Media Team / IJF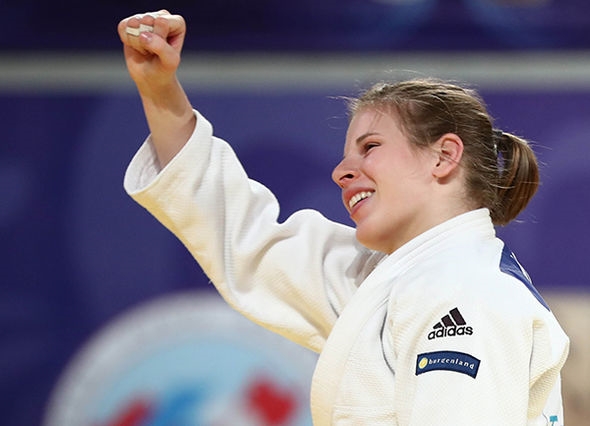 Austrian Bernadette Graf looked at home in U78kg category in Inner Mongolia as she beat Budapest Grand Prix bronze medallist Karen Stevenson of the Netherlands to win her first Grand Prix title at this weight. Graf, who finished fifth at the Rio 2016 Olympics in the U70kg category, has a luxurous situation and may clear the path to someone else U70kg in Budapest.
Graf debuted in the heavier category in June as Bucharest European Open winner and has remained unbeaten at U78kg having chalked up eight consecutive wins including today with Hohhot Grand Prix gold providing a windfall of 700 World Ranking List points. Graf weighed in at 72kg but had the power to throw Stevenson with a utsuri-goshi for ippon after two minutes to collect the top prize in China.
In the first semi-final Tokyo Grand Slam winner Sato Ruika (JPN) was countered by Graf after two minutes of golden score for a waza-ari as the Austrian made an immediate impact in her new weight. In the second semi-final Stevenson (NED) saw off 20-year-old Asian Championships bronze medallist Lee Jeongyun (KOR) via hansoku-make.
The first bronze medal was won by Lee in a contest between the two Asian Championships bronze medallists as teammates collided for the right to represent their country on the -78kg medal podium. A predictable stalemate between two international colleagues ensured as Lee and Park train together every day and know exactly how to negate their respective strengths. Park picked up her third shido in the closing minute to receive hansoku-make and send her teammate onto the medal podium.
The second bronze medal contest was won by Sato who won her fifth Grand Prix medal by beating former Tyumen Grand Slam bronze medallist Aleksandra Babintceva (RUS). Sato, who was coached by two-time -48kg world champion Asami Haruna (JPN), had watched her younger brother Sato Seidai (JPN) fall in the opening -81kg round on Saturday. Babintceva failed to impose herself and was given her third shido to receive hansoku-make and Sato boosted her country's medal tally on the final day.
Related judoka and events
Related Judo Photos
Related Judo News