The latest Judo News offered by JudoInside.com
Matsumoto in the semis against world number one Sumiya Dorjsuren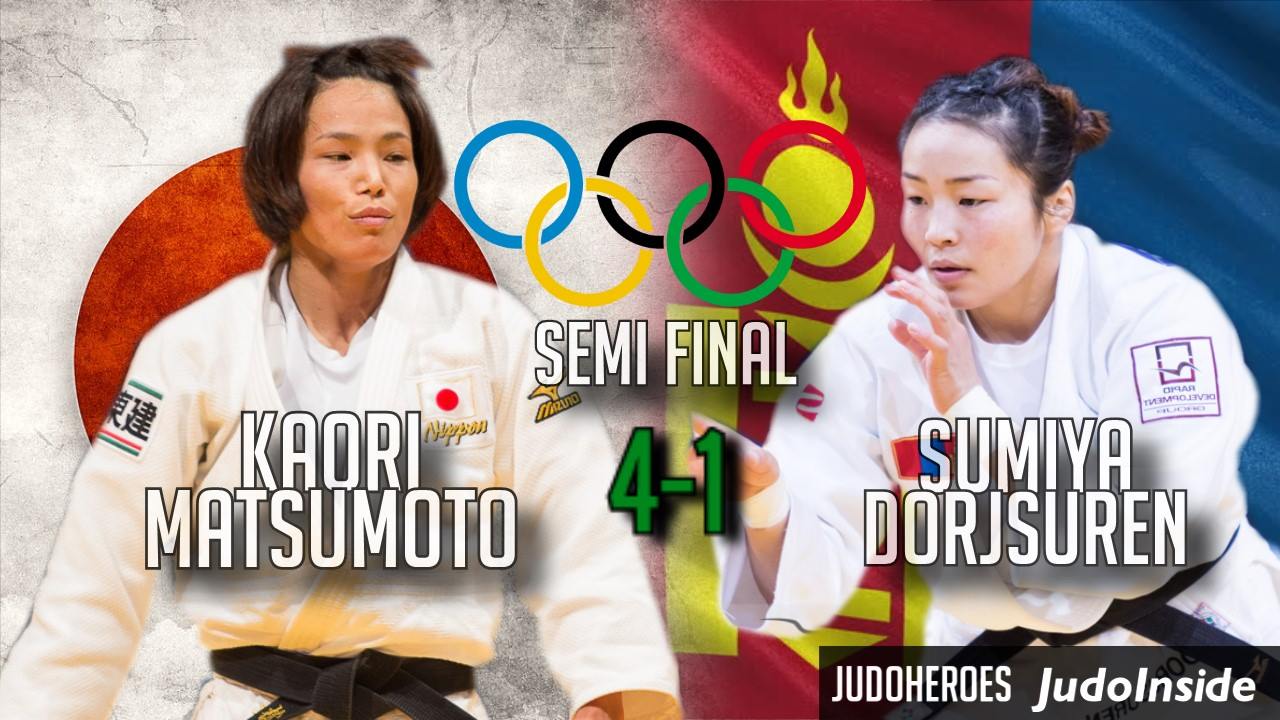 Kaori Matsumoto is still in the race to be the first to prolong her Olympic title in 2016. The Japanese had to give everything what she had in a thrilling quarter final against French Automne Pavia. A match with more than 3 minutes in the golden score where it was Matsumoto who gave her last breath to a wazari score and won the match afterall, despite all the danger from the tall Pavia. Pavia was against sent to the repechage, just like in 2012 when the two fought as well, then in the semi final. Also at the Last World Championships in Astana it was Matsumoto to proceed to the final.
Matsumoto will meet with World Number one Sumiya Dorjsuren of Mongolia. Dorjsuren had a tough match against the ambitious Telma Monteiro who tried to get that only missing medal at her fourth Olympic Games. It's still possible if she proceeds in the repechage against Automne Pavia, an opponent that she has beaten before a few times in her career.
The other semi final is between Rafaela Silva who will try to win the first medal for Brazil where Menezes and Miranda missed out on a medal at the first two days. Silva, became World Champion in Rio in 2013 and is cheered by the crowd as never before. She is from the favelas of Rio and an example for many people what you can reach coming from the city of God. Silva defeated Hedvig Karakas and worth while mentioning had to survive in a pool with Kim jan-Di, the world's number two of the seeding list. The unseeded Silva started with a quick victory of Miryam Roper in what you could call a pool of death.
Silva will now face Corina Caprioriu, the Romanian who hasn't been seen for a while and perhaps had the most quiet preparation, but the fox knows how to deal with semi finals. She won in 2012 and took silver in London losing to Matsumoto. Both have fought 6 six times, but 3-3 in head2heads. The last victory was for Silva at the Grand Slam of Tokyo. Silva is the only unseeded among the four semi finallists. Caprioriu overcame Nora Gjakova of Kosovo and Lien Chen-Ling (TPE) who bested Marti Malloy, bronze medallist in 2012.
Semi finals:
Dorjsuren vs Matsumoto 1-4
Silva vs Caprioriu 3-3
Repechage:
Monteiro vs Pavia 3-3
Karakas vs Lien 1-1
Related judoka and events
Related Judo Photos
Related Judo Videos
Related Judo News