The latest Judo News offered by JudoInside.com
Rio2016 Olympic Judo Preview men U81kg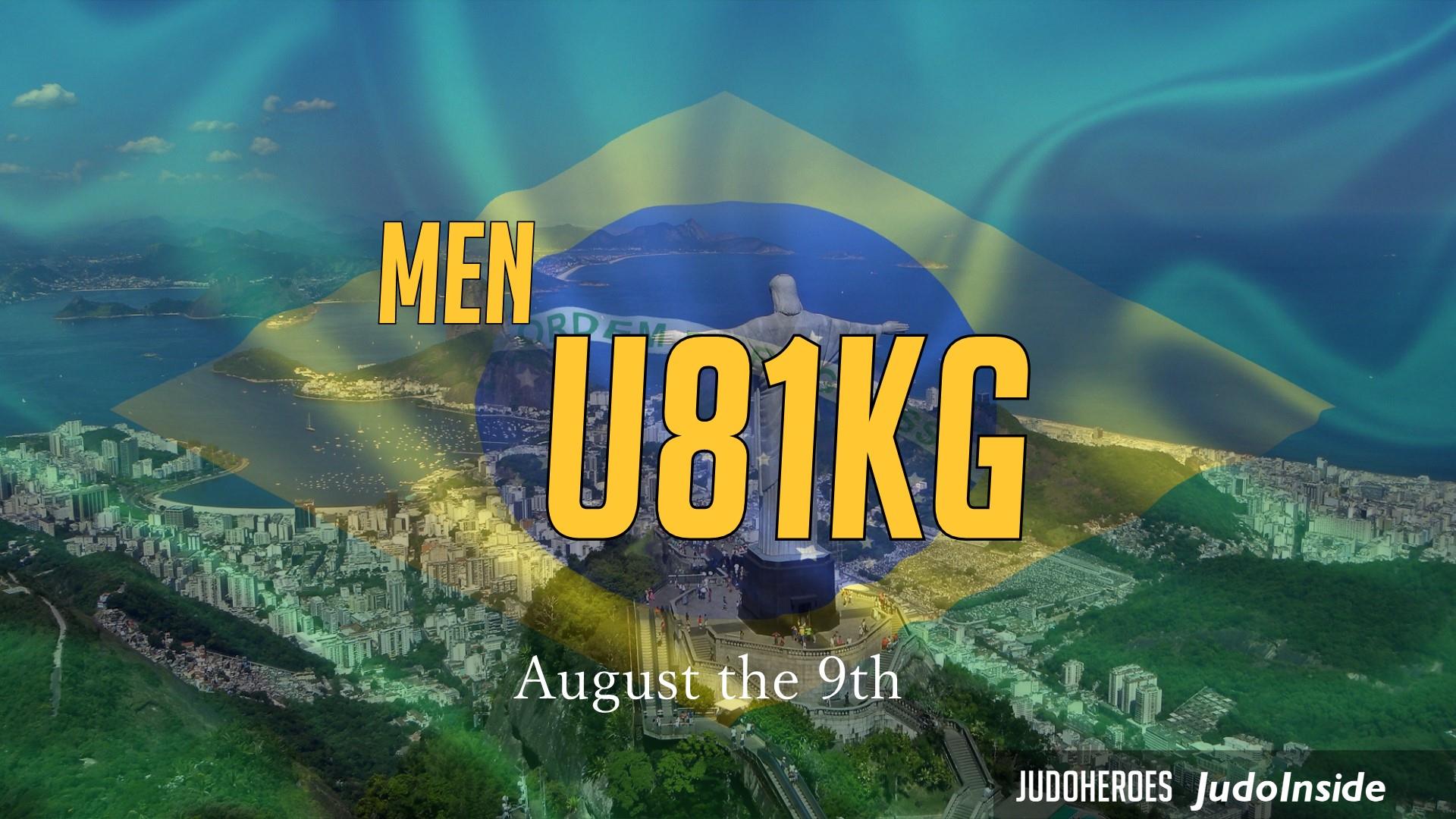 For many people Avtandili Tchrikishvili is the undisputed favourite for the Olympic title. However, for others, Takanori Nagase is the man to beat. If you're from Pan America, maybe Stevens or Valois-Fortier is your pick. Athletes from all over the world can win in Rio. The U81kg category will take place on 9 August and will definitely be fantastic. It's the category with the most participants amongst the events. Here only the top men will battle, like the World Championships in Astana, with Nagase winning over 76 other men.
World Champion 2015 Takanori Nagase won the Universiade in Kazan in 2013, as well as consecutive wins in the Grand Slam Tokyo in 2013 and 2014. He has won various All Japan Championships titles, as well as the IJF Masters in Rabat. Nagase defeated Loic Pietri in the 2015 World Championships final.
Georgian Avtandili Tchrikishvili is triple European Champion and European Games winner. Avto won the World title in 2014 and has won many European and World titles with Georgia. He won the Grand Slam Paris in 2014 and 2016. Tchrikishvili followed his uncle to become a judoka. However, he will face his Japanese rival again who has been more successful in their encounters. Who will give the start for a Georgian medal rush? Will it be Margvelashvili, Tchrikishvili, or Liparteliani? There are enough chances for Georgia, but it will most likely be Tchrikishvili who has the best chances.
2016 European Champion Khasan Khalmurzaev of Russia also won the Grand Prix Havana in 2016. He won the Universiade title in 2015 and was European Junior Champion in 2011. He also won two medals at the European U23 Championships, as well as the World U17 Champion in Budapest in 2009 at lightweight level. He is the twin brother of Khusen.
Antoine Valois-Fortier for Canada won the Olympic Games bronze at London 2012. He won his first IJF Grand Prix in 2015 in Mongolia. Valois-Fortier fought in the 2014 World Championships final against Tchrikishvili and took bronze in 2015. He won 15 World Cup medals, but also lost 7 of 9 finals.
Bulgarian judoka Ivaylo Ivanov took silver at the Grand Slam Paris and Grand Prix bronze in Düsseldorf in 2016. He won the Grand Slam Abu Dhabi in 2015. In 2013 Ivanov became European U23 Champion in Samokov and earned silver in 2015. He took European Junior bronze in 2013 and won the Grand Prix in Samsun.
Travis Stevens is the top American judoka in the U81kg category. He was fifth at the 2012 London Olympic Games and is a multiple winner of various IJF events such as Tashkent and Dusseldorf. Travis Stevens won the Panam Championships and Panam Games in 2015. He began 2016 with a silver in Havana and a win at the World Masters in Guadalajara.
Brazilian judoka Victor Penalber is the former number one of the World in the U81kg. Penalber won World bronze in Astana in 2015, as well as bronze at the Grand Slam Paris in 2016. He has won World Cups and Continental titles. He won bronze at the Panam Games 2015. He is the brother of Giulia.
Belgian judoka Joachim Bottieau won the Grand Prix Dusseldorf in 2015 and 2016, first against Tchrikishvili, then against Maresch. Before these successes, he won European bronze in 2012 and 2013. He also won World Cups in Sao Paolo and Bucharest. He is from a true judo family in Belgium.
Greek judoka Roman Moustopoulos, aka Vano Revazishvili, was European Junior Champion in 2013 in Sarajevo. He won the Grand Prix Tashkent in 2014, as well as the Junior European title and a World Junior medal in 2013. He won bronze at the Grand Prix Jeju 2015, and Havana and Tbilisi in 2016.
Outsiders
Lee Seung-su of Korea won the Oceania Open in Wollongong in 2014. Lee also won the World Military Games in 2015 in Mungyeong. He finished fifth at the 2014 World Championships in Astana, and won silver at the Grand Slam in Tokyo in 2015. He qualified over Wang Ki-Chun and Kim Jae-Bum for Rio.
Frank de Wit is 2015 World and European Junior champion. He won silvers at the Junior Worlds in 2014, and European Cadets in 2013. At senior level, he won his first Grand Prix medal in 2015 in Zagreb and added bronze in Cluj. In 2015 De Wit won bronze at the Grand Slam in Paris. He is the youngest Dutch male athlete and with Ivan Felipe Silva is the youngest in this category.
Loic Pietri is the 2013 World Champion and bronze medallist in 2014. He also took World silver in 2015 in Astana. He won three consecutive European and World medals. Always competing with Avtandili Tchrikishvili, he had the edge over the Georgian when he won European team gold with France in Baku in 2015. He nearly always medals where he starts. He suffered some injuries but is on his way back, but Rio might come too fast for him.
Seeded athletes paired
Tchrikishvili (Silva) with Bottieau
Ivanov (De Wit/Lee) with Stevens (Pacek)
Nagase with Penalber (Maresch/Toma)
Valois-Fortier (Pietro) with Khalmurzaev (Mollaei)
Previous Olympic Champions
| | | |
| --- | --- | --- |
| Judoka | Year | Edition |
| Kim Jae-Bum (KOR) | 2012 | London |
| Ole Bischof (GER) | 2008 | Beijing |
| Ilias Iliadis (GRE) | 2004 | Athens |
| Makoto Takimoto (JPN) | 2000 | Sydney |
Stat
Of all categories, the men's U81kg is the most competitive with an average of 33.5 judokas per IJF World Tour event since 1 January 2013. In total, the half-middleweight division had 1910 judoka at 57 events, namely the Grand Prix, Grand Slam and IJF Masters.
| | | |
| --- | --- | --- |
| weight | Part | avg |
| 81kg | 1910 | 33.5 |
| 73kg | 1815 | 31.8 |
| 66kg | 1592 | 27.9 |
| 90kg | 1553 | 27.2 |
| 60kg | 1538 | 26.9 |
| 100kg | 1339 | 23.5 |
| +100kg | 1131 | 19.8 |
Related judoka and events
Related Judo Photos
Related Judo Videos
Related Judo News
Vincent Wieneke (GER)
19 years
| Result | City | Date |
| --- | --- | --- |
| 1 | Brasilia | 2019 |
| 1 | Montreal | 2019 |
| 1 | Marrakech | 2017 |
| 1 | Zagreb | 2017 |
| 3 | Budapest | 2017 |
| Result | City | Date |
| --- | --- | --- |
| 1 | Budapest | 2019 |
| 2 | Qingdao | 2019 |
| 3 | Brasilia | 2019 |
| 1 | Tokyo | 2019 |
| 3 | Montreal | 2019 |