The latest Judo News offered by JudoInside.com
Rio2016 Olympic Judo Preview women U48kg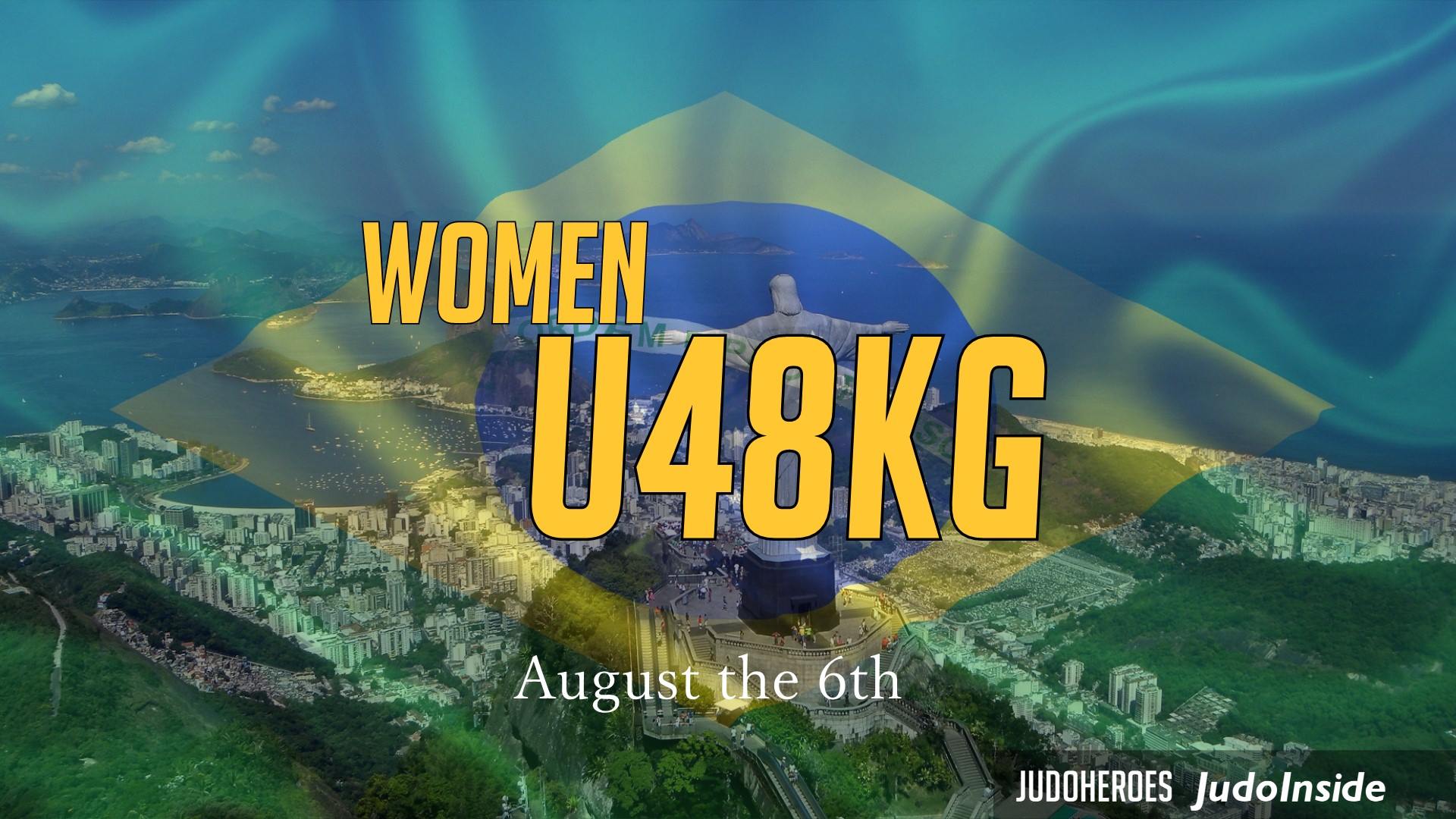 The opening day of the Olympic Games on 6 August could be the amazing start for the women of Brazil. Sarah Menezes could set Brazil on fire with a renewal of her Olympic title. The Brazilian team consists of the same women as 2012, a unique selection. The tiny Menezes is under huge pressure with the task to fire up the Olympic flame in the Brazilian team. However, the South American rivalry lives, as the World champion is not from Brazil but from Argentina.
Last year in Astana Argentine Paula Pareto won the World title in against Haruna Asami. It was the best ever performance of an Argentine judoka since Daniel Krukower. Pareto was an Olympic bronze medallist in 2008 in Beijing and won silver at the 2014 World Championships. Meanwhile, she won over 10 international events such Grand Prix Samsun and Budapest and is multiple Pan American Champion. Despite that, it is difficult to know if she is the number one favourite for the Olympic title.Pareto is matched with either Irina Dolgova or Sol Mi Kim, both tough opponents as a starter.
Urantsetseg Munkhbat is still among the favourites. The Mongolian extra-lightweight became 2013 World Champion in Rio de Janeiro. She won the Asian Games in 2014 in Incheon. Munkhbat was seventh at the Olympic Games in London. She won the IJF World Masters in Rabat in 2015 and the Grand Prix Tashkent and Ulaanbaatar and Grand Slam Paris. These achievements give Munkhbat a reputation that precedes her. Laetitia Payet is her first opponent, not an easy start.
Another big name from Asia is Ami Kondo who was 2014 World Champion in Chelyabinsk. Later that year she won the World Junior Championships U21 in Miami. In 2015, she won bronze at the senior Worlds in Astana. She is one of the youngest ever World Champions. She also won the Grand Slam Tokyo in 2015 and the IJF Masters in 2016, creating no doubt about her form. Kondo is in the pool with Dilara Lokmanhekim. What a dangerous start.
Perhaps the biggest favourite is home player and defending Olympic Champion Sarah Menezes from Brazil. The 2012 Olympic Champion in London was also the Junior world titleholder in 2008 in Bangkok and 2009 in Paris. She won bronze at the World Championships in 2010, 2011 and 2013. Menezes has won 11 World Cup events since 2008. She struggled a bit in this cycle, which is normal for an Olympic medallist who usually all take a break with their side activities. Menezes came back with a gold in Havana, a Pan American title as well as a silver at the Masters this year. She could continue her reign with the title if she wins in Rio. However her weakness is her groundwork, from a failed seoi she is vulnerable and everybody knows.
In the quarter-final, Menezes is paired with Spanish Julia Figueroa if both survive the first round. The tiny Spanish won the Grand Slam Tyumen in 2015 as first Spaniard ever to win a Grand Slam. She won her first World Cup in Madrid. Figueroa won 3 Spanish titles and national titles in U17, U20 and U23. She also won bronze in 2015 at the Grand Slam Paris, and gold at the Grand Slam Baku in 2016. Figueroa first has to deal with Dayris Mestre, who beat her twice, so all hands on deck.
Galbadrakh Otgontsetseg is originally from Mongolia who switched to Kazakhstan in 2015. She won the Grand Prix Astana in 2014, and Jeju in 2015. In 2016 she won the Grand Slam Paris, the highlight for her. She also won the Grand Prix Samsun and Almaty. Mind this girl as she might be able to reach the final.
Éva Csernoviczki is European Senior Champion in 2013 and 2014. She has won 9 consecutive European medals and was U23 European Champion in 2006 and 2008. The Hungarian won World bronze in 2011. Coached by her father Csaba, from Tatabánya, she was European U23 Champion in 2003. She also finished seventh at the 2015 World Championships. She may face Pareto in the quarter-final. Shas has a good track record against Rishony and Maryna Cherniak, one of her first opponents.
Korean Jeong Bo-Kyeong won bronze at the World Championships in 2015. Jeong won the FISU Universiade in 2015 in Gwangju. She has won a few World Cups since 2012 in Budapest. The judoka took the victory at the Asian Open in Taipei in 2015 and gold at the Grand Prix Düsseldorf in 2016. She will be in the same pool with Munkhbat. Jeong will have to overcome Italian Valentina Moscatt in her first match.
Outsiders
Belgian Charline van Snick is Olympic Games bronze medallist in 2012. She was also 2015 European Games winner after two lost European finals, and 2013 bronze medallist. In 2015 she won the Grand Prix Dusseldorf and took silver at the Grand Slam Paris. What a turbulent four years it's been for Van Snick, who has a bag full of experience on how to 'stand her man' in Rio. van Snick is drawn into the pool of death with Monica Ungureanu and Sarah Menezes.
Russian Irina Dolgova has won 6 European and World Cadet and Junior titles, as well as the EYOF in 2011. She won her first Grand Prix in 2014 in Samsun and won bronze at the Grand Slam Tyumen. In 2015 she won her first Grand Slam Abu Dhabi. She was European Open winner in Madrid in 2016. She can compete with the best, but she is still young. However her performance may be, it will be a useful Olympic experience.
Taciana Lima-Baldé or Taciana Reze was born in Brazil but switched to Guinéa-Bissau in 2013. She won 6 World Cups, for both Brazil and Guinea-Bissau. She has a strong Ouchi-gari and had won four consecutive African titles since 2013. She was Pan American Champion in 2001. She has reached the top 5 in the World rankings.
Turkish extra-lightweight Dilara Lokmanhekim is a super talent. She won two European junior titles (2012 and 2014) and the U23 (2012). She won silver at the World Junior Championships in 2014. She also won her first Grand Prix in 2015 in Zagreb. She has already won more than 10 Olympic qualification event medals.
Seeded athletes paired
Munkhbat (Payet) with Jeong (Moscatt)
Menezes (Ungureanu/van Snick) with Figueroa (Mestre)
Pareto (Dolgova) with Csernovicki (Chernyak)
Kondo (Lokmanhekim) with Galbadrakh (Lima)
Former Olympic Champions
| | | |
| --- | --- | --- |
| Year | Judoka | Edition |
| 2012 | Sarah Menezes (BRA) | London |
| 2008 | Alina Dumitru (ROU) | Beijing |
| 2004 | Ryoko Tani (JPN) | Athens |
| 2000 | Ryoko Tani (JPN) | Sydney |
| 1996 | Sun Hui Kye (PRK) | Atlanta |
| 1992 | Cécile Nowak (FRA) | Barcelona |
| 1988 | Li Zhongyun (CHN) | Seoul |
Stat:
Lucky bird Valentina Moscatt hopes to prolong an Italian medal. Moscatt was drawn from all athletes who didn't make direct qualification. She was added to the Italian team of 6 athletes now. She has a reputation as she defeated some of the best who qualified for Rio. These are her favourite opponents to continue her hold an Olympic medal for Italy, and has the ideal draw for as she defeated a lot of current Olympians.
Dilara Lokmanhekim (TUR), 5 victories
Julia Figueroa (ESP), 3 victories
Shira Rishony (ISR), 3 victories
Monica Ungureanu (ROU), 3 victories
Related judoka and events
Related Judo Photos
Related Judo Videos
Related Judo News

Bar Farin (ISR)
25 years
| Result | City | Date |
| --- | --- | --- |
| 1 | Paris | 8 Feb |
| 1 | Qingdao | 2019 |
| 2 | Osaka | 2019 |
| 3 | Brasilia | 2019 |
| 1 | Tokyo | 2019 |
| Result | City | Date |
| --- | --- | --- |
| 5 | Paris | 8 Feb |
| 3 | Qingdao | 2019 |
| 1 | Osaka | 2019 |
| 2 | Chiba | 2019 |
| 5 | Budapest | 2019 |