Report of the 2000 Olympic Games in Sydney Day 1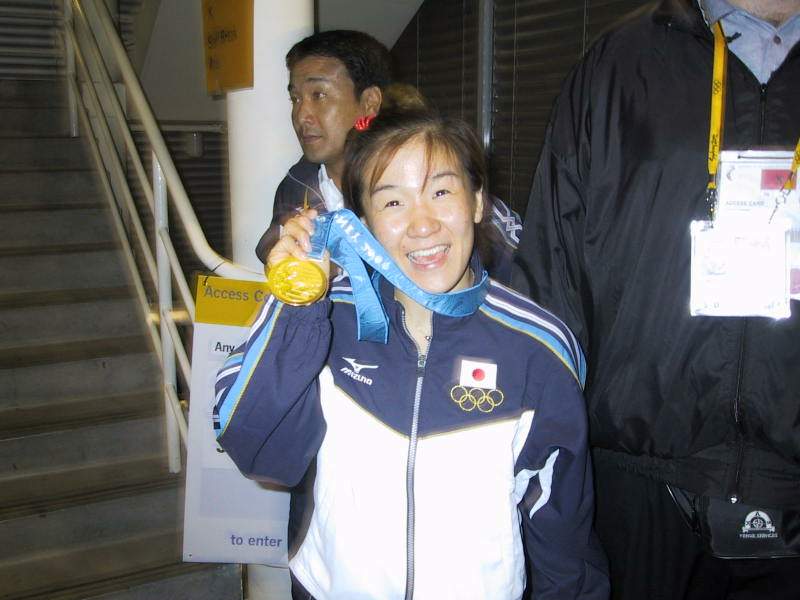 16 Sep 2000 00:00
TWOJ, the world of Judo, by Barnaby Chesterman
JudoInside.com / judo news, results and photos
The darling of Japanese judo, Ryoko Tamura and her compatriot, Tadahiro Nomura secured a bantamweight double for the home of judo on the first day of the 27th Olympiad in Sydney. The stadium felt like a little Japan as Tamura's fans flooded almost every seat in the arena. She sent them into fits of ecstasy in the -48kgs final as she quickly disposed on her plucky Russian challenger, Lioubov Brouletova, in just 25 seconds with a swift Uchi-mata for Ippon. Nomura then followed her in even more impressive fashion by despatching Bu-Kyung Jung of South Korea in just 10 seconds in the -60kgs final, although Jung later said in the press conference that he felt the throw merited just a Waza-ari.
Tamura was far from her best during the opening stages and only squeezed past Shunxin Zhao of China with a Yuko five seconds from the end. She then produced a stunning O-guruma to throw the 18-year-old Lyudmyla Lusnikova of Ukraine for ippon before she needed a judges decision to overcome Hyon Hyang Cha of North Korea in the semi-final. She was delighted at finally landing the gold medal, though, after finishing runner-up at the last two Games. The pocket dynamo dedicated her victory to her many supporters and thanked them for their many messages before the Games. "When I started judo as an eight-year-old I dreamt about winning the Olympics," she said. "Now the dream has become a reality. It is like meeting your first love again after eighty years."
Nomura, on the other hand, was dominant throughout and scored three quick Ippons on his way to a semi-final encounter with the equally impressive Cuban, Manolo Poulot. Nomura began the semi-final in electric fashion and Poulot had to use every ounce of his skill to avoid a winning score. In this early barrage, Nomura managed to score a yuko with a drop Seoi-nage, and that proved decisive. The Japanese reigning champion began tiring towards the end as Poulot's greater stamina became evident. The World champion piled on the pressure and forced a shido from Nomura but it was not quite enough. Nomura admitted to being just as nervous as he was in his first Olympics but said this time winning felt different. "This time it feels even better than the last time," he said. "I have just achieved my biggest goal so now I would like to take a break before thinking about the future."
Day 1 - Smagova KGZ takes bronzeThe men's competition also included a fairytale story for another medallist as Aidyn Smagulov won Kyrgyzstan's first ever Olympic medal by throwing Alisher Mukhtarov of Uzbekistan for Ippon with a running Kata-guruma. It completed a great year for Smagulov who also won a silver medal at the recent Asian championships. Poulot bounced back from his semi-final defeat to secure the other bronze medal by throwing Bazarbek Donbay of Kazakhstan for two Waza-aris, first with Osoto-gari and then with a peculiar variation on a dropping, driving Seoi-nage.
There were two early upsets in the women's -48kgs event with World Championships bronze medallist Sarah Nichilo-Rosso of France thrown for ippon after just 23 seconds of her first round contest against Cha. Nichilo-Rosso attacked from the start in her usual risky manner but her uchi-mata (inner thigh throw) attempt was brilliantly countered with a big pick-up technique, te-guruma (hand wheel).
The other major shock of the preliminaries was a disappointing defeat for Amarilis Savon of Cuba at the hands of Brouletova. The plucky Russian scored an early yuko with uchi-mata but the veteran second-favourite, Savon, couldn't claw her way back into the contest despite a fierce late rally. Both women suffered an off-day and were beaten again in the repechage. Savon seemed out-of-sorts and lacking in ideas as she went down against Ann Simons of Belgium, who went on to take a bronze. Nichilo-Rosso, meanwhile, must have thought she was seeing double as Zhao caught her with exactly the same technique as Cha, from the same attack by the French-woman, with the same result. That time Nichilo-Rosso had been ahead by Waza-ari, but her cavalier approach didn't pay off this time. Zhao then fought for the other bronze but was caught with Te-guruma for Ippon in just 10 seconds by Anna-Maria Gradante who emulated her result at last year's Worlds.