The latest Judo News offered by JudoInside.com
Judoka Katharina Haecker recovers in time for continental championships
olympics.com.au IJF Media Team / International Judo Federation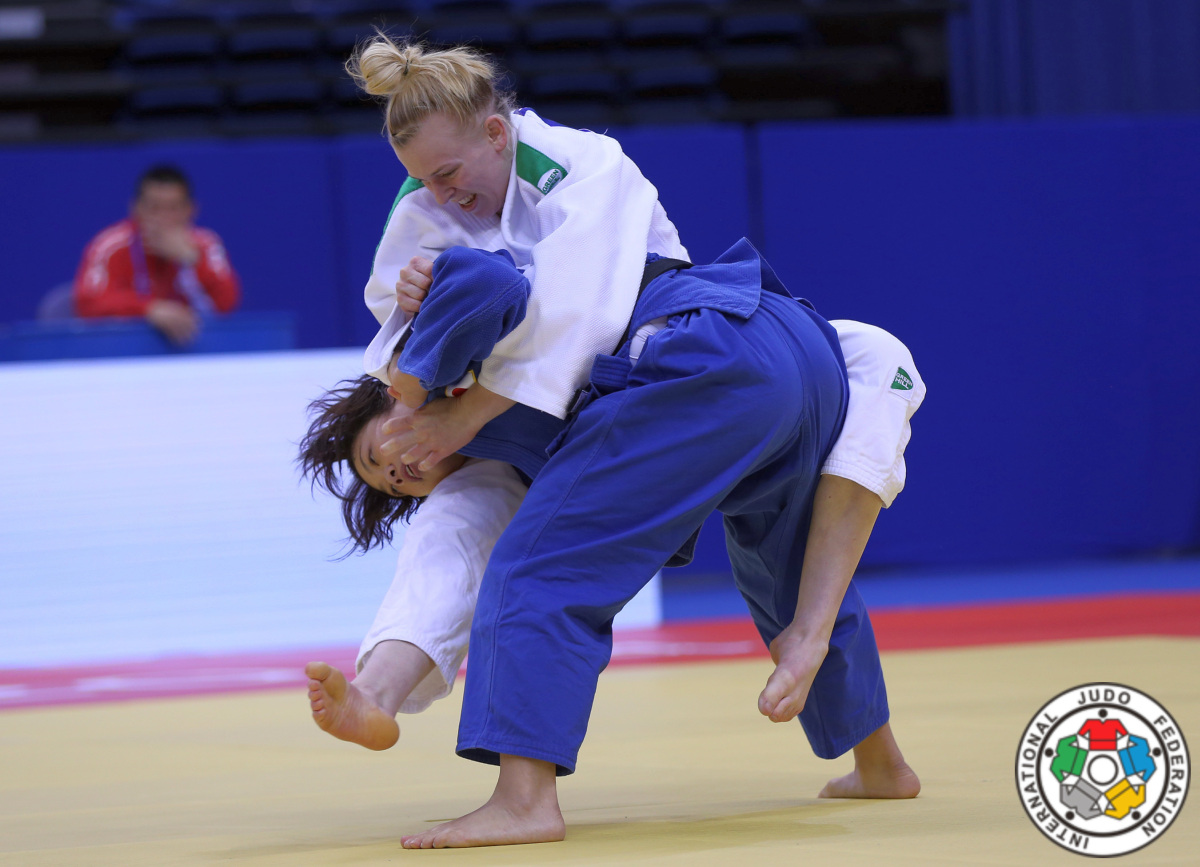 One of the most successful nation switches was German Katharina Haecker changing to Australia now two years ago. With the essential points at Oceania Championships and a good progression the current Aussie is on schedule for the Olympics Games, if she stays fit, which was the big question at the start of 2016.
In just her second training session of the year Katharina Haecker was lying on the mat wondering if her Olympic dream was over.
The German-born Aussie judoka heard a pop in her knee (at the first competition of the year) and knew that she could be in for a long layoff from the sport.
The diagnosis was crucial. If Haecker was to be out a few months it would all but end the 23-year-old's chance to win a third straight Oceania Championship and ruin her shot at an Olympic debut In Rio.
"When I knew that I just tore my medial ligament I felt pretty relieved, because it's an injury that just takes you about six weeks," Haecker said.
"There is never a right moment to get an injury but at least this one wasn't a bad one. I missed out some competition in the beginning of the year, but now nearly two months after the accident it feels like it never happened."
Now back stronger than ever Haecker has returned to training in Europe as she looks to steadily builds to April's all-important Continental Championships in Canberra.
"I'm just back from my first OTC training camp in Nymburk, Czech Republic after my little knee injury. It felt great to be back, but I know I'll have to work hard the next few weeks.
"Over the Easter weekend I'm going to compete at the Grand Prix in Tbilisi, Georgia before heading back to Australia for the Oceania Championships which is the main Olympic qualifying event for all of us.
"There are big points to gain, therefore it's extremely important to finish well."
If she is to gain a spot on the Australian Team for Rio it will be well over a decade in the making for Haecker.
Having just begun school, her parents wanted her to play a sport and after trying out the likes of football, gymnastics and athletics, Haecker fell in love with judo.
"I started judo when I was six with my best friend and I still remember how proud I was after my first grading.
"I refused to take off my judo suit with my new withe and yellow belt. I would have slept with it if my mother wouldn't have made me switch to my pyjamas."
As she rose through the ranks Haecker found inspiration in Athens 2004 gold medallist and multiple World Champion German judoka Yvonne Bönisch.
"After I watched Bönisch I always had the dream to win the Olympic Games one day too. But it was just a dream. When I was younger I definitely didn't train to become an Olympic Champion, I did judo because it was fun and I enjoyed it."
Fast forward to 2014 and Haecker was invited to compete for Australia at the Oceania Championships where she would win her first continental title and get the chance to compete at the Commonwealth Games in Glasgow.
"They were amazing, I have never thought that it would be that big.
"Unluckily I lost the fight for bronze as I would have loved to finish off this competition with a medal, but it was still a great experience and definitely taught me a lot."
With a major multi-sport event already under her belt, Haecker believes she will be primed to perform at the first South American Olympic Games if she earn selection.
"To already have been to a significant event like the Commonwealth Games will surely help me if I make it to Rio.
"I already did all the exciting stuff before with the Village, the Opening Ceremony and so on. This time I can certainly concentrate just on my performance on the day the competition is on and wouldn't get distracted with all the stuff that happens around you."
To gain automatic qualification she must finish in the top 14 in the world rankings come 30 May. She currently sits in 14th position and will need to win the Oceania Championship in order to maintain this position.
"I would say my biggest opponent at this event is actually one of my teammates Maeve Coughlan.
"She is a really talented junior with great potential for the future."
The Oceania Championships take place from 8-10 April at the AIS Combat Centre in Canberra.
By Matt Bartolo
Related judoka and events
Related Judo Photos
Related Judo Videos
Related Judo News

Messie Katanga (FRA)
25 years
| Result | City | Date |
| --- | --- | --- |
| 1 | Antalya | 1 Apr |
| 1 | Düsseldorf | 2020 |
| 1 | Osaka | 2019 |
| 1 | Tokyo | 2019 |
| 3 | Tokyo | 2019 |
| Result | City | Date |
| --- | --- | --- |
| 1 | Antalya | 1 Apr |
| 3 | Tbilisi | 26 Mar |
| 1 | Paris | 2020 |
| 1 | Budapest | 2019 |
| 1 | Tokyo | 2019 |