Germany celebrates gold for Peters at GP Düsseldorf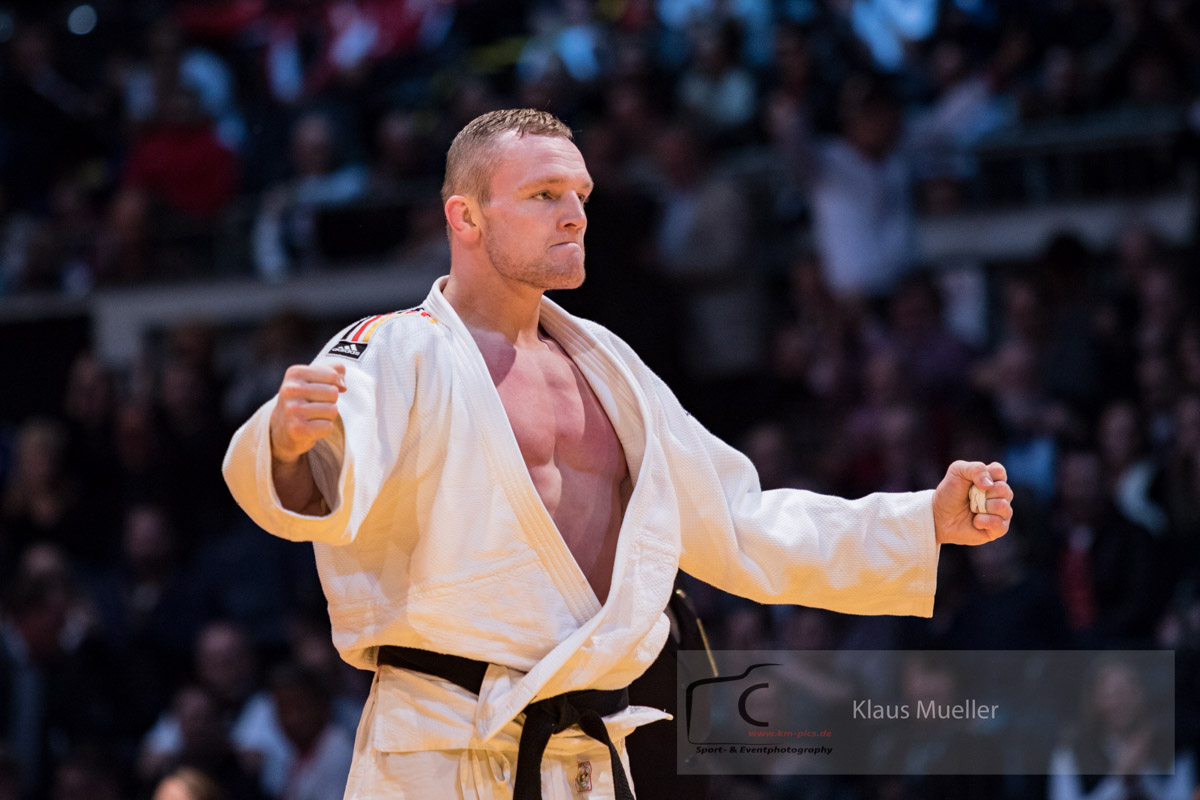 21 Feb 2016 18:50
Klaus Müller / Watch: https://km-pics.de/
German favourite Dimitri Peters finally took the gold medal at the Grand Prix in Düsseldorf. Each year Peters is good for one big title, but celebrations come early in 2016 with gold U100kg.
Peters was opposed to Cuban Jose Armenteros. Peters is in a competition with Karl-Richard Frey who was ill and couldn't compete. So the German crowd was pleased to see Peters qualify for the final with power judo and his grounds skills. Halfway the match Armenteros took the lead by yuko. The Cuban won silver in 2015 at the Grand Prix in Jeju and could take his first victory. But after three minutes in the match it was Peters who struck with ippon after a take over of the Cuban and transition on the ground followed by a deadly armlock. He knows how the silver tastes, much worse than the sweet of gold. The fans got what they wanted.
The gold U90kg was for Sweden on Sunday, an absolute sensation for Marcus Nyman. The history tells us that he won in Düsseldorf in 2011, but that seemed ages ago. Today it was a different Nyman than we've seen since the 2012 Olympic Games. He was able to act at Olympic level today at the Grand Prix, again in Düsseldorf. In today's final Marcus Nyman defeated Toth Krisztian who defeated him four times, but today history was made. Not just he overcame former number one Toth, but also triple World Champion Ilias Iliadis and current World Champ Gwak Dong Han of Korea.
Nyman was the first Swede in 2011 who won a World Tour, Martin Pacek followed in 2014 in Qingdao and 2015 in Tyumen. Today another giant boost for the Swedish hope at the first ever Olympic miracle.
The home crowd gets what it deserves, with Luise Malzahn in the final U78kg, but against nemesis Audrey Tcheumeo the German hope was away within a minute when Tcheumeo scored waza-ari. Knowing that the former French World Champion defeated Malzahn six times, that didn't prevent the fan block of supporting Malzahn to the end. The end came for the 2014 winner in Düsseldorf came after the full four minutes as Tcheumeo won in a tactical after she scored early.
Tcheumeu vs Malzahn 7-1, but that only victory at Astana's World Championships for bronze counts a lot. Today hurts a bit, but Tcheumeo booked her third victory in four month's time; Paris, Jeju and Düsseldorf.
In the women's plus category the gold medal was Brazilian Maria Suelen Altheman who took a sensational victory against Chinese World Champion Yu Song. For Altheman essential for her "qualification for Rio". As Brazilian Altheman (21) doesn't have to qualify but the competition with Rochele Nunes (16) is tight. Altheman defeated Yu three times, as only one. The World champion also won last week in Rome and took distance from Ma Sisi, the world's number two who finished fifth in Düsseldorf.
Iakiv Khammo continues with his way up in the heavyweight category. The Ukrainian sensation isn't the biggest but on Sunday he took the biggest victory in a good field in Düsseldorf. In May 2015 he won the Grand Prix in Zagreb but this straight ippon against Egyptian Islam El Shehaby was phenomenal. He won world bronze in 2015 in Astana and European bronze at the European Games, aged 21 and added bronze with the team. For the Ukrainian an absolute diamond and he showed his beauty in the final.
Japan and Korea won the medal table with both three victories. Seven European countries follow with one victory each and Brazil cheered for the gold for Altheman.