The latest Judo News offered by JudoInside.com
Bernadette Graf celebrates comeback with gold
by Mark Pickering - IJF Klaus Müller / Watch: https://km-pics.de/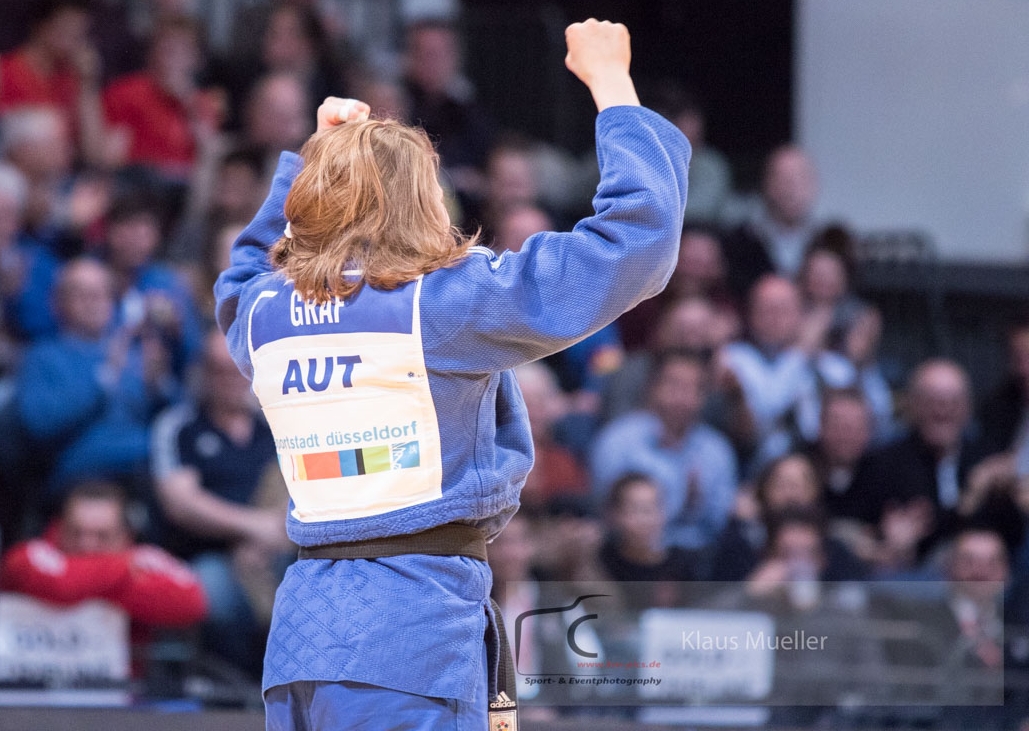 Austria's Olympic hope Bernadette Graf marked her return from injury with a scintillating display as she beat Tokyo Grand Slam winner Arai Chizuru of Japan in the U70kg final with a huge slam. Ulaanbaatar Grand Prix winner Graf was competing for the first time since a career-best fifth-place finish at the 2015 World Championships and looked even better than before as she won all five of her contests by ippon.
Graf required only 65 seconds to dismiss Arai with a ura-nage as she countered a tame uchi-mata effort from the Japanese fighter for her third Grand Prix gold medal.
In the first semi-final Arai abruptly ended the gold medal ambitions of top seed Laura Vargas Koch (GER) by holding down the German fighter with a tate-shiho-gatame for 20 seconds in the opening minute. In the second semi-final three-time world champion Yuri Alvear (COL) was submitted by Graf. After 42 seconds Alvear paused for a second as she was waiting for the referee to call 'matte' and stop the action. However, Graf was still working and got the shime-waza to capitalise on a rare mistake from the Colombian.
The first bronze medal was claimed by Alvear who defeated Havana Grand Prix winner Linda Bolder (ISR). Alvear scored waza-ari with a fine right-sided ouchi-gari which proved to be the only score of the contest and the winner tapped the Colombian flag on her blue judogi in celebration. The second bronze medal contest was won by Vargas Koch who was dynamic on the ground as she defeated ne-waza expert Paris Grand Slam bronze medallist Sally Conway (GBR) at her own game to win her country's first medal at their home event. Vargas Koch was all smiles as she earned an important boost to her world ranking.
Related judoka and events
Related Judo Photos
Related Judo Videos
Related Judo News