The latest Judo News offered by JudoInside.com
IJF referee and Coach seminar in Kodokan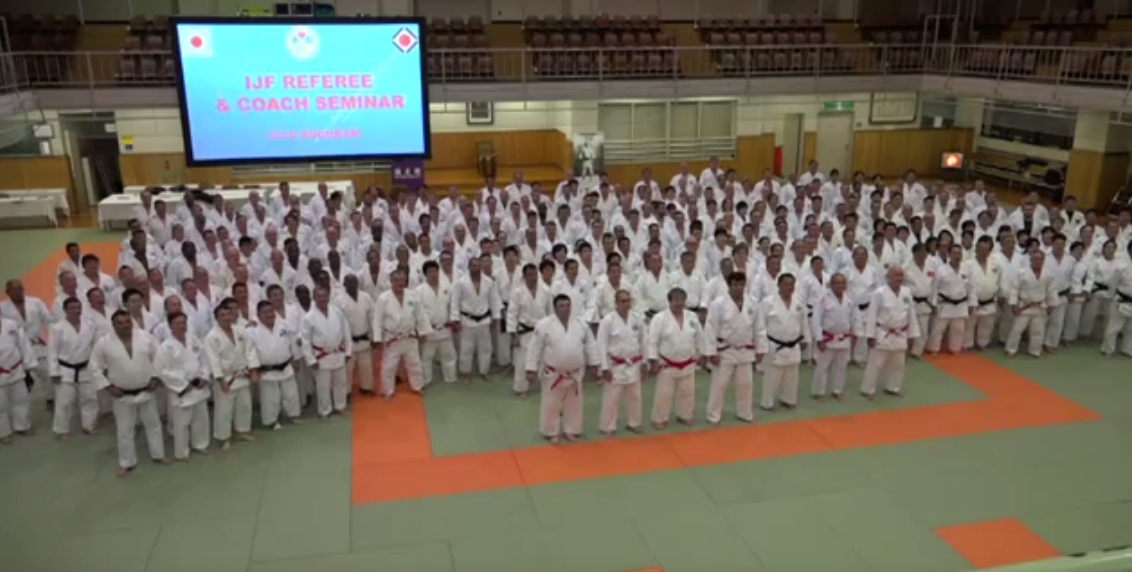 At the IJF Referee seminar in the Kodokan in Tokio this week guidelines were provided to the national referees attending. A group of scoring cases were discussed both with video support and the second day in practice. Haruki Uemura, President of the Japan Judo Federation made an introduction and welcomed the participants of the seminar.
Many differences were discussed between ippon and wazari, or even yuko scores vs no scores or wazari, score vs newaza, bearhug, leg grab, false attack, and other various situations in judo which may trigger a penalty.
Head of Refereeing Juan Carlos Barcos gave good video examples of clear and both doubtful situations and gave his explanation of the correct score.
"The format is simple. We are going to make a revision of the different situation, newaza, scoring, edge, penalties. So we can communicate the situation to the referees in your country."
Space for changes after the Olympic Games
"We are preparing the Olympic Games and we cannot change anything. After the Olympic Games we can adjust some things to make judo easier or more understandable. For instance the bridge situation. In case of a doubt it's better not to give a penalty. Perhaps after the Games we may change an ippon into hansokumake. But so far that is not the case."
"What we have in our minds that our sport is absolutely save for everybody, so we don't want anybody can defend with a bridge situation. We have been taught that with ukemi you keep your chin to your chest, but if your intension is to defend with the chin up, you have a clue as referee to decide if it's a bridge situation."
"To determine the score is not just a refereeing matter, it is a judo matter, so also education and sports commissions are involved."
The practical session was hosted by Daniel Lascau , Armen Bagdasarov and assisted by the IJF head referee directors Barcos and Jan Snijders with input of some of the coaches. In the session other interesting situations were discussed such as one side grip, styles of defense, immediate attacks,
Daniel Lascau said: "After the Olympic Games we will have a window to find some solutions for certain situations, when the qualification starts in 2018 we cannot move."
Related judoka and events
Related Judo Photos
Related Judo Videos
Related Judo News

Tim Gramkow (GER)
23 years
| Result | City | Date |
| --- | --- | --- |
| 2 | Düsseldorf | 21 Feb |
| 1 | Budapest | 2019 |
| 2 | Qingdao | 2019 |
| 1 | Osaka | 2019 |
| 1 | Odivelas | 2019 |
| Result | City | Date |
| --- | --- | --- |
| 1 | Düsseldorf | 21 Feb |
| 2 | Osaka | 2019 |
| 1 | Tokyo | 2019 |
| 1 | Tokyo | 2019 |
| 1 | Hohhot | 2019 |