The latest Judo News offered by JudoInside.com
Report of the Junior World Championships 2000 in Nabeul Day 1
TWOJ, the world of Judo, by Matt Carter Robert Danis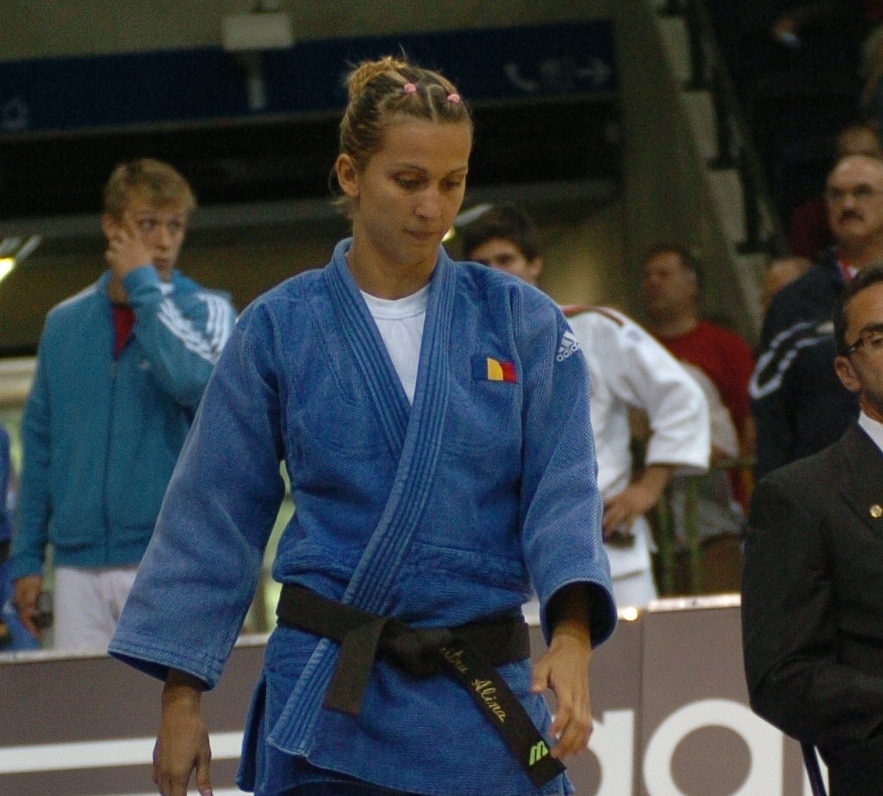 With a record of 65 countries and 435 competitors, the 2000 Hyundai Junior World Judo Championships opened today under beautiful sunny skies in Nabeul, Tunisia. An enthusiastic crowd turned out to cheer on their hometown favourites and almost received a medal for all their efforts as Anis Chedly of Tunisia entered the semi finals of the +100kg category after a strong showing in the preliminaries held earlier in the day.
Unfortunately for the popular Tunisian heavyweight, a spot on the podium was not in the cards. Instead, the gold went to Gadji Mouslimov of Russia who defeated a very game Italian, Paol Bianchessi in the final. Two categories were also being contested in the women's division: -48kg and -52kg, with Alina Dumitru (ROM) and Fabiane Hukuda (BRA) taking the top spots in their respective categories.

+100kg
In the men's division, 22 judoka fought for the heavyweight title, but the gold would go to Mouslimov, who came into the +100kg final with impressive victories over Robert Stilwell (GBR), Marek Madzin (SVK), Laszio Szilagyi (HUN) and eventual bronze medallist Yohei Takai of Japan. Takai, whose left-sided Uchi-mata looked dominant all day, was countered by a confidant looking Mouslimov and held down for the ippon win in the quarter final. The final against Bianchessi (ITA), although it featured the two strongest players on the day, was somewhat anticlimactic after Bianchessi's epic battle with local hero, Chedly (TUN) in the semi finals. During Chedly's matches, the arena sounded more like a football stadium as the Tunisian fans sang, clapped and banged drums to help spur on their compatriot. Chedly, who was up by a koka going into the final minute against Bianchessi, looked to be on his way to the finals when he was given a shido for non-combativity with only 25 seconds remaining to level the score. The fight ended in a draw and after a split decision in favour of the Italian you could hear the groans of disbelief from the silenced crowd. Never the less, Chudley received a warm round of applause for his efforts and left the mats to prepare for his bronze medal match against the tough Japanese player later in the afternoon.

The match between Chudly and Takai began with both players avoiding throws and despite repeated attempts, Takai was unable to pull of his big left-sided Uchi-mata. Eventually he did score however, with a nice Harai-goshi and finished off with a hold down for the ippon. What looked so promising in the early part of the day ended up being a 5th place for Tunisia and a bronze for Japan. In the other bronze medal match up, Sebastia Baehr (GER) faced off against Laszio Szilagyi (HUN). This was a tough battle and lasted the full five minutes with Baehr scoring a yuko with Seoi-nage to secure the win.

-48kg
On to the women's division now starting with the 29 person strong -48kg category. This was a very competitive group and there were some excellent techniques shown in the early rounds including a beautiful Te-guruma from Gereltu Erdenechimeg (MGL) against Francesca Cognia (ITA) and a couple of nice ankle picks from Feng Gao of China. The final was an exciting one and featured Romanian, Alina Dumitru and Sayaka Matsumoto of the USA. Dumitru fought her way to the final by, Hajer Barhoumi (TUN) in the second round. Barhoumi, who had won her first round fight against Monika Gabaj (POL) to the delight of the crowd, lost to Dumitru by a nice throw that scored her an ippon. Dumitru then went on the beat Agnur Samat (TUR) and Gao of China. The semi final match against Gao started out with Dumitru scoring waza-ari with a quick Harai-goshi that one judge thought deserved an ippon. Feng countered with two kokas, and some good attempts at Kuchi-ki-taoshi, but it wasn't enough and the Romainian finished her off with an classy ippon throw.

The other semi final saw Akmarak Maldabekova (KAZ) against Sayaka Matsumoto (USA). Matsumoto, who is the daughter of IJF Researcher, Dr. David Matsumoto, fought a strong tactical fight and won on penalties as Maldabekova received a chui for passivity. Matsumoto had just come off a strong 7th place finish the previous weekend at the Senior U.S. Open in Colorado Springs, USA, and headed into the final feeling confident. In the final Matsumoto came out fast and almost scored with a leg pick before the match settled into a tight gripping battle. Matsumoto, who had fought Dumitru on a previous occasion in Europe, and had been thrown for ippon in less than 10 seconds, looked more sure of herself in this final. Although she lost on a pick up with 20 seconds left in the match, she was happy with her silver medal performance. In a press conference afterwards, Matsumoto spoke about the match, "She (Dumitru) was really strong and is a great fighter. I fought her last August in Poland and I tried to get the result I wanted today." Unfortunately, for Matsumoto, she didn't get the gold she wanted, but she was happy with her result and is looking forward to future success at the senior level. That future begins next month for the 17 year old American at the Senior Pan Am Judo Championships in Orlando, Florida. She credited her coaches, Teri Tekemori and 4 time U.S. Olympian Jason Morris for her success, saying she discussed the Romanian player's strategies a lot in preparation for this championship.

Bronze medals were awarded to Eriko Nakajima (JPN) and Gao (CHN). Nakajima scored a lovely ippon with a drop down Seoi-nage half way through her bronze medal contest. Her only loss of the day ironically, came at the hands of the other bronze medallist, Feng Gao. Gao, who looked sharp all day, ended on a high note with a stunning Ippon Seoi-nage just 25 seconds into her bronze final against Tatia Bobalova (RUS).

-52kg
The -52kg category was even larger, with 33 competitors fighting it out for gold. That distinction went to a dynamic player from Brazil by the name of Fabiane Hukuda. Hukuda made it to the final with a string of ippon victories to her credit starting with K. Murray Williams (USA) and Martine Geoffrion of Canada. Geoffrion who was at least 5cm taller than Hukuda, opened the scoring with a koka, but the Brazillian fought back to score an ippon with a beautifully executed Tai-otoshi. After getting past Miriam Polak (NED) in the quarter finals with what looked like a Sode-tsurikomi-goshi with 20 seconds remaining, she met Joana Ramos of Portugal in the semi final. Ramos had looked intense all day and would prove to be a stern test for the up and coming Brazillian. However, true to form, Hakuda caught Ramos with a perfect Tai-otoshi to earn a birth in the final against an equally impressive Audrey Larizza of France. Larizza earned her spot in the final by narrowly beating Viktoria Nagy (HUN) by a shido in a hard fought semi final match up.

In the final Hakuda put the first points on the board with a quick right-sided drop Seoi-nage to score a koka. After a further two and a half minutes of tough grip fighting, both players received shido, despite their aggressiveness. As it was, the koka stood as the winning score and you could see the joy on Hakuda's face as she realized her goal of winning a gold medal. She kissed the mat as she bowed off and her tears streamed down her face in a touching display of pride as she listened to her national anthem on the podium.

The bronze medals went to Aiko Sato (JPN) and Polak (HUN). Sato defeated Ramos (POR) with a lovely drop Seoi-nage at the 1:13 mark of their match. Sato later commented that she was very happy with her medal. In the other bronze medal final, Polak met with Jeannett Wanke (GER). Up by a yuko and a koka with 1:37 remaining, Polak injured her ankle as it appeared to buckle underneath her. However, she showed her determination and hung on to her lead. After being penalized for passivity, Polak put in one last attack and scored another koka with Morote-gari to guarantee the win and the bronze medal.
Related judoka and events
Related Judo Photos
Related Judo Videos
Related Judo News

Thom Hensens (NED)
19 years
| Result | City | Date |
| --- | --- | --- |
| 1 | Budapest | 23 Oct |
| 2 | Düsseldorf | 21 Feb |
| 1 | Budapest | 2019 |
| 2 | Qingdao | 2019 |
| 1 | Osaka | 2019 |
| Result | City | Date |
| --- | --- | --- |
| 1 | Düsseldorf | 21 Feb |
| 2 | Osaka | 2019 |
| 1 | Tokyo | 2019 |
| 1 | Tokyo | 2019 |
| 1 | Hohhot | 2019 |