The latest Judo News offered by JudoInside.com
Tchrikishvili takes his third European title
Emir Incegul / Turkish Judo Federation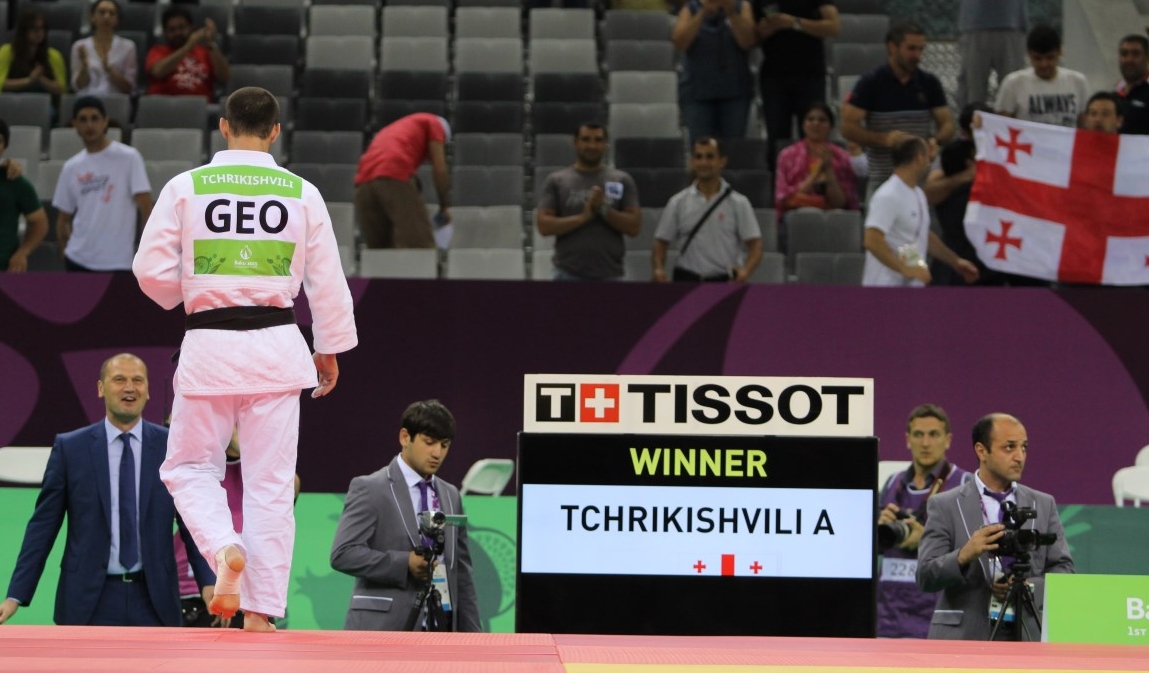 A great final in the men's U81kg as expected, whoever would be in the final, but in fact Avtandil Tchrikishvili was expected to be there again for the third time in a row. It was Tchrikishvili who took his third title in a row at the European Games in Baku. His opponent was the Russian fox Ivan Nifontov.
It was a great match from the start but the first one to score was the smart Nifontov. After one minute in the match he turned a risky attack of Tchrikishvili in his advantage, and got awarded a wazari for his counter. Tchrikishvili kept the pressure but couldn't score until halfway the match when he also launched a huge throw and got wazari as well. Nifontov had one penalty but the Georgian accelerated even more and the all or nothing strategy almost led for a point of Nifontov. But the score remained until the end and the king kept his crown.
Alexander Wieczerzak took the bronze medal, more than deserved after his good fights today. He was unlucky for his own feeling against Ivan Nifontov when he was awarded the score in the golden score, but that decision was wisely reversed to a score for Nifontov who was in fact never in doubt about his point and kept his head cool. But in the fight for bronze it was German Wieczerzak who could fight more at ease against Aliaksandr Stsiashenka of Belarus. In the last minute Wieczerzak could keep Stsiashenka on the ground to win some time and fight out his medal bout who was never in danger. Coached by 1998 European Champion Daniel Guerschner Alexander Wieczerzak got what he deserved.
The second bronze between Loic Pietri and Sven Maresch started with five fast penalties in one minute, one more for Maresch. But a minute later also Pietri got one making 3-3 which made it close to a hansoku for one of them. A tactical game followed but no one could score. After 95 minutes in the golden score it was Pietri who secured another medal this year. A tremendous finish by Pietri under pressure and bronze for France and third European medal in a row for Pietri. Wieczerzak defeated the Frenchman in the quarterfinal but in the end they were both on the podium.
After the awarding ceremoney Tchrikishvili responded to his performance of today.
"This is very important for me and Georgian team. I got two medals, European championships and European Games medals. These for me are good prizes. They will motivate me to train hard."
"This is the first gold medal for my country in the Games. But I hope not the last. I believe tomorrow we will get more gold medals. In two days there will be team competitions and I hope we will win, and I'll go home with three medals."
On winning a third medal:
"It will be difficult to win in team competitions, but I think our team, Georgia will be the first."
On his tactics:
"When I go to tatami, my coach said to me: 'Avto, do whatever you want to do, but win'. And I did."
Related judoka and events
Related Judo Photos
Related Judo Videos
Related Judo News

Silvia Garcia Aguilar (ESP)
27 years
| Result | City | Date |
| --- | --- | --- |
| 1 | Ekaterinburg | 16 Mar |
| 2 | Paris | 9 Feb |
| 1 | Tel Aviv | 24 Jan |
| 7 | The Hague | 2018 |
| 1 | Abu Dhabi | 2018 |
| Result | City | Date |
| --- | --- | --- |
| 3 | Paris | 9 Feb |
| 1 | Budapest | 2018 |
| 5 | Abu Dhabi | 2018 |
| 1 | Baku | 2018 |
| 2 | Jakarta | 2018 |