The latest Judo News offered by JudoInside.com
Kim Polling grabs third back to back European title
Emir Incegul / Turkish Judo Federation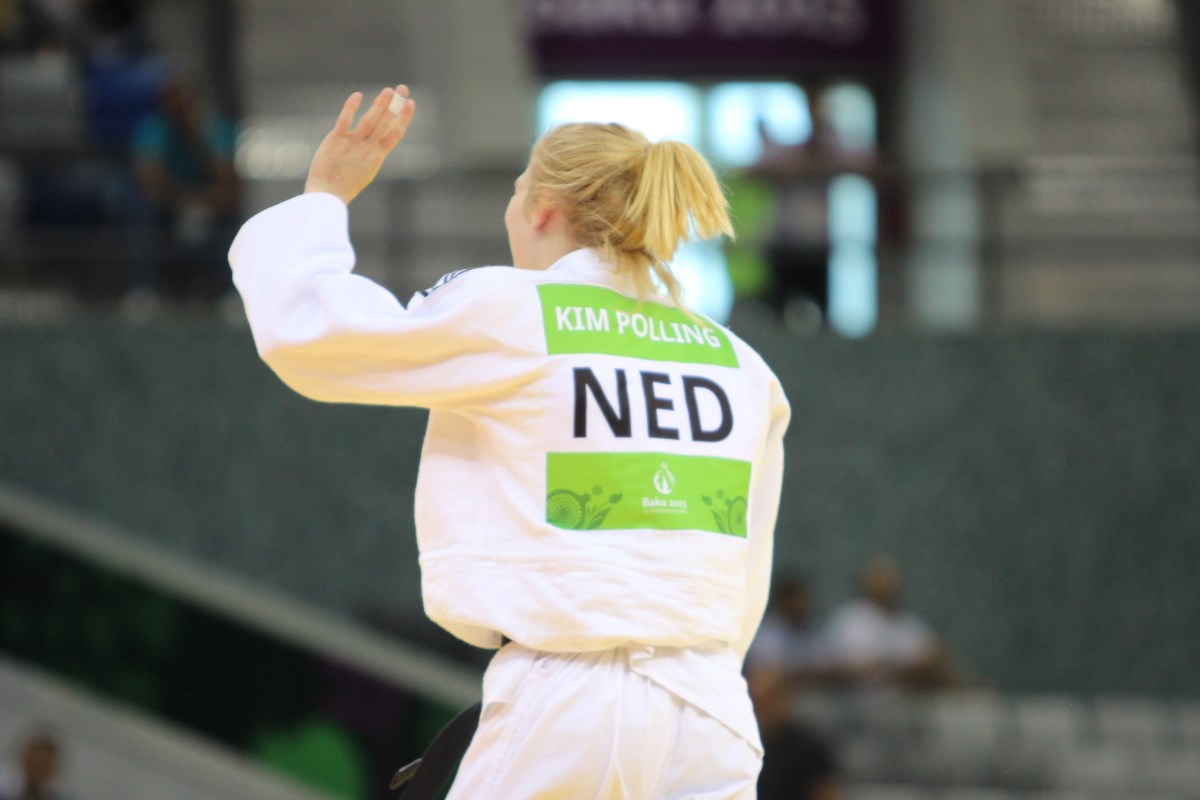 Kim Polling has won the third consecutive European title. At the European Games she was imperious the whole day. The projected a superb day and she knows well her abilities and rediscovered herself over the last year when she faced a lot of mental problems after her failed World Championships.
In the final Kim Polling defeated Laura Vargas with a superior domination and makes judo look so easy but prepared her grip really well to push Laura Vargas Koch to the ground immediately followed by a strangle, which in the end turned out to a 20 seconds hold down.
Not a copy of last year's final where she barried Vargas Koch with an impressive throw, but this time with fine ne-waza, prepared with her grip.
Polling won the third title in a row, something that Clarisse Agbegnenou and Eva Csernovicky couldn't keep, not even Teddy Riner, but Polling found her partner in Avtandil Tchrikishvili with such performance.
What's left is the World title, something that didn't work out over the last two years when she succeeded Edith Bosch, who won four European titles, speaking about Dutch dominance. Polling was the favourite for the worlds in Chelyabinsk, but exactly that pressure and the effort to achieve that, was too much for Polling. The Dutch broke with her coach Marjolein van Unen recently and was now coached by Maarten Arens, who has more to do, and gave her second priority. Polling accepted that and made judo simple today.
She defeated Roxane Taeymans (BEL) in her first match, Szabina Gercsak in her second and then rolled up the German medallists Vargas Koch and Diedrich.
After 90 seconds Szaundra Diedrich got the submission from Katarzyna Klys in her bronze medal bout. Another medal for Germany in this category and for the tremendous German women team who obviously are in a favourite position to take the women's team title.
In the semi final it was Kim Polling who bested the German talent with a huge ura nage. Diedrich had never experienced such machine fighting her and could only follow the steps of Polling. Diedrich isn't bad given her bronze medal but had no chance against the Dutch animal from Groningen. Diedrich could only smile after such defeat knowing who rules in Europe U70kg.
Hungarian Gercsak had a great day. The youngster who defeated Linda Bolder in the first round and bested Maria bernabeu of Spain who was also in a great shape, was able to feel Polling in her third match. She surprisingly beat Masters winner Sally Conway (GBR) in the repechage. She hold off Bernadette Graf from scoring but two penalties gave Graf the victory in the bronze medal bout.
Graf had previously beaten Annett Meszaros, the other Hungarian in her first round. She defeated Klys, but lost to Vargas Koch. Bronze for the Austrian.
We asked Kim Polling on her experiences during the day.
"I am very happy with the title, but I'm also very tired because it's such a long day. It's very bad for the organisation that we have to wait for so many hours before the final."
On winning her third European championship medal in three years:
"This is the third time that I have become a European champion and I like it. But last year I won the final within seven seconds so that was more: 'Wow'. Now, because I'm very tired after all this waiting, it's more like: 'OK, I am the champion, I'm done here now and I'm just happy that it's over'."
On the pressure of being the reigning European champion:
"Everybody expected me to win, so that adds pressure of course, but all day I felt so strong that I just thought to myself: 'Have patience and your moment will come', and it came."
On which match was the toughest in the competition:
"The last match was the toughest one, because everybody expected me to win and because of all the waiting. To win despite all this, I think I took a big step forward today."
On having beaten her final opponent VARGAS KOCH in all of their previous matches:
"Last year I lost to somebody I'd never lost to before, so I didn't think much about it. Today I was feeling so strong that it wouldn't have mattered who I'd been fighting."
Related judoka and events
Related Judo Photos
Related Judo Videos
Related Judo News