The latest Judo News offered by JudoInside.com
Russian athletes take five medals at first day of European Games
Emir Incegul / Turkish Judo Federation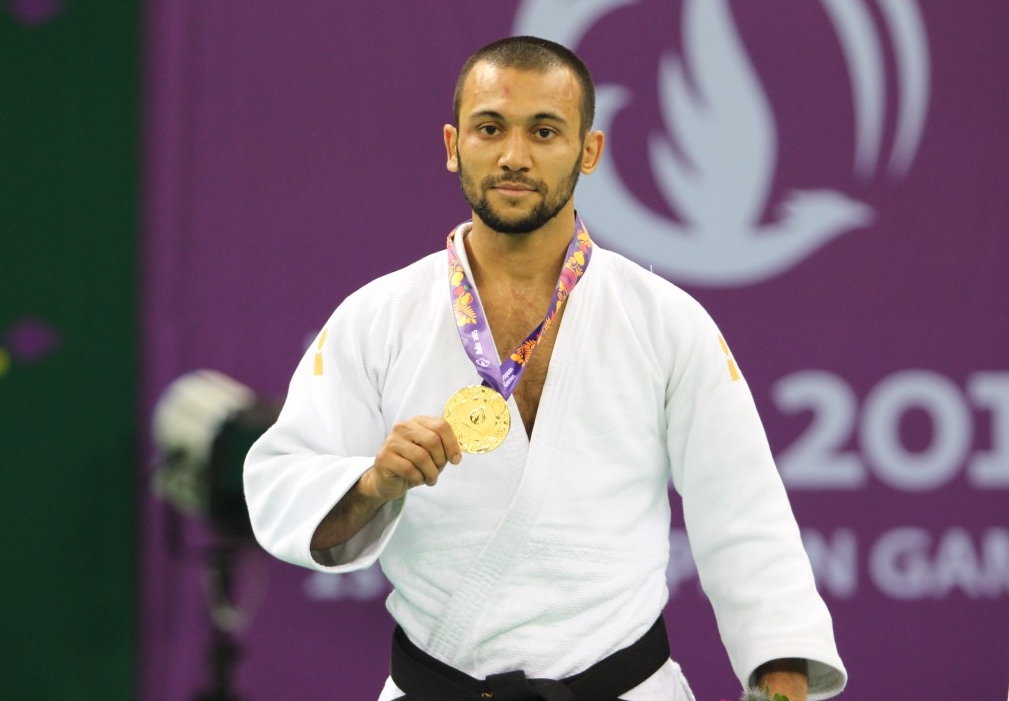 At the first day of the European Games in Baku Russia topped the medals table with two gold medals and three bronze over five categories, with sometimes two judokas. The category U66kg had the best outcome for the Russian with gold for Khan-Magomedov and bronze for Pulyaev. Romania, Portugal and Belgium started the Championships with gold as well. France had to deal with two lost finals.
The most impressive winner of the day was Beslan MUDRANOV in the -60kg. It was his third European title, having won the continental title in 2012 and 2014. This year the European Games doubled up as the European championship, and MUDRANOV was presented with two gold medals for his victory over Azerbaijan's favourite Orkhan SAFAROV.
"I didn't expect two medals, that was a nice surprise," said MUDRANOV, who attacked throughout.
Another judoka hoping for a third European title was Hungary's -48kg favourite Eva CSERNOVICZKI, but she suffered a surprise defeat in the quarterfinals and had to be content with a bronze, via the repechage. She was beaten by Russia's Irina DOLGOVA, who also had to settle for bronze after losing in the semifinal to the easy winner, Charline van SNICK (BEL).
Van SNICK had been banned for two years in 2013 for a doping violation, after testing positive for cocaine. But she claimed innocence, said she had been sabotaged and won an appeal last summer, when the ban was annulled.
"I was clearly the best today," she said. "Last year I had trouble with the doping controls and with proving my innocence, so I didn't think about judo at all. But I knew that one day I would be a European champion and I did it."
The five medal events:
Women -48kg
The finalists were competing against each other for the third time in nine months and Belgium's van SNICK made it 3-0 in her favour with victory over Ebru SAHIN (TUR). The bronzes were won by the pre-tournament favourite, CSERNOVICZKI (HUN), via the repechage, and the Russian who beat her in the quarterfinals, DOLGOVA (RUS).
Men -60kg
Azerbaijan's best hope of a judo gold was with their No1 ranked -60kg star SAFAROV. He was hampered by a right thigh injury and lost to ippon against Russia's MUDRANOV, who had never beaten SAFAROV before. Bronze medals were won by Amiran PAPINASHVILI (GEO) and Ludovic CHAMMARTIN (SUI).
Women -52kg
Andreea CHITU (ROM) extended her winning record against Annabelle EURANIE (FRA) to 3-0 with a comfortable victory. She never looked likely to give up points despite being 16cm (6in) shorter than EURANIE. The bronzes were won by Germany's Mareen KRAEH and Russia's Natalia KUZIUTINA.
Men -66kg
Two medals for Russia as Kamal KHAN-MAGOMEDOV won gold and Mikhail PULYAEV made it three out of three for Russia in their bronze medal matches. KHAN-MAGOMEDOV'S mother is Azerbaijani. The other bronze went to Sebastian SEIDL (GER).
Women -57kg
Telma MONTEIRO of Portugal extended her winning record against Hedvig KARAKAS (HUN) to 5-0, winning by ippon. The world No1 was impressive throughout the day. Bronzes were won by Miryam ROPER (GER) and, to the delight of a small but noisy following, Nora GJAKOVA (KOS).
Related judoka and events
Related Judo Photos
Related Judo Videos
Related Judo News