Anna-Maria Wagner tanks confidence in Antalya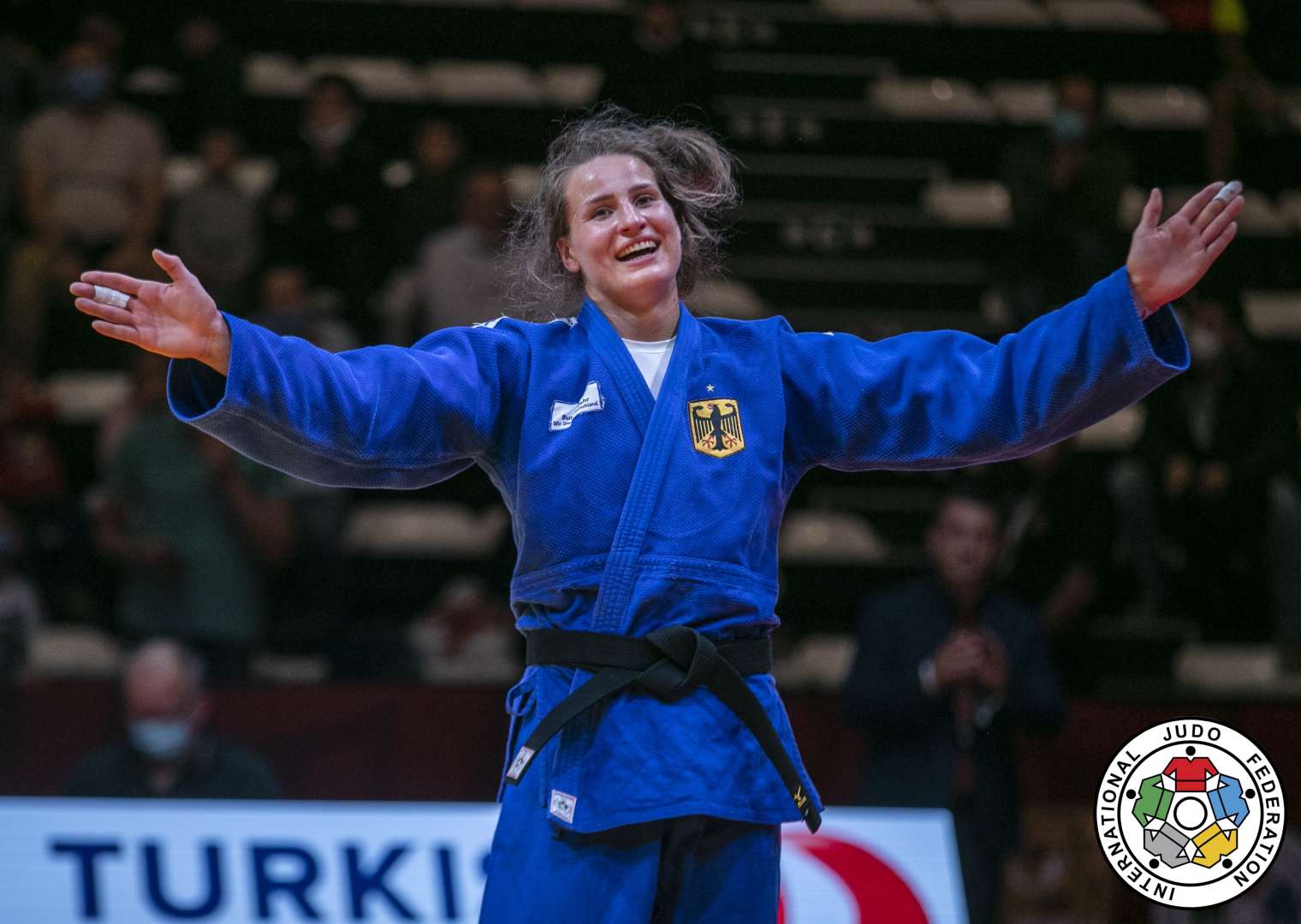 3 Apr 2022 18:35
IJF Media team by Nicolas Messner and JudoInside
IJF Gabriela Sabau / International Judo Federation
Anna-Maria Wagner claimed the gold medal at the Grand Slam in Antalya. A welcome return in the IJF World Judo Tour for Wagner at an exhausting day after a difficult period since her bronze at the Olympic Games. However, she showed mental strength on Sunday showing the value of her red back patch.
Dutch Guusje Steenhuis, everything seemed to smile on her towards the final, where she was opposed by the 2021 world champion, Anna-Maria Wagner (GER). The latter has revealed to us the difficulties she encountered after obtaining her world title and Olympic medal. It is clear that this mental ordeal seems to be perfectly overcome. She said she would come back when she felt good and obviously she does.
Being less active than her opponent, Guusje Steenhuis received a first shido for passivity. Halfway through the Dutch judoka was penalised a second time for stepping out of the tatami. It is with that two shido difference that the golden score period began. The next shido was for Anna-Maria Wagner. Four minutes into golden score, Wagner was penalised a second time. The next shido or throw would determine the winner. Six minutes of golden score were almost reached, when suddenly Wagner countered Steenhuis with a powerful ura-nage for ippon. This is a beautiful mental victory for the German champion.
Wagner: "It was really my toughest fight of the day. Of course I'm not in the same shape than last year. I need more training and my condition wise was not so good but my head was good. Everytime I stood up I said to myself : "Okay, next action I have a chance". So I wait for that moment and then I felt it and yes… It was a wonderful ippon I think".
With one rep already in the final block, the Netherlands doubled their lead as Natascha Ausma qualified for the bronze medal contest against the veteran Luise Malzahn (GER), a match that the Dutch won with a waza-ari scored early on via a clever change in direction.
The last few months have not been easy for Madeleine Malonga (FRA). A second place at the 2021 worlds, then a silver medal at Tokyo 2020 and finally a third place last February in Paris would satisfy many but for the French champion, this is not enough and especially when it's compared to her domination in 2019 during the World Championships in Tokyo. Even today, although seeded number one, she had to bow out in the semi-final against Guusje Steenhuis (NED). The return to her best level will therefore have to wait a little longer.
Malonga and Tcheumeo have been rivals for several years and contribute to the emulation of the category in France and once again Madeleine Malonga and Audrey Tcheumeo were supposed to find themselves on the tatami to compete for a medal, bronze this time, but Malonga couldn't compete and therefore the medal went to Tcheumeo.