World Ranking leader Clarisse Agbegnenou is a power woman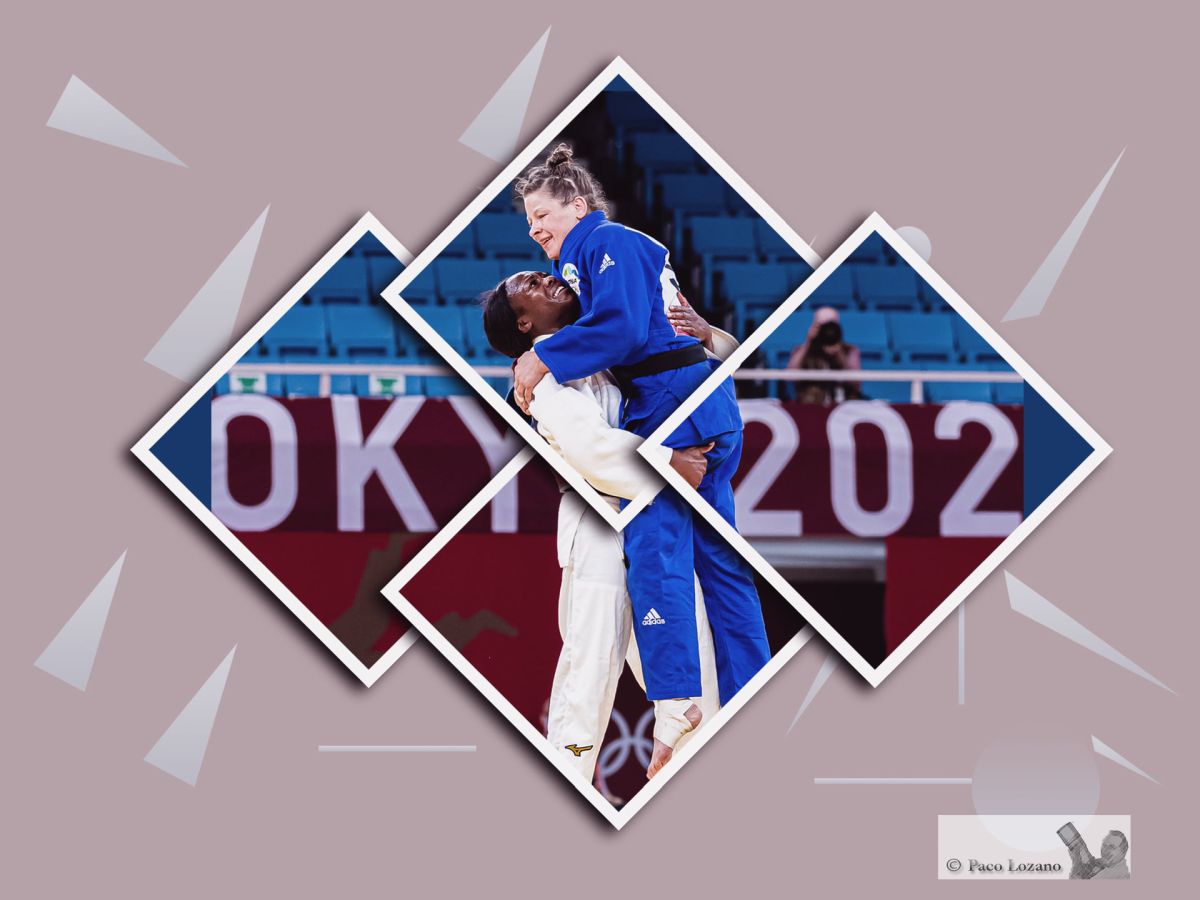 19 Nov 2021 14:20
Eurosport judo show
Paco Lozano / Judo y Otros
One of the most successful female judoka ever on the planet . Agbegnenou has won two Olympic gold medals including the team event where she fought in a higher category U70kg and defeated the 2021 Olympic gold medallist being seven kilograms lighter.
Agbegnenou was close to the Olympic gold medal in Rio but we know how that went. She took a perfect and well deserved revenge where judo took the benefit with a great sportsmanship between the main players U63kg Agbegnenou and Tina Trstenjak of Slovenia. The friendship was nominated as moment of the year in the IJF Judo awards.
Agbegnenou is the flagbearer of France and deinifitely answered yes on the wish of having a baby, but she doesn't know whether it will be in this Olympic cycle or in a next one. For the French the 2024 Olympic Games are the absolute advertisement for what French sports is all about, but she said to be back in time.
For those who have discovered online betting in UFC, you always want to have the best UFC betting picks as in judo you want to see the best finals as a tournament is different from a one off fight in the ring or octogon. As a judo fan you want to see those ultimate fights that Agbegnenou showcased in her contests against Tina Trstenjak, but also against her epic fights against Japanese Miku Tashiro and Israels Yarden Gerbi
Agbegnenou's social involvement
For the sixth time Clarisse Agbegnenou is the number one in the IJF World Ranking at the end of the year. She is the most dominant fighter in judo with such dominance in the World Ranking. It delivered her various financial bonusses but money is not the drive for Agbegnenou. She is one of the few athletes who can make a more than reasonable living of judo. Besides many other sponsorships, she represents France as perhaps its best athlete in any sport. She is more than a judoka and told us about her ambassadorship for prematurely born babies.
Judo has become more interesting as a world wide sport because of the performance of the French team in Tokyo, they defeated Japan in the Budokan. A similar impact as when Anton Geesink claimed the gold in the same hall in 1964. The Japanese team with nine Olympic gold medallists was defeated. Judo needs absolute focus and it's proven hard to concentrate for a second day after a good performance. It is an opportunity to recover from a bad result, the Israelian proved it taking bronze. For many Germans the team medal was a blessing in the sky, for the Japanese the silver medal just hurt. The defeat of Chizuru Arai against Agbegnenou was more than a statement, it had an immediate impact on the final result.
Judoka are leaders
Some athletes simply transcend the sport. Not only because of their performances but also their complete image, their appearance, their commitment to sponsor and ability to live a mature and responsible live without any slips where the media can jump and a sporting life that inspires other people to believe that sport is the ultimate tool for health, the solution of many health problems and should in fact also prevail in a time of Covid-19 instead of locking us down without the same circumstances to train and keep your body fit for the next challenge. Many top athletes also represent social foundations like Agbegnenou or are an ambassador or representative of a goal beyond the life of judoka. Judoka are leaders and it is not a surprise that some of the national Olympic committee leaders have been judoka. Recently in Spain Alejandro Blanco was re-elected for a fifth time as NOC president for sport in his country. Yasuhiro Yamashita is still President of the Japanese National Olympic Committee and a key person at the 2020 Tokyo Olympic Games. It's the same that IOC have many former Olympic medallists and winners such as President Bach in its board and IOC member list and the board of the International Judo Federation and most commissions are full with Champions from the past.
The Girlpower of Kelmendi
In Judo people like Anton Geesink or former Mongolian President HE Battulga Khaltmaa, Russian Federation President Vladimir Putin and many more politicians have their roots in judo. Some athletes simply have a destiny in life. For sure people like Kosei Inoue is destined to become an essential persons in sports or even politics, but that will need some time. The same for the retired Majlinda Kelmendi who was a key asset for her country Kosovo to be recognized by the IJF and the IOC for the 2016 Olympics in Rio and flagbearer for her country. Now her time is come to work on a new career and we dare to forecast she is destined for a political position some day.
Clarisse Agbegnenou is an adorable person, she is touchable, she listens, she opens her ears and mouth on social issues and defended clearly and publicly her friend Margaux Pinot recently. Agbegnenou is destined to become one of the key figures in international judo and likely beyond our sport. First we give her some rest and hope for a great comeback, perhaps in advance of the Judo World Championships in Tashkent.