Uta Abe Olympic Champion after final against Buchard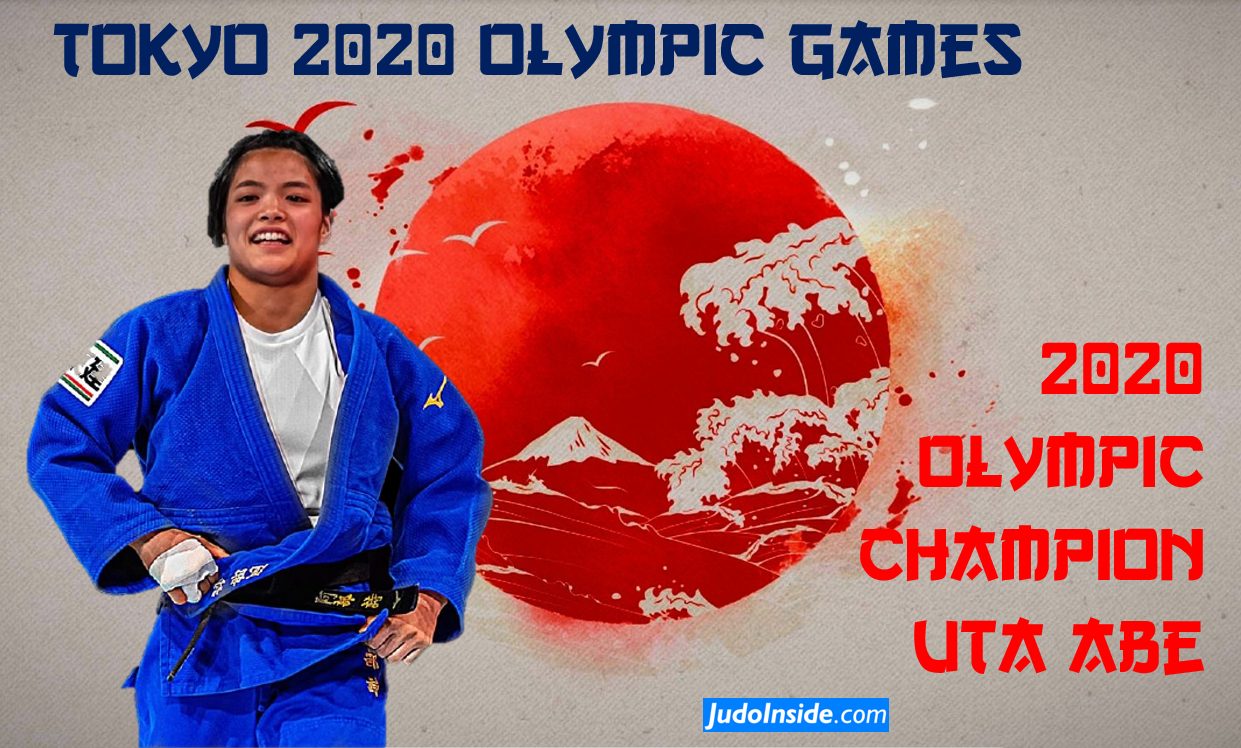 25 Jul 2021 14:10
IJF Media team by Nicolas Messner and JudoInside
JudoInside.com / judo news, results and photos
Both Uta as Hifumi Abe fought the same day under the dome of the Nippon Budokan and both claimed the Olympic title on a historical day. Uta admires her brother and that he was always a role model for her. Japan now has two role models for many youngsters that will try to step into their footlight. Both showed a scala of technique and tactics. Two masters with a great future with a desire to perform and present the best image of judo, not just in Tokyo but beyond. They have the age to do the same in Paris 2024 and Los Angeles 2028.
We start with the women's division in an expected final between Uta Abe and French challenger Amandine Buchard. Buchard had defeated the Japanese star on the World Judo Tour, but Abe was simply the favourite given her style and reputation as a former World Champion. During the first half of the contest Buchard concentrated perfectly on her powerful right arm, which is for sure her most powerful weapon and on Abe's kumi-kata . Not scared to be in contact, not scared to launch her tokui-waza and not scared to go on the floor, the French powerhouse pushed the Abe to be penalised with a first shido for passivity.
Into golden score and the first attack came from Abe, with no score but a shiver that ran through the audience. Eventually Abe Uta blocked Buchard's kata-guruma and immediately turned her over to pin her down with an inescapable immobilisation. This was for sure the plan but it took many minutes for Abe to apply it. When she did, it was the right moment and it offered her the Olympic title. A long hug between the two champions followed. They knew that they were the best today and that they put everything out there on the tatami in a beautiful final full of engagement.
Uta Abe said: "When asked if it was more difficult to fight or to watch my brother fight, I have to say that fighting the final was much more difficult. In the final the key was to be patient and not make mistakes and that is why I won."
Amandine Buchard: "I was feeling great all day long, doing the right things at the right time. In the final I felt she was a little bit scared, I felt it just like that. I made one mistake, just one but it cost me the gold. I'm proud of my silver and I guarantee you it won't be the last final between the two of us."
Giuffrida and Giles take bronze
In the first bronze medal contest Hungarian prodigy Reka Pupp hoped that she could conclude a beautiful day of judo with a medal around her neck but Odette Giuffrida, who participated in the final of the Rio Olympic Games and lost against Majlinda Kelmendi five years ago, this time concluded the competition with a victory eventually imposing her reversed seoi-nage, executed on one sleeve, to conquer a second medal at an Olympic Games. Not many athletes can say that they have two Olympic medals, so congratulations Odette.
Even under Kocher's pressure, Chelsie Giles was the first to score, with a counter-attack for a first waza-ari, to take a strong lead halfway through. The match kept showing a dominent Kocher and an opportunist Giles, but the Brit scored a second waza-ari with a clever de-ashi-barai. A bronze medal for Chelsie Giles and a first medal for Great Britain in judo here in Tokyo.
Chelsie Giles said, "This year I have learned to not underestimated myself. This morning I felt great. I made a little mistake in the quarter-final but then I managed to get the bronze. The next step is to enjoy watching other contests, especially my teammates."
Favourite prevail in the semis
In Abe's half of the draw, there was no surprise, as the ultimate favourite qualified to face the Rio 2016 silver medallist, Odette Giuffrida of Italy. The semi-final started with an impressive pace always imposed by Abe, who was close to concluding on the floor but the very experienced Giuffrida escaped. Abe and Giuffrida reached the end of the four minutes, with no score and no penalty given, which is rare enough to be underlined. Following a precise tactical plan based on strong but safe attacks, some of them being at the limit of the false-attack, the Italian brought her opponent a penalty, the first of the match, but flirting with the false attack offered Giuffrida a turn to be sanctioned a first time and then a second time. After three minutes in the extra period, Abe had maybe the only real opportunity of the match and she didn't miss it, to score a waza-ari with a massive uchi-mata.
As Kelmendi was leaving the tatami, Amandine Buchard (FRA) proved that her number one seeding was not just by chance. Without trembling for a single second, she qualified for the semi-final of her first Olympic Games. Five years ago she was not selected but this time she is among the best. Once again, from one Olympiad to the other, so many things can change. In front of her was the Swiss Fabienne Kocher, author of a perfect start earlier in the morning but it took only 16 seconds for Amandine Buchard to score a clear and fast-as-lightning ippon with her special movement, kata-guruma, on the edge of the competition area. Kocher was even smiling at the end of the match as she realised how fast everything moved.
Pupp and Giles win the repechage
After a really good first session and despite her defeat in the quarter-final against Fabienne Kocher, Reka Pupp (HUN) faced Da-Sol Park, who eliminated Natalia Kuziutina earlier in the day, to have a chance to compete for a medal. Within the first minute, she scored with an aerial uchi-mata to take the lead. She then controlled the rest of the bout with very clever ne-waza sequences, where she was close to scoring but at the same time was able to control time without getting too tired. Reka Pupp really did a good job, combining attacks and tactics in the best possible way.
Chelsie Giles (GBR) confirmed her good form from the last IJF World Judo Tour events and was still present in the final block against Charline Van Snick, a veteran on the circuit, since the Belgian was a bronze medallist in London 2012. In golden score, with a very opportunist ko-uchi-gari, while Van Snick was counter attacking, Giles scored ippon and sent her myself to the bronze medal contest.
Not much later Uta Abe was jumping up and down excitedly on the edge of the field of play, cheering for her brother, Hifumi did not make any mistake and controlled Margvelashvili until he could finally raise his arms in victory.