Anna-Maria Wagner is a medal favourite in Tokyo U78kg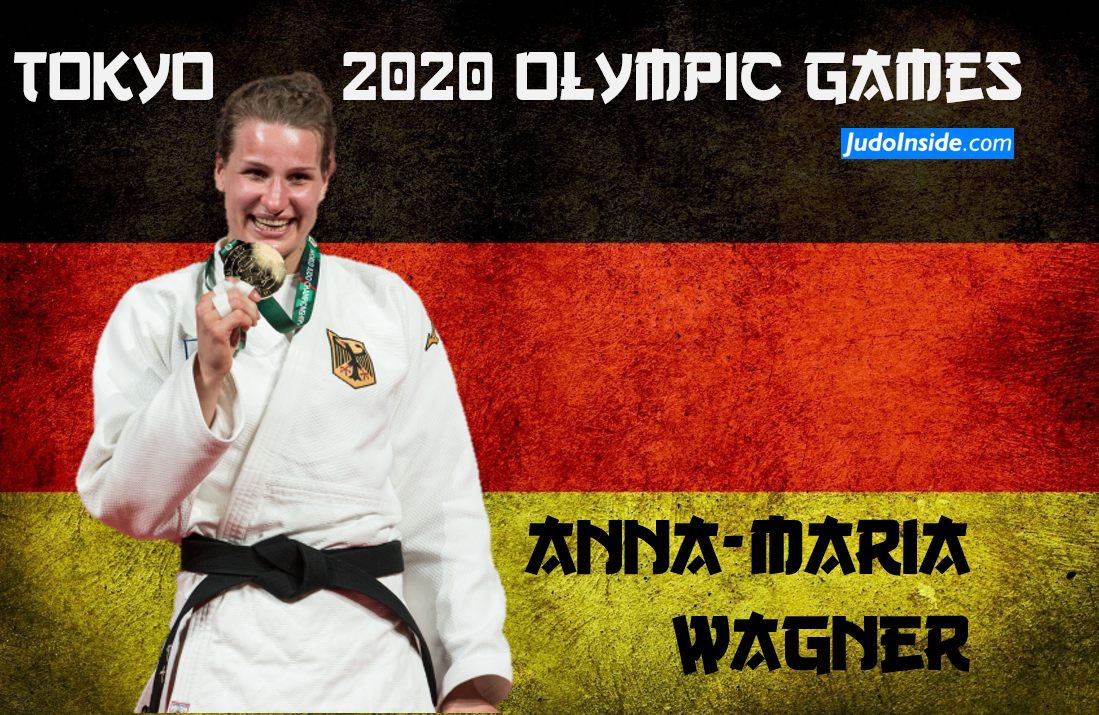 19 Jul 2021 08:30
JudoBund and JudoInside
JudoInside.com / judo news, results and photos
Last year Anna-Maria Wagner became World Champion in Budapest. She was always close to the top athletes and now outperformed with a world title. Obviously the tall German is among the favourites for Olympic gold in the competition of the 78 kilo class. Wagner is very consistently among the world's best. At the end of the sixth day we will know how this weight category evolved.
Anna-Maria Wagner won seven medals at tournaments on the IJF Tour in 2019 and made it to the finals five times. With the bronze medal in 2020 in Düsseldorf, she had initially consolidated the nomination for the 2020 Olympics. But it remained consistently successful in 2021 as well. She won gold at both the Grand Slam in Tel Aviv and Kazan. She is currently in 3rd place in the world rankings.
What drives you
My success drives me. As soon as I get medals somewhere, I want to place more or even better! I want to go all the way to the top !!
How do you manage to outsmart your weaker self?
It's actually very difficult for me on my own. Since we usually always train in a team, the team drives me. You always want to be better, stronger and faster than the others.
I owe it in particular to Maike Ziech. Without them, I probably wouldn't have done one or the other training session so well. We are a great team!
What do you particularly like about yourself?
That I am a very happy person and that I usually keep people in a good mood. And I am very happy that I am an uncomplicated person.
What are you particularly proud of your own accomplishments?
I would say that I haven't achieved anything on my own. On my path to success, I always had great people around me. I got all my medals together with my team, which I can rely on 100%. Regardless of whether they are with me live or just in their thoughts. And I am happy that I am as independent as I am today.
Is there a ritual / lucky charm at the competition?
I don't have this "one" ritual. I would rather say that over the years I have built up a certain routine in competition. Warming up, listening to music, getting up mentally, etc. But I never stick 100% to exactly THAT one concept.
What do you dislike about yourself?
There is nothing I absolutely dislike about myself.
How can you best relax?
Either actively with a walk and music or passively in bed with Netflix and snacks.
What can you laugh about the most?
About a lot, the main thing is that it's funny.
To whom would you award a medal with what (brief) reason?
I would award two medals:
To my sports psychologist and friend Moritz Anderten - I got to know him when I was not feeling well mentally. He put me back on the right track and taught a lot from which I still benefit today. I owe him my most successful year in 2019. Of course I'm still working with him now. There are always new little construction sites to work on.
To Maike Ziech, my training partner and very good friend - we have known each other since 2013 and have been regular training partners since 2019. She is usually the most cheerful person I know. Always ensures a good mood, even if you have a bad day yourself. No one has had as many injuries as she does, but she comes back more motivated and stronger every time.
Half of my first Grand Slam gold is hers. I survived the first year of the pandemic with her. We gave everything together every day and motivated each other.
What is a temptation for you?
EAT! Whether savory or sweet.
Please share a wisdom:
In the end everything will be fine, and if everything is not yet good, neither is it the end!
How does your future look like?
"I have been studying hotel and tourism management at the SRH Riedlingen Distance University since April 2016." That is her plan A for the future. "In general, I would like to work in the hotel business later and would prefer to go back home and join our family hotel there." In her private life, she would also like to have a family. "I have a very big heart for children." She also likes to be around people and with friends. "We like to cook together and sometimes do game evenings. Besides, I also really like to sew and crochet. "Those who live in the south of the Federal Republic of Germany have a particular passion:" In winter I really like to go skiing. "
Portrait Anna-Maria Wagner
Height: 182 cm
Profession: Sports soldier, student (hotel and tourism management)
Graduation: 3rd Dan
Active since: 2004
Coach: Mirko Grosche and Claudiu Pusa (national coach)
1st trainer: Christa Hoffmann
1st club: KJC Ravensburg