Nikoloz Sherazadishvili claims second Judo World title for Spain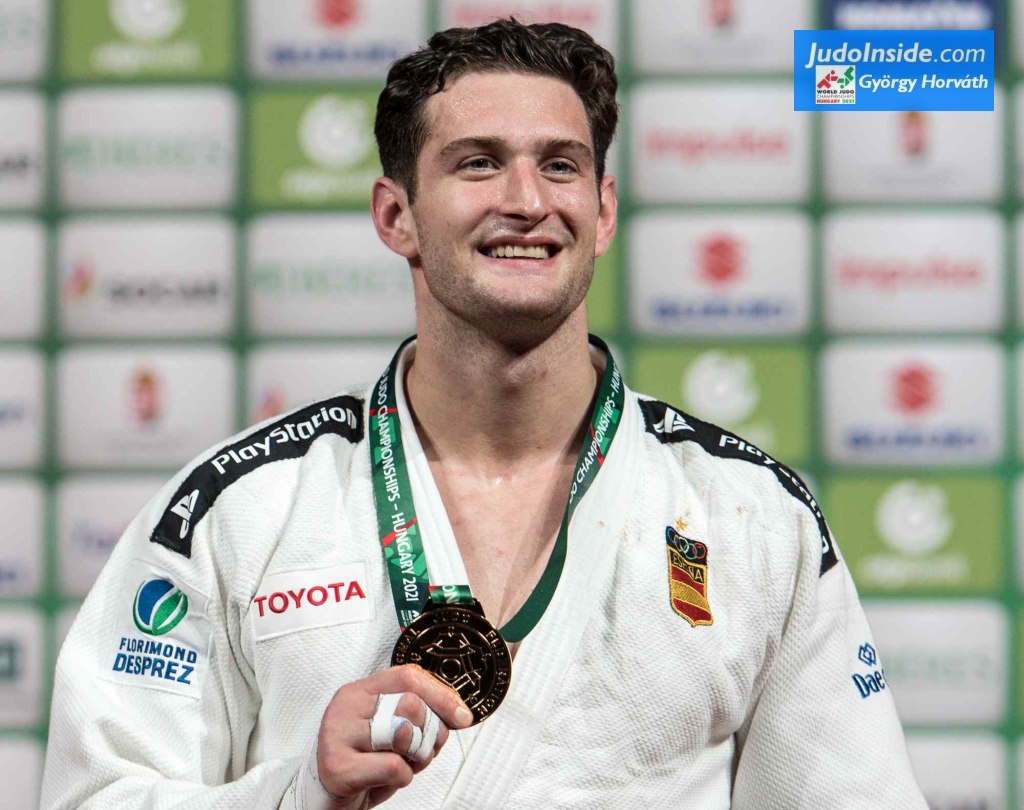 10 Jun 2021 19:25
György Horváth / Hungarian Judo Association
An exciting day again for Spain as Nikoloz Sherazadishvili won is second world title for his country in an amazing style. The 2018 world champion from Baku and current number one in the U90kg category defeated Davlat Bobonov in a great gutsy final with lots of action and big throws. Sherazadishvili was the first Spanish world champion and this double world title will give him ever lasting fame. This year he will move up to the U100kg class, but before that he will need to finish his season in style in Tokyo.
The tall Spaniard was absolutely dominant in this class with fresh judo. In the final he had a tactical plan for Bobonov and waited for his chance. The number one seeded defeated all five opponents although he knows the opposition will be even tougher at the Olympic Games. Davlat Bobonov was the fifth man of Uzbekistan to make to the World Championships final and the third to take the silver medal. Under the guidance of Ilias Iliadis Bobonov showed his energetic style of judo in Budapest. This Uzbek man is candy for the eye and made the match in the first minutes. and took over the same hazardous style as his coach, but always a pleasure for the judo fan. Bobonov was the number six of the seeding list.
Nikoloz Sherazadishvili said in advance: "I feel very well. I don't have any injuries and in the last few months we changed the preparation. The physical plan has been very heavy, but for a couple of months we have worked in a different way, to be faster and more agile. In Budapest I will be in almost optimal shape, but I will arrive in Tokyo at one hundred percent of my physical abilities." That promises something for Tokyo.
Krisztian Toth sets Arena on fire
Krisztian Toth, world number four of Hungary played a home match and was heavily supported in his bouts especially in the final block in the bronze medal fight against Altanbagana Gantulga of Mongolia who gave the most popular Hungarian judoka a hard time. Still he didn't give up and pushed all his energy to throw Bobonov at last. Toth collected his second World Championships medal as his silver in 2014. His young boy and wife joined him in the celebrations with the crowd and coaching team. He always fights with the hard and the crowd appreciates it big time. Toth became the winner of his pool which included Swedish technician Marcus Nyman but lost to Bobonov in the semi final.
Ne-waza speiclaist Marcus Nyman double Swedish medal hunt
The second bronze medal was for Marcus Nyman who you can never wipe out, especially when you get into the ground with this ne-waza expert. He defeated Kenta Nagasawa in the bronze medal bout. His tachi waza isn't his best point but his sumi gaeshi is a scoring weapon though and great for the transition to ne-waza with his strong grip he can defeat any opponent. He gave Sweden the second medal for the men's team, absolutely unique.
Some of the favourites lost before the quarter finals such as Eduard Trippel (GER) and Georgia's Beka Gviniashvili. He won't be fighting at the Tokyo Olympic Games either and Gviniashvili lost in Budapest to Ciril Grossklaus after a direct disqualification. Japan's top man Sanshiro Murao surprisingly lost to Bononov as Murao was not seeded, but should normally won that match given his reputation as runner up of the previous Worlds, not a good sign for the Japanese team that was strong in the first three days but won no medals in the men's tournament for two days in a row.