Rivalry pays off for Andreja Leski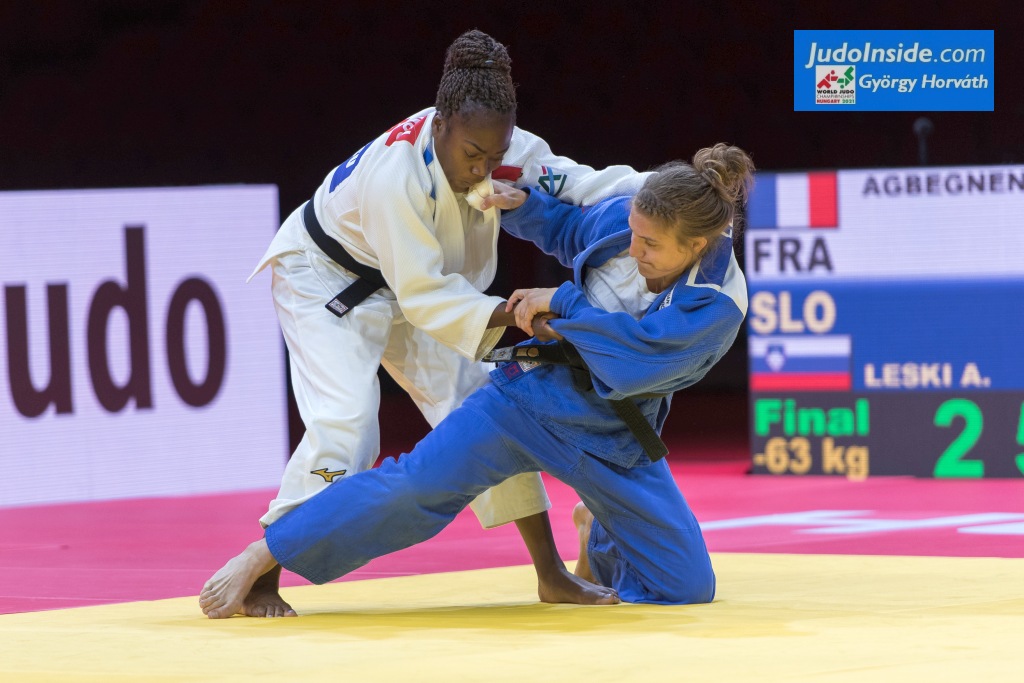 9 Jun 2021 19:20
IJF Media and JudoInside
György Horváth / Hungarian Judo Association
It is interesting to underline that Andreja Leski is the biggest rival of current Olympic Champion Tina Trstenjak (SLO), who was and still is one of the biggest rivals of Agbegnenou. Obviously that national rivalry pays off for Leski who produced really good judo throughout the fourth day of the World Championships in Budapest. It was the third confrontation in a world final between a Slovenian athlete with Clarisse Agbegnenou.
A first shido was quickly given to Leski for blocking her opponent, before the Slovenian athlete put the French a little out of balance in an action-reaction situation, but nothing really dangerous for the four-time world champion. Again, Leski proved to be more active with a koshi-waza attack for no score. As Leski was again attacking on her knees, Clarisse Agbegnenou controlled her opponent to launch a powerful maki-komi to score a waza-ari, immediately followed with an immobilisation, that she had to repeat twice to win her fifth world title.
Clarisse Agbegnenou explained, "Three months ago I thought I would not attend this event. Then I said to myself, 'if I don't go to Budapest and I fail in Tokyo, next year I will have no titles to defend and Budapest means a 5th title.' So here I am!"
What can stop the French woman from becoming one of the most decorated judoka in history? It is interesting to note that throughout the day the French champion scored several times on the floor, proving the benefit of developing this aspect of judo, even when already on top of the world, to stay in control when tachi-waza techniques are not efficient enough.
Anja Obradovic surprises the odds
The first bronze medal contest of the category saw Anja Obradovic (SRB) and Anriquelis Barrios (VEN), finalist in Antalya some weeks ago, who during the first rounds upset number two seed Nabekura Nami (JPN). As the match was unfolding, Obradovic was trying to apply what helped her to win some of her preliminary rounds, a tani-otoshi, but unsuccessfully this time. She tried to vary her techniques, but, even if she was penalised once, it was Barrios who had the strongest opportunity during normal time. As they entered the golden score period, once again Anja Obradovic launched her homemade tokui-waza for a waza-ari and her first medal at this level.
Sanne Vermeer resists Quadros experience
Ketleyn Quadros (BRA) is one of those athletes who has been present on the circuit for many years. The Brazilian judoka was an Olympic medallist in Beijing in 2008. Thirteen years later she is still competing for a world medal. This is impressive. Sanne Vermeer (NED), defeated by Clarisse Agbegnenou in the semi-final, didn't want to give away the medal and the competition for bronze was heated. Vermeer was the first in action, keeping distance from Quadros with a strong left arm and looking for the action reaction. The Brazilian athlete was the first to score with a sumi-gaeshi on the edge of the competition area, though. It was nothing to disturb Vermeer, who immediately came back with a waza-ari of her own. This easy to watch match continued with attacks from both sides, until the Dutch competitor applied one more of her action-reaction movements to score a clear ippon this time to grab the bronze medal.