Joshiro Maruyama cruises to second world title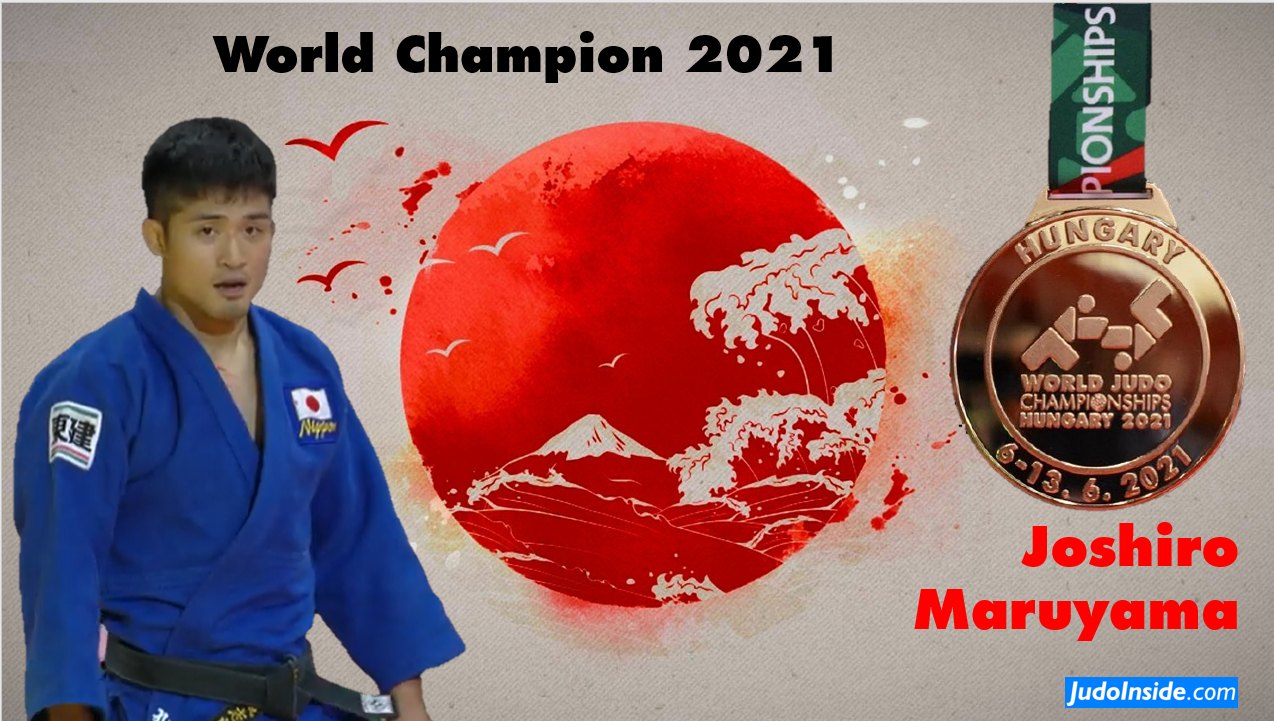 7 Jun 2021 19:00
IJF and JudoInside
JudoInside.com / judo news, results and photos
Joshiro Maruyama was the top favourite to take the gold position. Number one seed Manuel Lombardo was outclassed in the final U66kg. It was the first final for European Champion Lombardo, but Maruyama was stronger today although he had to build up to the final. Even a man like Maruyama with perhaps the best uchimata in the world got pushed by some of the players.
Still Maruyama was cruising all his way through. He reserved his energy for the final against Lombardo who seemed nervous how to approach Maruyama. After 30 seconds, both champions had already tried at least one their favorite technique, uchi-mata for Maruyama, kata-guruma for Lombardo, for not score. A first shido was awarded to Maruyama for stepping out of the tatami, and then one to Lombardo for passivity. It is a total opposition of style that we witnessed, the Japanese reigning world champion trying the embark Lombardo in his ample moves and the latter trying to fix his opponent to launch his tokui-waza or a drop-seoi-nage. At this little game, the first to score was Maruyama with a stylish yoko-tomoe-nage for waza-ari. He then just had to control until the last seconds to win his second consecutive world title. It is only at the very end, when both men joined to congratulate themselves, that we started to see a shy smile on Maruyama's face, who after a long and difficult day under the spotlights of the Laszlo Papp Arena had the right to be finally happy. He's still got that uchimata but it didn't work as well this time. In the final, he relied on yoko-tomoe-nage instead.
The defending Champion and world number one will not go to the Olympic Games, it remains a sad story as a shadow over this world title.
Zhumakhanov couldn't fight for the bronze medal contest and was taken to hospital for a scan. Mongolia's man Baskhuu Yondonperenlei. It's remarkable how many times Maruyama tried to throw Yondonpereinlei (MGL) with uchimata. in the end, the later World Champion won with penalties.
Bronze for Shamilov
Russian Yakub Shamilov took the gold medal in an exciting bronze medal bout against Azeri Orkhan Safarov who seems to have taken the ticket for Tokyo. He took bronze in Kazan this year and second in Budapest for the restart of the season after the Covid break, Yakub Shamilov (RJF) was up against two-time world medallist Orkhan Safarov (AZE) for a place on the so prestigious world championship podium. Both being great counterattackers the bronze medal contest promised to be animated. With unorthodox kumikata and moves, Safarov and Shamilov seemed capable to throw at any time. It's very interesting to watch them, because in the middle of those unorthodox moves and gripping there are traditional judo techniques, such as kata-guruma, yoko-tomoe-nage, but totally revisited. This is the magic of judo that can adapt to any type of morphology and attitude. But first thing to appear on the scoreboard was a shido for Safarov though, for a kumikata infringement. Eventually it was time for the golden score. It took a little more than a minute of extra time for Shamilov to finally score a waza-ari with a low counterattack and win a first medal in a world championship for the representative of the Russian Judo Federation.
Yondonperenlei takes bronze without fighting
In the second bronze medal contest, Baskhuu Yondonperenlei (MGL), who produced a massive effort against Maruyama during the first phase of the competition, before he was defeated, faced Yeldos Zhumakanov (KAZ), a World Judo Masters silver medallist. Due to an injury, Yeldos Zhumakanov could not compete and the bronze medal went to Baskhuu Yondonperenlei (MGL).
Maruyama Joshiro reacted, "I am so happy about my second world title, but I can not be happy with my judo today. It was far from being my best. I am aware that everyone wants to defeat me. When I saw my level today, I can assure you that when I arrive back in Tokyo, I will work even harder."