Ronda Rousey Retrospective – From Judo to Wrestling via MMA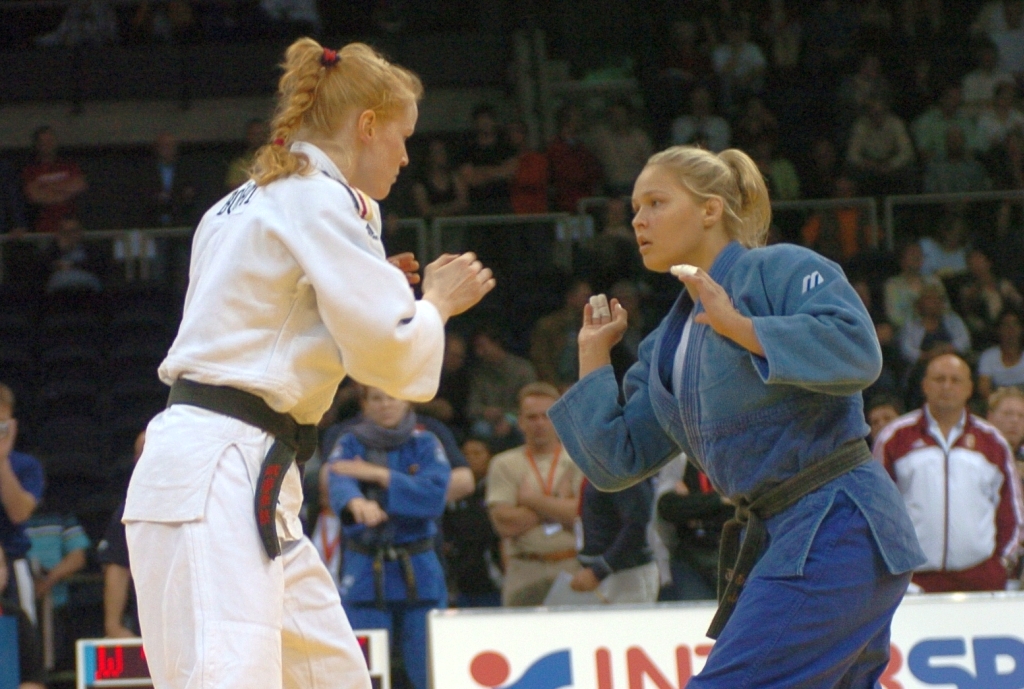 4 May 2021 13:00
Robert Danis
Former Olympic judo bronze medallist Ronda Rousey left the sport following the Beijing Games of 2008, and enjoyed a stellar career in MMA and pro wrestling with WWE. "The Baddest Woman on the Planet" now embarks on the latest new chapter of her life.
Rousey and husband Travis Browne are expecting their first child. They have been trying to start a family for the last couple of years since she competed in the main event of WrestleMania 35 at MetLife Stadium in the Tri-State area back in 2019.
Everyone connected with judo will doubtless wish Rousey, who transcended the sport, well on becoming a mother. Her example shows what judokas can go on to do, but she really has blazed a trail for women, especially in MMA during her four years in the UFC.
Starting judo aged 11 and initially trained by her mother AnnMaria De Mars, a World Judo Championships gold medallist back in 1984, Rousey became the youngest woman to qualify for the Athens Olympics whilst still a teenager.
Those Games came too soon for "Rowdy" Ronda as she lost her opening match to Austrian judoka Claudia Heill, who went on to scoop the silver medal in the 63kg division. It wasn't an entirely disappointing 2004 for Rousey, however, as she took gold at the World Junior Championships.
After two further years with the juniors, she stepped up to 70kg in 2007 and lost the goal medal fight in the senior World Championships, but went one better at the Pan American Games. It was on to the Olympics from there where, despite defeat in the quarter-finals, Rousey got a second chance through the repechage route.
As the first female American medallist since judo was introduced to the Olympic programme in 1992, she then retired from competition aged 21. The transition to MMA began for Rousey began even before that, though.
Fellow judo black belt Karo Parisyan trained alongside her at the Hayastan Academy in North Hollywood, California. The martial arts taught there were less technical and the pure Japanese style, and more brawling based with Rousey attending as early as 2002, often facing off with men much bigger than her.
Her judo background was something she naturally incorporated into her MMA offense. Rousey won three amateur bouts in the space of five months, then turned pro in early 2011. She soon came to the attention of Strikeforce and debuted for them before the year was out.
Premier MMA promotion UFC created the Women's Bantamweight division just for Rousey, which she made six successful defenses of before defeat to Holly Holm in 2015. She would fight inside the octagon just once more before retiring from competition.
While judo is not as popular a choice for gambling on a betting site as other combat sports such as boxing and MMA, a pioneer of women's cage fighting like Rousey has shown how martial arts can be incorporated into competition that is growing around the world.
Her subsequent run in WWE saw the top pro wrestling company in the USA put faith in a grappling rookie and crown her Raw Women's Champion just four months after her in-ring debut at WrestleMania 34 at the second-biggest pay-per-view event, SummerSlam, in the calendar.
This wasn't just because of Rousey's reputation and high-profile either. Her wrestling, again with judo throws incorporated into her arsenal, was heralded with critical acclaim as she swept the Rookie of the Year awards given out by CBS Sports, and leading industry publications Pro Wrestling Illustrated and the Wrestling Observer Newsletter.
It has been quite some journey for Rousey, who now has motherhood to look forward to.