Yuri Alvear returns as a coach for Bolivia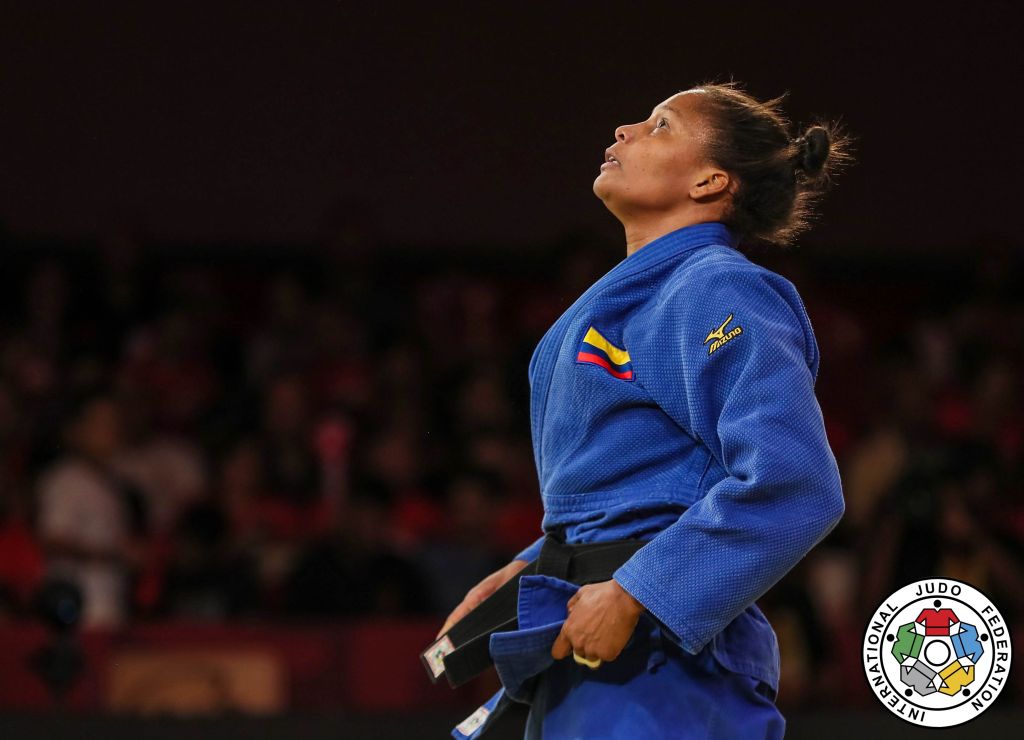 3 Apr 2021 14:50
by Nicolas Messner and Leandra Freitas - IJF
IJF Gabriela Sabau / International Judo Federation
Yuri Alvear is amazing judoka from Colombia and without a doubt the best ever in her country. She is triple world champion in 2011, 2013 and 2014 and won bronze in 2015, 2017 and 2018. She took Olympic silver in 2016 in Rio and an Olympic bronze medal in 2012 in London and was 7th in Beijing. Alvear won many Pan American Championships and she won Grand Slams in Baku and Brasilia among 12 IJF World Tour medals. The IJF Media team spoke about her new challenge as a coach.
There are athletes who mark a generation and whom it is difficult to imagine no longer being on the tatami of the World Judo tour. Among these exceptional athletes, the Colombian Yuri Alvear is emblematic. Three-time world champion, two-time Olympic medallist, she was on her way to compete in the Tokyo Games this summer when an injury decided otherwise, but when you have dedicated your life to high level competition, you can't leave a career just like that. Barely recovered from the pain of not being able to compete at the Games, Yuri is back, but this time as the coach of a Colombian delegation that she intends to pull up and with whom she wants to share her incomparable experience. The IJF team met her at the Grand Slam in Antalya at de debut as a coach..
Knee injuries
"It has not been an easy decision; it was a very difficult one actually. I think I'm still in the process of assimilating that I will not be competing in the Tokyo Olympic Games. The truth is that it was a necessary decision to stop now, because after the Masters in Doha, I was training in Japan, but it was very bad, my knee was hurting. I had difficulties even to walk and I did not feel well. I returned to Colombia and once I was at home I had an MRI, which highlighted that it was the worst scenario. The meniscus and the anterior cruciate ligament were broken. The doctors always recommended to me that in my case the most important thing was to have the surgery, because I couldn't keep doing sports, or practising judo, if my knee was like that.
After the scan, it was a very difficult decision to make, the one to end my career as an athlete. I talked to my family, my coach and I cried a lot, actually we all cried so much, but in the end I understood that my life was more important. I knew already that I wanted to become a coach, so I needed to know that I'd be able to continue practising judo, to be capable of giving my best to my students. I needed to be in good shape, to be well, to be able to teach and explain judo to my students."
Grateful to Judo
"The truth is that now whenever I talk about judo, I realise that I could have never imagined that from Colombia, someone could achieve so much in the sport. Now, coming here and being here in the competition is very sad for me because I felt that I could still give more. I had a lot of energy to achieve more results and I was training very well. I had a coach who motivated and helped me a lot.
No matter what, I am very grateful to judo. I was always a girl with many economic difficulties. With my family, we use to live in very challenging conditions. Colombia is a country that has many good and beautiful things to offer, but it is also a country that has a lot of poor people.
Thanks to judo my life has completely changed for the better. It is not only my life but also the life of my family; we all live very well now. I also know that judo was what allowed me to grow, to move forward.
Read the full interview with Yuri Alvear at the IJF website