The latest Judo News offered by JudoInside.com
Brazil and Canada win four titles at Pan Am Championships
JudoCanada Brazilian Judo Federation - Rafal Burza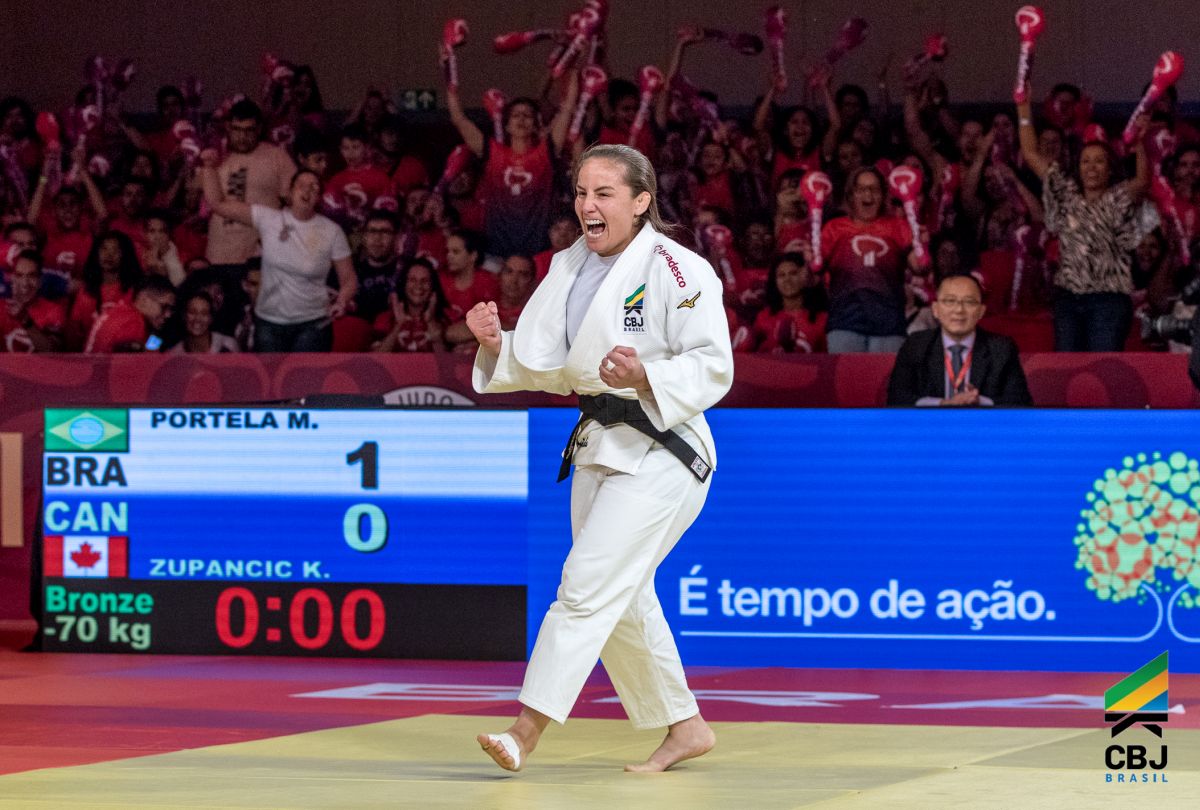 Brazil and Cuba were strong at the second day of the Pan-American Judo Championships in Guadalajara, Mexico. Maria Portela and Maria Suelen Altheman took gold for Brazil and Ivan Felipe Silva Morales and Andy Granda took men's gold for Cuba. Shady el Nahas grabbed another gold medal for Canada equaled the strong Brazilian team that won the medal tally in Mexico.
Buoyed by a three-medal haul on Friday, the Canadian team saw four more of its members battle their way to the podium on Saturday at the Pan American Championships in Guadalajara, Mexico. Shady El Nahas claimed the gold medal in his weight class, while Kyle Reyes, Zachary Burt and Marc Deschênes won bronze medals in each of their respective categories.
El Nahas and Reyes, who both competed in the under-100 kg group, met in the semi-final. After having defeated Dominican Robert Florentino in an earlier round, El Nahas triumphed over his teammate, who received three penalties and was disqualified.
In the gold medal final, El Nahas, who is ranked eighth in the world, recorded his third victory of the day and successfully defended his Pan-American title when he scored an ippon against Brazil's Rafael Buzacarini.
"I'm really happy with this medal, which should help me move up in the international rankings," said El Nahas, who says he didn't feel any pressure to defend his title. Quite the opposite, in fact: "It gave me extra motivation. I really wanted to defend my title, and this is the first time I've won gold medals at the same tournament twice in a row. This is a really big day for me," he stated. Last month, El Nahas won a bronze medal at the Budapest Grand Slam.
Before bowing out to his teammate, Reyes had ousted American L.A. Smith III in an earlier match. He ended today's tournament on a high note, beating American Nathaniel Keeve to earn the bronze medal.
Brazil wins the medal table
In under-90 kg competition, Zachary Burt locked horns with his countrymate Mohab El Nahas to snag the bronze medal. El Nahas took three penalties during the fight, giving Burt the win.
"It felt great to be competing again, but this definitely wasn't my best day physically," noted Burt. "I had some trouble in each of my bouts, but I'm glad to have made the podium."
Burt admitted that he felt some unexpected nervousness early on—likely a result of the long break in competition caused by COVID-19—which only increased as the day progressed.
"The goal is always to reach the podium, but with all the stress around returning to competition during the pandemic, I took it one match and one move at a time and tried to do my best."
Burt lost his first match of the day to Peru's Yuta Galarreta Villar, but bounced back in the repechage, beating Mexico's Victor Ochoa by ippon before besting his teammate.
Mohab El Nahas's day began with a victory over American Colton Brown, followed by a semi-final loss to Brazilian Rafael Macedo, who went on to win the silver medal.
The Canadian team will return to Canada with a total of seven medals, finishing second overall behind Brazil. On Friday, Catherine Beauchemin-Pinard (-63 kg), Ecaterina Guica (-52 kg) and Antoine Bouchard (-73 kg) were all proclaimed champions after remaining undefeated. For Cantin, the team's results are highly satisfying, given that most of the athletes had been away from competition for more than 10 months.
The Brazilian team though won the medal table with four gold medals and six silver medals.
Related judoka and events
Related Judo Photos
Related Judo News

Ramziddin Sayidov (UZB)
39 years
| Result | City | Date |
| --- | --- | --- |
| 1 | Antalya | 1 Apr |
| 1 | Düsseldorf | 2020 |
| 1 | Osaka | 2019 |
| 1 | Tokyo | 2019 |
| 3 | Tokyo | 2019 |
| Result | City | Date |
| --- | --- | --- |
| 1 | Antalya | 1 Apr |
| 3 | Tbilisi | 26 Mar |
| 1 | Paris | 2020 |
| 1 | Budapest | 2019 |
| 1 | Tokyo | 2019 |