The latest Judo News offered by JudoInside.com
Fedor Emelianenko: Is the Judoka MMA's Best Ever Heavyweight?
JudoInside.com / judo news, results and photos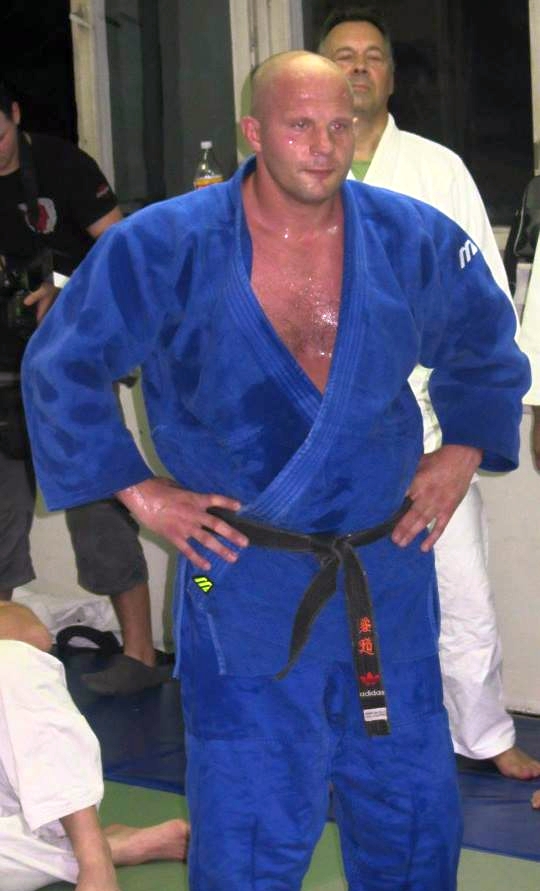 Throughout his mixed martial arts career, Fedor Emelianenko has been one of the sport's most consistent performers. Interestingly, what makes the Russian standout from other heavyweight fighters is his diverse range of skills. Despite being renowned for his one-punch knockout power, the now 43-year-old has a grappling-oriented focus at the core of his approach that has been prevalent during his competitive career. So, let's consider whether a judoka is MMA's best ever heavyweight.
Judo Is One of Many Tools in His Arsenal
Prior to transitioning to MMA, Emelianenko began his combat career practicing both judo and sambo, a Russian form of martial arts. Back in 1998 and 1999, The Last Emperor won bronze medals in judo at the Russian Championships. Since then, the 43-year-old hasn't claimed any more awards in judo, but has won numerous national championships in sambo.
Following his transition into MMA, former judoka Fedor Emelianenko continued to utilize his grappling background to get the better of his opponents. Interestingly, the Russian has won 38 percent of his professional fights via submission, which is the same as through knockouts and technical knockouts combined.
Throughout his career, there are few things that The Last Emperor hasn't won. Along with being the PRIDE heavyweight championship with three consecutive title defenses, Emelianenko also reached the final of the Bellator Heavyweight Grand Prix before losing to Ryan Bader. Since making his professional debut in 2000, the Russian-born fighter has submitted some of the sport's biggest names, including Mark Coleman, Mark Hunt, and Tim Sylvia.
The Sport's Best 265-Pound Fighter?
While it's subjective to conclusively argue that one fighter is the greatest to ever compete in MMA, there's undoubtedly a case to be made for the multi-talented Emelianenko. Although he never got to fight in the UFC, few competitors boast the same record regarding accolades as the Russian.
Although he may not be the most decorated fighter having missed out on the UFC's sought-after 265-pound belt, his skill set sets him apart from others in this discussion. For example, the two-time UFC heavyweight champion, Stipe Miocic, has, at the time of writing, never won a bout by submission. In comparison, he's also finished the same amount of fights via knockout as Emelianenko, as per Tapology.
Aside from Miocic, Cain Velazquez, Daniel Cormier, and Fabricio Werdum are also contenders for the heavyweight GOAT status. Interestingly, the latter is one of only six fighters to have beaten Emelianenko, handing him his only professional MMA loss by submission back in 2010. Furthermore, should he make another run for the belt in the next few years, then Alistair Overeem could also put himself in the discussion.
To date, the Dutchman has already won the Strikeforce and DREAM heavyweight titles, as well as being the winner of the K-1 Grand Prix tournament. In order to find a route back to the title, The Reem must first overcome Augusto Sakai, and he is priced at –220 to do so if you visit Space Casino and their MMA markets, as of August 25th. Also Overeem competed in judo but not a high level.
Forever an Icon of MMA
Despite suffering several recent losses, Emelianenko will always be remembered as a fighter who spearheaded the rise of MMA. Unlike those before him, The Last Emperor was competent across numerous practices and showcased that versatility was the most vital skill that an MMA competitor could have. While his highlight-reel knockouts will live long in the memory, his background in judo should never be forgotten.
Related judoka and events
Related Judo Photos

Dmytro Solovey (UKR)
27 years
| Result | City | Date |
| --- | --- | --- |
| 2 | Düsseldorf | 21 Feb |
| 1 | Budapest | 2019 |
| 2 | Qingdao | 2019 |
| 1 | Osaka | 2019 |
| 1 | Odivelas | 2019 |
| Result | City | Date |
| --- | --- | --- |
| 1 | Düsseldorf | 21 Feb |
| 2 | Osaka | 2019 |
| 1 | Tokyo | 2019 |
| 1 | Tokyo | 2019 |
| 1 | Hohhot | 2019 |