The latest Judo News offered by JudoInside.com
Judo in the time of Covid-19: Christa Deguchi
JudoCrazy by Oon Yeoh Christian Fidler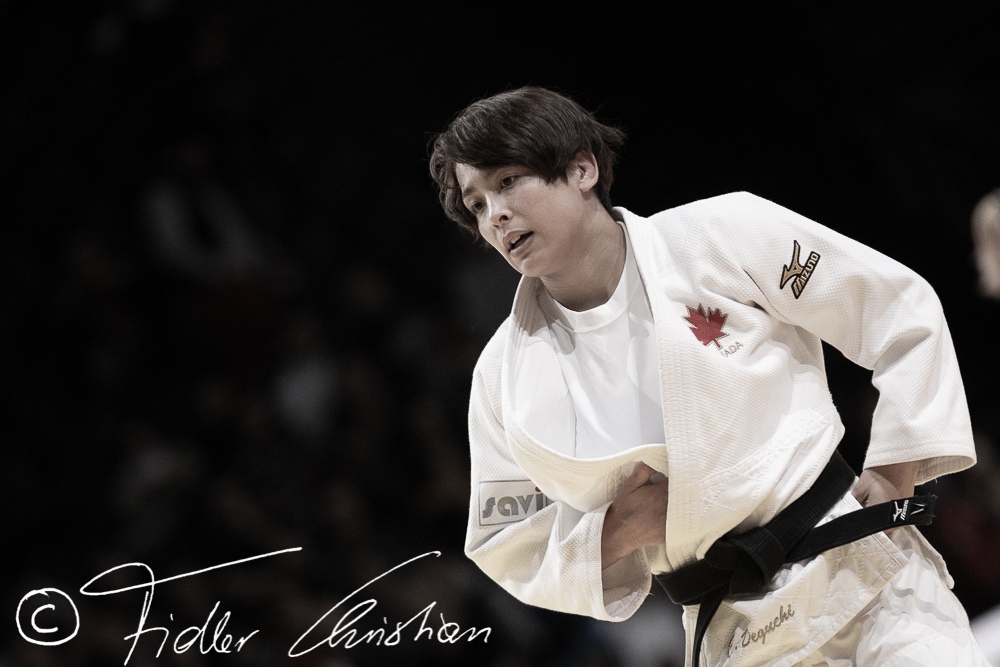 Canada have a luxury position having two Olympic medal candidates U57kg in Christa Deguchi and Jessica Klimkait. Last year Deguchi was crowned as the first ever World Champion for Canada. The cat lover lives in Japan and shows us her social media outings with her cats on Instagram. Foremost she is waiting until a new life can start as the number one medal candidate for gold in Tokyo. It's a nice time to get to know her and JudoCrazy's Oon Yeoh wondered where she is holding up with her cats Tuna and Mayo.
JIC: How is the Covid-19 situation affecting you?
CD: The virus isn't making it easy for me to train. I haven't done judo since the beginning of April. This is the longest I have ever gone without practicing judo. But for physical training, I am doing my best to train in my apartment with the equipment I have. And the Judo Canada trainers have been giving me great advice and training plans. I look forward to getting back on the tatami with the other judoka when it is safe to do so.
JIC: How do you feel about the postponement of the Olympics for a year?
CD: It was a bit disappointing at first. However, it's just a postponement for now (not a cancellation) so it's not too bad. It gives me an extra year for training and preparation.
JIC: Are you based in Japan or Canada?
CD: I'm based in Japan and I train at the Yamanishi Gakuin University judo club.
JIC: How did you get started in judo?
CD: I started judo at a local dojo in my home town and practiced there from the age of three until I started high school. I did judo for three years with the high school club and after that I started training at the Yamanashi Gakuin judo club.
JIC: How did you end up competing for Canada?
CD: Canada first approached me when I was 16 but I didn't know much about their team and I was probably too young at that time to make such a big decision regarding changing countries. They contacted me again in 2017. I thought about it and asked many people around me if it was the right decision. I finally came to the conclusion that it was a good opportunity for me to fight and work towards the Olympics.
JIC: You are No. 1 in the world rankings and Jessica Klimkait is No. 2. What is your relationship like with her?
CD: Jessica is a good team mate. Sometimes we train together just before competitions to lose weight or give each other information about other fighters. I live and train in Japan so I don't often see her other than at training camps or international competitions.
JIC: You have some unorthodox ways of doing ouchi-gari, osoto-gari and morote-gari. How did these techniques come about?
CD: Those are techniques that I like so I work hard to develop them in my own style. When I was developing them, I sought out many coaches' advice and tried to take the best tips from each of them and tried to incorporate them into my own style. I wouldn't say my techniques are unorthodox, they're just the way I do them.
JIC: The Japanese are legendary for doing very long randori sessions. How many randori do you normally do a day?
CD: Yes, there is a lot of randori in Japan. When I was in high school, we would do it for an hour at a time. Typically, I would do a 40-minute session each day but before a competition I might go a bit longer.
JIC: How often would you go back to Canada?
CD: I don't get many chances to go back to Canada for vacations. I usually go back for training camps and competitions. I have a job in Japan so I have to stay and work here.
JIC: You love cats?
CD: Yes, I love cats but I also like many other animals too! I've always liked animals. Someday I would like to have a couple of dogs too! My cats are now like my doctor, they keep my mental state in balance. I miss judo but they don't care about the coronavirus, they just play and make me happy.
JIC: What else do you like besides judo and animals?
CD: I like playing video games in my off time and right now I am hooked on Call of Duty and Monster Hunter.
Become a JudoCrazy Patron and read all their stories here
Related judoka and events
Related Judo Photos
Related Judo Videos
Related Judo News

Nathan Decuyper (BEL)
21 years
| Result | City | Date |
| --- | --- | --- |
| 1 | Budapest | 23 Oct |
| 2 | Düsseldorf | 21 Feb |
| 1 | Budapest | 2019 |
| 2 | Qingdao | 2019 |
| 1 | Osaka | 2019 |
| Result | City | Date |
| --- | --- | --- |
| 1 | Düsseldorf | 21 Feb |
| 2 | Osaka | 2019 |
| 1 | Tokyo | 2019 |
| 1 | Tokyo | 2019 |
| 1 | Hohhot | 2019 |