Judo in the time of Covid-19: Maria Centracchio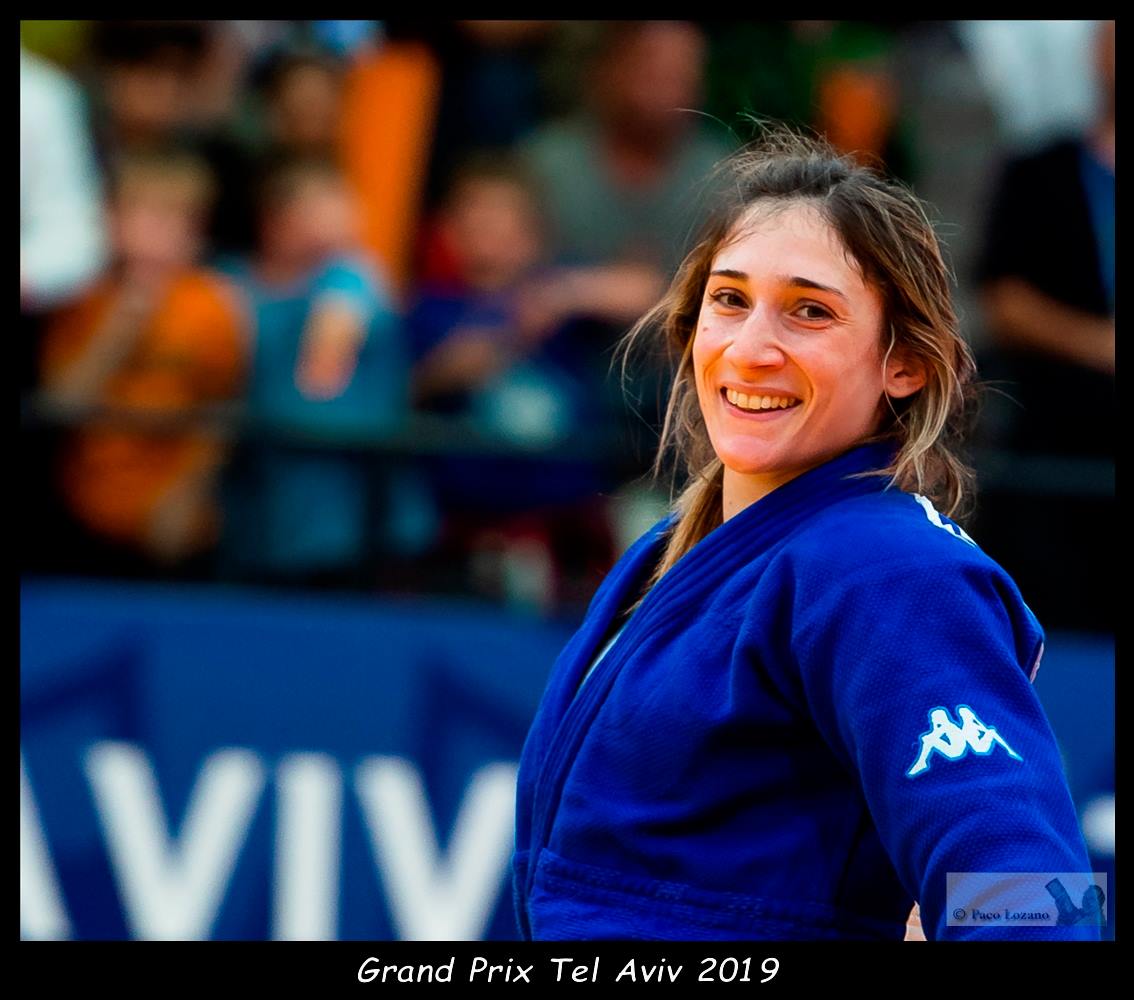 27 Apr 2020 11:05
JudoCrazy by Oon Yeoh
Paco Lozano / Judo y Otros
The Centracchio's are everywhere in Italy, but now they are limited to their home. Must be tough to be in quarantaine for the Judo family. Maria Centracchio won the Grand Prix in Tel Aviv last year and set out her road to Tokyo. She took bronze at the European Games. Little brother Luigi won the gold medal at the EYOF, also in Baku last year and 40 year old Emidio Centracchio now runs a judo data website. Father Centracchio is all over the place where his children are. JudoThis family is JudoCrazy! Oon Yeoh reports from his own quarantaine place.
JIC: How's the Covid-19 situation right now?
MC: Prior to the lock-down, I was in Rome, near the Olympic Training Centre but now I'm spending the quarantine at my parents' house, in the region of Molise, where I was born. This is a small region in the south, which fortunately, is not so badly affected by the virus.
JIC: What kind of training are you able to do?
MC: Everything is closed right now so there's no possibility of doing judo. But my parents happen to own a gym, and although the gym is closed, I can use it privately to do some strength workouts and also some judo training with my younger brother.
JIC: Normally what would your training be like?
MC: Before this lock-down, I would do two trainings a day: two hours in the morning and two in the afternoon, Monday through Saturday. I do a lot of strength training and I usually do many randoris as well. I like this kind of hard training.
JIC: In Italy, do top judokas train at their own club or at a national training centre?
MC: Judo players usually have their home clubs as well as a "higher-level" club. I belong to the police force so my "higher-level" club is the police club. However, when it comes close to competition, we would all train together at the Olympic Training Centre in Rome.
JIC: Your father is a judoka?
MC: Yes, actually I come from a judo family. Everyone in my family has done judo at one time or another, including my mother. And of course, my brothers are judokas as well.
JIC: Did you take to judo naturally?
MC: To be honest, I didn't want to do judo at first, simply because everyone else in my family was already doing it. I wanted to try something different, so I took up dance. But being in a judo family, I ended up spending a lot of time around the judo mat. One day, I decided to give it a try and I got hooked straight away.
JIC: I read that you're a model student as well. How were you able to train so hard in judo and excel academically as well?
MC: I guess it's because I like studying and learning new things. So, it wasn't difficult for me to train and study. It felt like a very natural thing to do.
JIC: Is it true you don't take any alcohol at all?
MC: Yes, that's right but I've nothing against other people taking it. I just prefer not to take it myself.
JIC: You're known to be a tough cookie, someone who can train even through injury. Why push yourself so hard?
MC: I'm a hard worker. That's my nature. I believe in persevering though tough situations. As a competitor, I've had many injuries. As long as I can safely do some form of training despite the injuries, I'll do it.
JIC: Being a high-level judo athlete requires a lot of sacrifice. Do you sometimes wish you could lead a normal life like other girls your age?
MC: My life revolves around judo. Everything I do, I take into consideration how it impacts my judo. All my closest friends are judokas. This is not a normal life by any means but it's the life I chose. So, no complaints.
JIC: Why did you choose this life though?
MC: The simple answer is that I love to fight but of course, there's more to it than that. Many times, I was told that judo wasn't the right sport for me because I don't have the talent for it. So, I'm doing this for me. I want to overcome my own limitations and become the best version of myself. Maybe in the process, I might even be a good example to others.
JIC: Do you feel it's true that you don't have a natural talent for judo?
MC: Well, whenever I want to learn a technique it does take me a lot of time to master it. I have to try and try again before I can get it. So, sometimes I do feel something is a bit lacking. But I'm very confident about my physical and inner strength. I know I can work harder than anybody else, and I can eventually overcome any obstacles.
JIC: Any technique you're still have trouble with?
MC: I wish I could do ouchi-gari without being countered! But I'm working on it. Ha… ha...
JIC: How would your coach describe your judo?
MC: Not so beautiful to watch, in fact a little bit messy, but always intense with non-stop attacks!
JIC: When it comes to judo videos, some players I speak to say they barely watch or don't watch at all. Others watch tons of videos. Which group do you belong to?
MC: The latter, definitely. I always watch and analyze my fights as well as the fights of my opponents. I also watch competitions that I'm not fighting in as well. I like watching judo videos.
JIC: You had a good year last year with a gold in the Tel Aviv Grand Prix and a bronze at the European Games in Minsk. But this year has not been so good, with loses in your first fights in Tel Aviv, Paris and Dusseldorf. How well are you able to handle such losses?
MC: They're hard to accept of course and there's always a sense of desperation whenever I lose. But deep down inside, I know that losing is a part of the process of self-improvement. Usually the day after, I'm able to compose myself and can start to work hard again towards achieving my goals.
JIC: This is a tough question but if at the end of the day, you don't quite manage to achieve your goals, would you be able to accept it? Neil Adams has said until this day he still has nightmares about not winning the Olympic gold. Would you regret spending all those years of training and sacrifice if you don't get what you want?
MC: It's hard to tell how you would feel about something unless you're actually experiencing it at that moment in time. But knowing myself, I don't think I would regret the efforts I had put in towards chasing my dreams. First of all, I'd know that I had given it my all. Secondly, the experiences I've had along the way is what has made me what I am. So, there shouldn't be any regrets. I'm generally quite a positive person anyway.
JIC: Your English is very good. Is it true you are multi-lingual?
MC: I speak five languages. There's Italian, which is my native tongue. Then, I studied French and English at school. Later on, I taught myself Spanish and Portuguese.
JIC: How would your friends describe you?
MC: They'd say I'm a person with a big heart and lots of patience.
JIC: Any words for other judokas stuck in a lock-down?
MC: Be positive and don't stop dreaming! And, take care of course.
Become a JudoCrazy Patron and read all their stories here
The U63kg category will take place at the fourth day of the Olympic Games at 27 July 2021.