Judo in the time of Covid-19: Nora Gjakova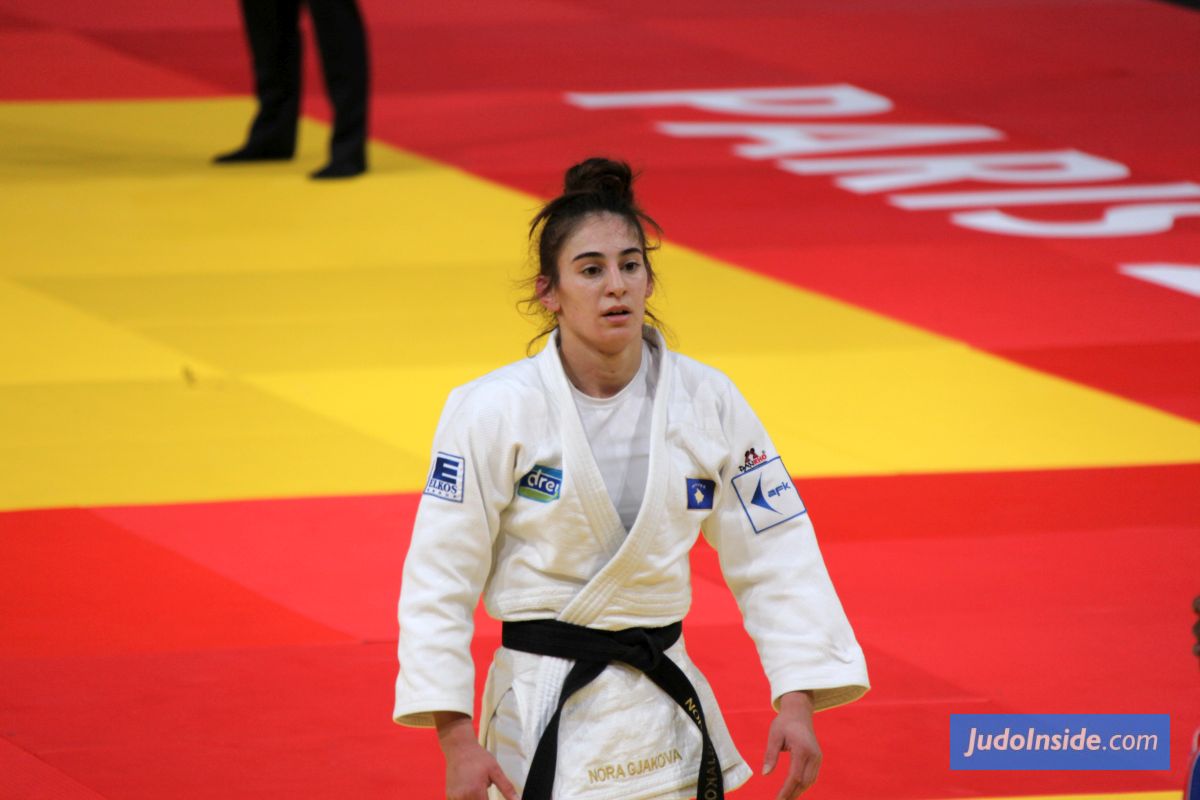 23 Apr 2020 12:30
JudoCrazy by Oon Yeoh
JudoInside.com / judo news, results and photos
Nora Gjakova is one of those strong women U57kg. One of those strong women from Kosovo under the guidance of Driton Kuka. She captured the European title in 2018 but both finallists of the 2019 European Championships took a seventh place at the World Championships in Tokyo. There's lots pof work to do in this category where the field is very close. An Olympic medal is a realistic goal but Gjakova has to be patient. Oon Yeoh of JudoCrazy asked her about her way to get back in shape this year.
JIC: You didn't do so well in the 2019 Tokyo World Championships or the Abu Dhabi Grand Slam and Qingdao World Masters after that. However, this year you got bronze in the Tel Aviv Grand Prix and Paris Grand Slam. Did you feel your training was on track for you to peak for the Olympics, originally scheduled for July?
NG: After failing to get a medal at the Tokyo World's I was really disappointed and I had a hard time getting back to form because I couldn't get my poor performance off my mind. With the help of my coach and teammates, I eventually managed to overcome this mental block and with the two medals in Tel Aviv and Paris, my confidence has returned. I would have been ready for Tokyo 2020.
JIC: There are many competitions in a year. Do you and your coach plan for you to peak for certain competitions major competitions?
NG: Yes, for sure. Our main goals are always the big ones like the European Championships, World Championships and the Olympics.
JIC: What are your feelings about the Olympics being delayed for one year?
NG: Well, I feel I would have been ready for the Olympics had it been held in July as scheduled but now that it has been pushed to next year, I just need to readjust my focus to peaking for July next year. For sure I will be ready for it when the time comes.
JIC: You won your first IJF event in 2017 in Antalya. By that time your teammate, Majlinda Kelmendi was already a big success in Kosovo. How big a role did she play in inspiring you to become a champion too?
NG: Kelmendi inspired me a lot. When we were younger, we were training partners and for a long time, she and I were the only two players from Kosovo fighting in international competitions. We fought and help each other a lot over the years and this has paid off for both of us.
JIC: When you won the European title in 2018, you did a little gesture with your hands that looked like the wings of a bird flapping. Does that symbolize something?
NG: We do this because people from Kosovo and Albania are both called Albanians and the eagle is the symbol on the Albanian Flag.
JIC: Growing up, who did you admire?
NG: I looked up to my coach, Driton Kuka, and even today I still admire the way he teaches us judo. I also enjoyed watching my brother grow as a fighter. Today, I love watching his fights because he is a really dynamic and explosive judoka.
JIC: What is it like training under your coach? He sounds like a strict guy.
NG: In our club everybody takes training seriously. The moment our coach enters the dojo, everybody stops talking. But every now and then he will try to make some jokes to ease the tension and get us to feel more relaxed. We train really hard but we are all very close. Some of us have been training together for more than 15 years, since we were small kids.
JIC: In Israel, they have a unique system where the cadets, juniors and seniors all train together. Is it like that too in Kosovo?
NG: Yes, we all train together — cadets, juniors and seniors. I think when you come from a small country, where there are not so many judokas, you really need to work together. And we motivate each other too. When Kelmendi first started winning international medals, the rest of us felt we could do it too because she was our teammate and we train with her every day. We have the same coach, we train in the same dojo, if she can do it, so can we. Then later when I started winning and Krasniqi started winning and later my brother, Akil, started winning, it became motivation for the juniors to dream big too.
JIC: Kelmendi has won every title there is to win in judo: Grand Prix, Grand Slam, World Masters, Europeans, Worlds, Olympics. Does that continue to serve as motivation for you, even today?
NG: Yes, for all of us. Some of us may have won some international medals but we are not satisfied because we know there are still bigger things for us to achieve. Like I said, if she can do it, why can't we?
JIC: What is a typical training day like for you?
NG: Usually we train two or three times a day, six to seven days a week depending on the stage of preparation we are at for different competitions. Normally it's two sessions though. The morning session usually starts at 10.00am and what we usually do is fitness training. The evening session is at 6.30pm and for that one we do a lot of technical work, also situational randori. My coach tries to include new things in training.
JIC: Do you just focus on judo or are you studying as well?
NG: I'm doing a degree in Management and Informatics. I'm nearly done, just have to complete my thesis.
JIC: How do you find the time for full-time judo training and studies as well?
NG: If you want something bad enough, you make the time. But I actually like what I'm studying so I don't consider it a chore or a burden.
JIC: I understand that under quarantine, a small group of you are able to train. Does it feel any different from regular training?
NG: Yes, it's a little different now because with no competitions coming up anytime soon, the trainings are a little more relaxed, and in that sense more enjoyable. Our coach gives us more rest days too during this time of lock-down.
JIC: Kosovo is a small country with not so many judokas like in France or Japan. Do you get enough randori? Do you end up doing most of your randoris with Kelmendi and Krasniqi?
NG: We don't have enough sparring partners in Kosovo so yes, we did end up doing lots of strong fights amongst our small circle of elite players. I used to randori with Kelmendi and Krasniqi but now I rarely do so. But we still do some light randori for warm-ups before our matches during a competition.
JIC: How come you don't do so much randori with them anymore?
NG: It's a different reason for each of them. With Kelmendi, the main reason is every time we did randori, we tend to get a bit aggressive so my coach told us no more normal randoris, just situational randoris which is more controlled. As for Krasniqi, it has to do more with weight. She is now a -48kg fighter and I'm -57kg so there is quite a lot of weight difference. But I do still do a lot of grip fighting with both Kelmendi and Krasniqi.
JIC: How about your brother. I know he's much heavier and stronger at -73kg but do you randori with him?
NG: Sometimes I do some randori with my brother but usually we end up arguing with each other or just end up laughing for no reason. So, it's not very productive! But I do help him out with his warm-ups in competition.
JIC: Speaking of your brother, can you describe your relationship with him?
NG: We have a close relationship. When he was younger, he used to emulate whatever I did. For example, if I didn't like a certain kind of food, he didn't want to that kind of food either. We started judo at the same time but because I was older, I started competing earlier. Watching him grow as a judoka, I couldn't wait to see him start competing and was thrilled when he was finally able to do so. It's a special joy when we are able to win medals in the same competition.
JIC: Some players I've interviewed describe themselves as very instinctive fighters who don't really like to analyze their opponents. They claim they don't even really like to watch videos of their opponents. Others study their opponents in detail in order to figure out strategies to beat them. What type of fighter are you?
NG: I always have a plan on how to fight my opponents. So yes, I do analyze my opponents, with the help of my coach, of course.
JIC: Do you watch videos mainly to analyze your opponents or do you watch just for fun?
NG: I watch to do analysis, less for enjoyment.
JIC: By now, you're quite a mature player with lots of experience. At this stage in your career do you still look to develop new techniques or do you just focus on improving existing techniques?
NG: Most of my effort is on improving and fine-tuning my existing techniques. I try to develop more ways to enter into those techniques, from different angles and positions. But, of course, from time to time, I try new stuff too.
JIC: What aspect of training do you like the most?
NG: I actually like weigh training, to build up my strength.
JIC: How about randori?
NG: I like randori too but more when I'm at international training camps, not at home.
JIC: Every player wins and loses in the course of their career. Earlier, you mentioned that you had a hard time dealing with your defeat at the Tokyo World Championships. Is it usually hard on you when you lose competitions?
NG: I hate losing. Whenever I lose, I end up hating judo for a couple of weeks. And if I know I didn't fight as well as I could have, I get even more frustrated.
JIC: But you haven't quit judo yet! How do you keep bouncing back after defeat?
NG: I don't know… I guess the key is to just keep training even when you don't feel like it. I just keep pushing on until at some point, I get tired of feeling bad and start feeling positive again. That's how it's always been for me.
JIC: You're 27 years old this year. Still relatively young for judo but how long do you expect to keep going in international competition?
NG: I would like to do two more Olympics.
JIC: What next after that?
NG: Oh, I'm not sure. I like the idea of doing Masters in Sports Management or something like that.
JIC: What's the most surprising thing about you that others might not realize?
NG: Hmm… I don't know… maybe the fact that I'm not on Instagram?
JIC: What about Facebook?
NG: Not on Facebook either.
JIC: Do you realize there is a Nora Gjakova on Instagram and one on Facebook too? In fact, the one on Facebook is called Nora Gjakova Official!
NG: Yes, but those are fake accounts. Whoever set it up did not ask my permission to do so.
JIC: What does judo mean to you?
NG: Judo is my passion in life since I was 10 years old. It has made me stronger and independent.
JIC: Any special messages you would like to say to other judokas in lock-down?
NG: Stay motivated, stay at home and train at home! Soon things will change for the better.
Become a JudoCrazy Patron and read all their stories here
The U57kg category will take place at the first day of the Olympic Games at 26 July 2021.