The latest Judo News offered by JudoInside.com
Judo in the time of Covid-19: Jessica Klimkait
Judocrazy by Oon Yeoh JudoInside.com / judo news, results and photos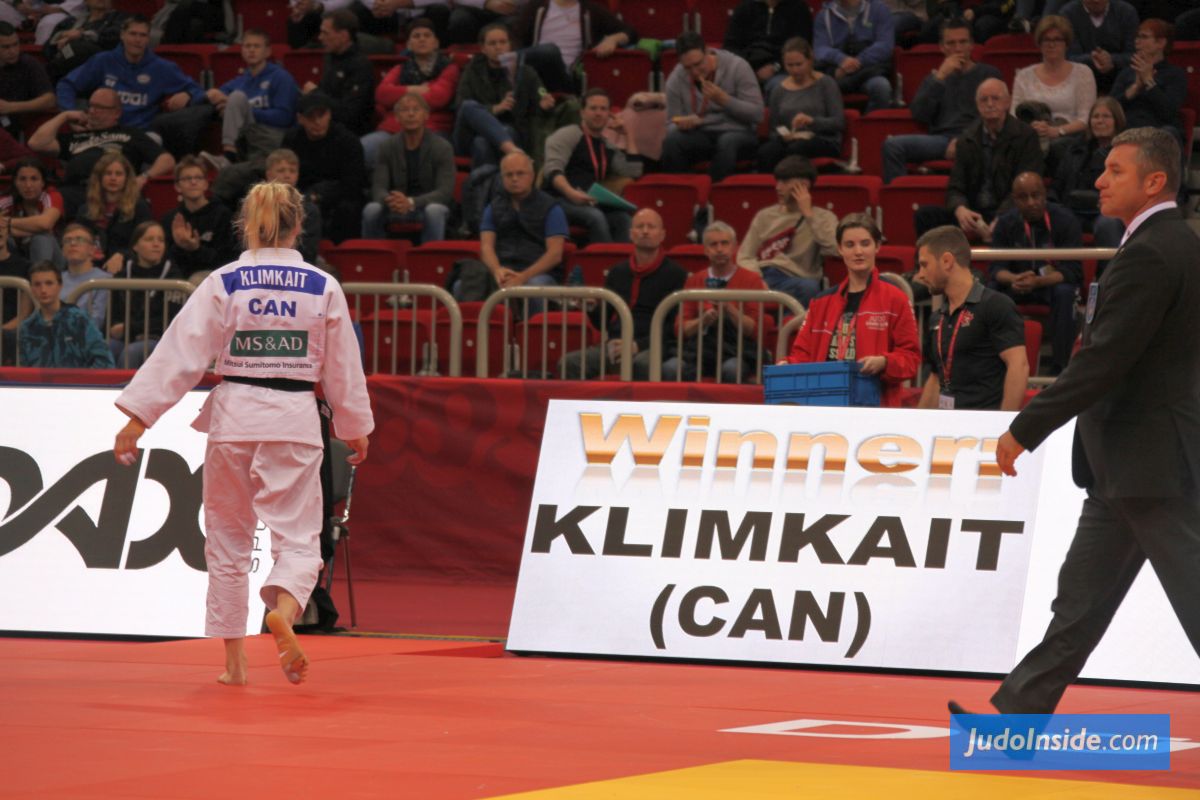 Three times IJF World Tour gold medalist, Jessica Klimkait, is one of Canada's top prospects for the Tokyo Olympics. She is currently No. 2 in the Olympic qualifications ranking, so Jessica has obviously qualified. But to be her country's pick for the Games (now rescheduled to the summer of 2021), she needs to overcome her domestic rival, whom she has yet beat. This could have been her year. Judocrazy's Oon Yeoh spoke to the Canadian.
JIC: You recently won the gold medal at the 2020 Dusseldorf Grand Slam, the last IJF World Tour event before everything was put on hold. Do you feel this whole Covid-19 situation has disrupted your momentum?
JK: After winning this competition I was definitely confident that I was on the right track. I was disappointed with my performance at the Paris Grand Slam two weeks earlier. I walked away from Paris reflecting on my errors, and I decided to strategically alter parts of my judo with hopes of having a better competition in Dusseldorf. Evidently, the adjustments worked in my favor. I plan to use the same tactics to continue to build momentum, despite the setbacks caused by the current global circumstances.
JIC: What was it that you decided to change?
JK: I noticed that in recent competitions I was more static than usual, always attacking in one direction and lacking control of the match. After experimenting on the mat, I spoke to my coach and we came up with a basic plan. By basic, I mean going back to the fundamentals and simplifying things. Basically, two things: increasing the frequency of attacks and controlling the grips.
JIC: Is there a lock-down where you're at right now?
JK: I'm currently in Montreal. Over here, only essential shops are open, like grocery stores and pharmacies. Gatherings of over two people are banned, and we are strongly urged to remain indoors unless it is absolutely necessary to leave.
JIC: When was the last time you did judo?
JK: The last time I was able to do judo was the week of March 9. Right now, our training centre is closed, along with all dojos and gyms, making it impossible to do judo.
JIC: What was a typical training day like when everything was normal?
JK: Prior to the lock-down, a typical day of training would start with either gym or technical training at 9:30am. After that, I would typically have treatments done for injury prevention, and at 5:30pm we would start our evening training which is primarily focused on randori.
JIC: What is it like now?
JK: Training in these conditions have been very different from the norm. I'm trying to establish some structure in my day and keeping a routine of one to two physical trainings per day. Body weight circuits, elastic uchikomi, skipping rope and jogging are some of the things that are possible for me to do.
JIC: What else do you do during the rest of the day?
JK: I have decided to take this time to look into certain topics that could complement my judo, but I never had time to dive into before. Watching podcasts, reading books or watching videos on things like nutrition and fitness are some of the things that fill my day. Other than that, I am relaxing and managing to stay calm about the current situation by reminding myself that it is only temporary.
JIC: What are your thoughts regarding the Olympics being postponed?
JK: Prior to the lock-down I was confident in my ability to be ready in time for Tokyo 2020. But given the disruption Covid-19 is having on my training, I would have needed more time to fully restore the level of physical strength, conditioning and quality of judo needed to do well. For that reason, the postponement of the games to 2021 would give me and many other athletes the necessary time to recover from this unfortunate disruption.
JIC: Christa Deguchi is your domestic rival. You've fought her in five IJF World Tour events so far and have not managed to beat her yet. Do you feel your next match-up will be the one where that happens?
JK: Yes, I'm confident in my abilities to defeat Christa. Our next match-up was originally scheduled for June 6, 2020. This was to be a private event, with only essential Judo Canada staff present. We were supposed to have three fights and the one who wins at least two will be selected for Tokyo. This has now been postponed.
JIC: How many times have you two fought against each other in the Canadian Nationals?
JK: I have never competed against her in the Canadian Nationals, we have only competed against each other in IJF events.
JIC: Don't competitors have to take part in the Nationals?
JK: Yes, most, if not all Canadian competitors have competed in the Canadian Nationals. It is essential to show that you are able to dominate nationally, in order to be allowed to compete internationally. However, once you have entered the senior division and achieved elite international results – and consequently have a heavy competition or training camp schedule – it's possible to be exempted from competing in the Nationals.
JIC: What is your relationship like with her?
JK: Christa is like any other teammate to me. Oftentimes, we will train together just prior to competitions if we need to lose weight. However, she lives and trains in Japan all year round. My only encounters with her are at international events.
JIC: Many people know you like to do drop seoi and drop sode, yet you're still able to consistently score with such techniques. How do you do it?
JK: I consider myself a very intuitive player. I don't structure my approach too much, and I do my judo based on feeling rather than specific steps or the other player's style of judo. This allows me to impose my kind of judo, when I like it. My drop seois and sodes have given me a lot of success but what many people don't see is the level of detail I put into training these techniques. On a daily basis, I am vigorously training ways to use these attacks from different grips, angles, and momentum of movement.
JIC: Obviously to be a top athlete like yourself, it requires great sacrifices. What are the biggest things you have to give up in order to achieve what you want?
JK: Compared to the average person my age, I have quite a different lifestyle. When I was 19, I had to move from Toronto to Montreal in order to pursue my dreams in judo. Although I am away from my friends and family, and cannot pursue certain things in my life because of my commitment to judo, I do not consider these things to be sacrifices. I am reminded daily that judo has enriched my life in ways that wouldn't have been possible if I were leading a normal life. I am extremely thankful for the opportunities judo has given me.
JIC: Any words of encouragement to other judokas around the world who are also in a lock-down?
JK: We can take comfort in knowing that we are all in this together. Although it is difficult, we can all get through this period of our lives collectively as a judo family.
Are you JUDOCRAZY? The become a JudoCrazy Patron and read all their stories here
The IOC postponed the Olympic Games until 23 July 2021, the U57kg event will take place at 26 July 2021.
Related judoka and events
Related Judo Photos
Related Judo Videos
Related Judo News

Yusuke Kumashiro (JPN)
32 years
| Result | City | Date |
| --- | --- | --- |
| 1 | Brasilia | 2019 |
| 1 | Montreal | 2019 |
| 1 | Marrakech | 2017 |
| 1 | Zagreb | 2017 |
| 3 | Budapest | 2017 |
| Result | City | Date |
| --- | --- | --- |
| 1 | Budapest | 2019 |
| 2 | Qingdao | 2019 |
| 3 | Brasilia | 2019 |
| 1 | Tokyo | 2019 |
| 3 | Montreal | 2019 |