The latest Judo News offered by JudoInside.com
Judo in the time of Covid-19: Peter Paltchik
Oon Yeoh of JudoCrazy IJF Gabriela Sabau / International Judo Federation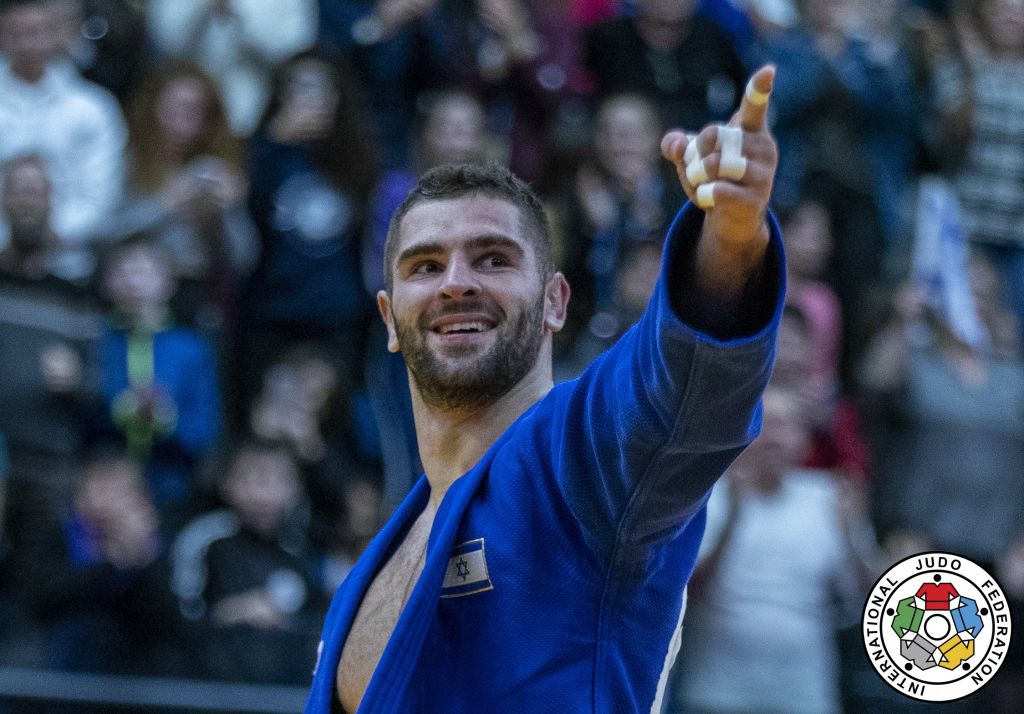 Peter Paltchik, winner of six IJF World Tour events, is locked down in Israel but he is making good use of his time, doing daily exercises at home and offering online advice and inspiration to young judokas across his country through the power of the internet. His Olympic day will soon be set to 29 July 2021. Oon Yeoh of JudoCrazy spoke to the Paris winner.
JIC: You've won many IJF World Tour events but this year, you had two consecutive victories, in the Tel Aviv Grand Prix and the Paris Grand Slam. Do you feel like you are peaking right now?
PP: Those two events are really special for me. For the Tel Aviv Grand Prix, I was in my home court and there was this electricity in the air. It felt so good to celebrate the gold medal with my friends and family, and the fans. Meanwhile, the Paris Grand Slam is one of the most important events of the year. My final match was against Varlam Liparteliani, who is a childhood hero of mine. So yes, 2020 started off with very good momentum and I'm very much at my peaking right now. But alas, the Olympics are being postponed.
JIC: What do you think of that?
PP: I have mix feelings about it. On the one hand, I feel so ready for the Olympics but on the other one hand, this is the right thing to do. I believe it is not right to put more than 10,000 athletes in Tokyo with this pandemic still raging on.
JIC: What was a typical day like for you before the lock-down began?
PP: My routine is pretty tough and every moment of my day is all planned out.
06:30 - Drive to national training center
07:30 - Breakfast
08:30 - Movement training
10:00 - Gym time
12:00 - 16:30 - Lunch, physiotherapy and other treatments
16:30 - 18:30 - Randori
18:30 - 19:30 - Stretching
19:30 - Mental training
JIC: What do you consider to be the most important part of judo training, randori perhaps?
PP: Every aspect is important. You can't skip parts of the training if you want to be a complete judo competitor. But of course, randori is a very important part of my training. This is the time for me to try new techniques and improve my skills. In randoris I always look for new ways to defeat my opponents, checking for their reactions and of course, my own as well.
JIC: How are your training these days, under the lock-down?
PP: I work on my power at least four times a week, I work on my flexibility and do movement training three or four times a week. For cardio, I do long runs by myself. In Israel, under the lock-down we are still allowed to run alone for exercise.
JIC: Besides solo training how else do you fill your time during the lock-down?
PP: For the past two weeks a lot of young judokas and judo club owners asked if I could give ideas on what to do during the lock-down. This made me realize how important it is to give judokas some words of encouragement. So, I decided to start an important project which I call "Ask Peter". Every day, in the afternoon, I would conduct three online meetings with clubs from all over the country using an application called Zoom, which is great for videoconferencing. It allows me to talk with many people at once.
JIC: How much of these sessions have you done so far?
PP: To date, I've had meetings with 16 clubs and more than 1000 young judokas. This platform gives the kids a chance to ask me any questions they want. I try to give them my two cents' worth about new situations and how to train etc. I must say I'm having an amazing time with the next generation of Israeli judokas. This is a very fulfilling project for me.
JIC: Are you watching a lot of judo videos?
PP: I try to watch judo videos once a day. I usually watch my own fights to analyze what I did right and what I did wrong, and to learn from my mistakes. I generally don't make a point to study the videos of my opponents because I'm already familiar with their judo styles. Besides, I prefer to stay focused on my own judo when I do video analysis.
JIC: Who is your biggest rival on the IJF World Tour circuit?
PP: There are several but the biggest is Lipo (Liparteliani). He was one of my judo heroes when I was growing up. Today, he is my rival but also my very good friend.
JIC: Do you go abroad for training?
PP: Usually every year I would travel to Spain, Austria and Japan for training. When we visit Japan, it's usually for three weeks. The players there have no ego, their skill level is very high and they are tough fighters – and most of them don't even get to go on the IJF World Tour! Training in Japan is a little different from anywhere else. Their randori sessions are very long, usually lasting about two hours. I find it challenging but I like it.
JIC: Why is judo is so popular in Israel?
PP: It all started with the Barcelona Olympics in 1992 where Oren Smadja and Yael Arad managed to win Israel's first two Olympic medals ever, and of course it was in the sport of judo. From there, judo boomed in popularity. To date, Israel has nine Olympic medals and five of them are from judo alone. So, you can imagine how popular judo is.
JIC: Do top athletes in Israel all train together at a national training centre or do each of them train at their own respective judo clubs, under their own coaches?
PP: All national team athletes train together under the same roof at the national training centre. Cadets, juniors and seniors – all train together. But of course, we all have our respective home clubs and coaches which we go to sometimes.
JIC: In Israel are most judo clubs private or government supported?
PP: All clubs are private.
JIC: Why did you choose to do judo?
PP: I was born weighing 5.1kg. I was a huge baby. As a result, I had a lot of joint problems. My grandfather consulted one doctor who told him to sign me up for some sports to sort out my problems. So, my grandfather sent me to the judo club near my home. Perhaps I can say that judo chose me. Judo saved my life, really.
JIC: How has judo influenced your life?
PP: I live by judo values which is mutual respect, self-discipline and hard work. I live by those values not only when doing judo but in all aspects of my life.
JIC: What is it about judo that you enjoy the most?
PP: I like the judo fights. I love the action and the adrenaline rush. When I go for competitions, I like to imagine myself as a gladiator entering the arena in a Coliseum with the crowd all cheering. It's an amazing feeling.
JIC: What motivates you to become a top athlete, which requires a tremendous amount of sacrifices?
PP: I started judo at four years old. From that point until today, I've had many ups and downs, including two major injuries that almost stopped my career. But I carry on because seeing the positive influence that I have on people – young judokas and the people of Israel who follow my career – that gives me great motivation.
JIC: Any words for the global judo community, many of whom are also in lock-down?
PP: Let me share my opening statements for my "Ask Peter" sessions. Whenever we face problems or challenges, we need to accept the situation, adapt to it as soon as possible, adjust our goals accordingly and keep on working. We must keep moving forward. So, let's do it!
Become a JudoCrazy Patron and read all their stories here
Birthdays during the Olympic Games
24 July is the birthday of Olympic Champion Tagir Khaibulaev who won gold in 2012.
At 25 July Riki Nakaya double World Champion and Olympic medallist celebrates 31 years (this year).
At day three 26 July of the Olympic Games in 2021 referee and World medallist Matthieu Bataille celebrates his birthday.
Hidayet Heydarov will fight at his birthday at 27 July in Tokyo once he qualifies U81kg.
Felipe Kitadai will have his birthday at day 5 at 28 July of the Judo Tournament when U70 and U90kg will fight.
When U100 and women U78kg fight, 2012 Olympian Marie Mueller celebrates her birthday at 29 July.
At the last day at 30 July the heavyweights Alon Sasson will follow his brother to continue Israelian success.
The team event at 31 July Katharina Haecker celebrates her birthday
Related judoka and events
Related Judo Photos
Related Judo Videos
Related Judo News