The latest Judo News offered by JudoInside.com
Photographer Paco Lozano awarded but affected by Covid-19
JudoInside and JudoCrazy JudoInside.com / judo news, results and photos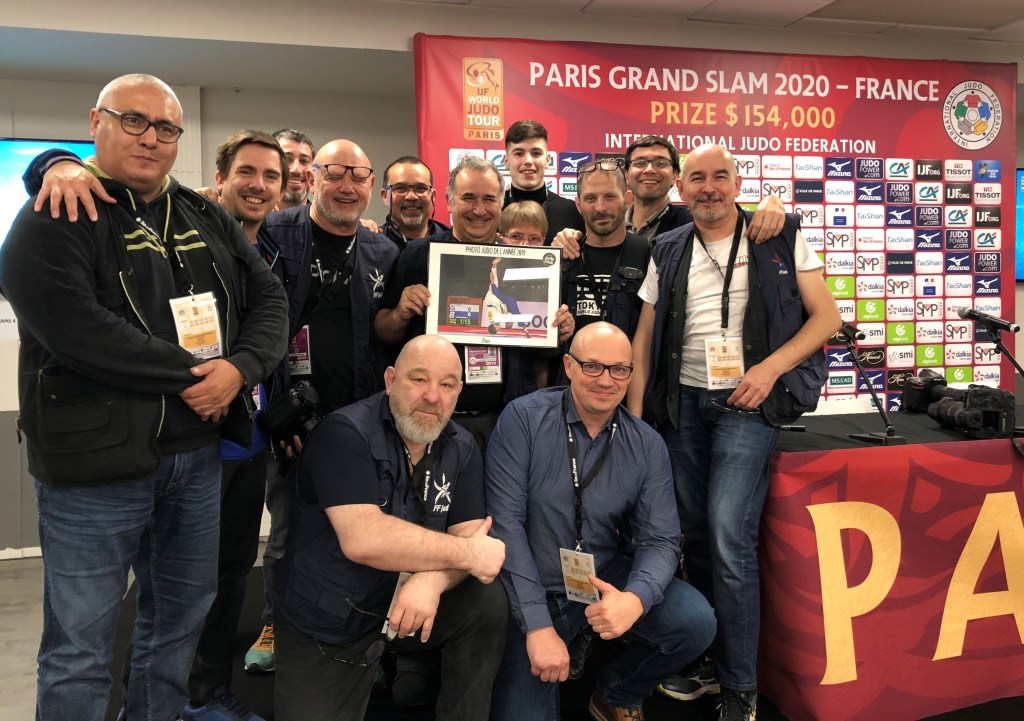 Not just judoka are stuck at home due to the virus. Also some of our familiar judo photographers is under lock-down. Paco Lozano is an award-winning judo photographer from Malaga, Spain. A 3rd Dan in judo, he travels the globe covering major IJF events for a wide variety of magazines and websites. Oon Yeoh of JudoCrazy spoke to the passionate Spaniard.
Paco Lozano covered all the World Championships since except the one in Rio in 2013. He covered many European Championships, Grand Slams, Grand Prix… but it was in the 2012 London Olympics and 2016 Rio Olympics that he had the privilege to rub shoulders with the elite of sports photography and this led to the opportunity to shoot other sports beyond judo. Paco currently covers sports for the Malaga City Council. He takes care of martial arts inspired games together with some other photographers and covers most of the sporting events organized in Malaga.
In February when the virus hadn't affected judo, the Press centre of the AccordArena in Paris was busy with journalists and photographers. Teddy Riner had just lost after 154 contents for the first time 2010. Sport continues, photographers are reworking their latest shots. Between this journalism there was also some appreciation for a colleague who was awarded for the best judo picture of 2019. French Judo Magazine L'Esprit Du Judo held a contest among judo photographers and fans could vote for the 10 best photographers who all deliver their best photo of 2019. Lozano was awarded among colleagues and friends in the French press room for his effort.
Paco: "I won for a picture of the brilliant Japanese -66kg fighter, Maruyama, throwing his South Korean opponent with an unbelievable uchimata in the 2019 Tokyo World Championships. My picture caught the Korean right when he was suspended vertically mid-air. What an amazing throw that was."
Who do you shoot the photos for?
PL: "My photos have been published in several countries. Naturally, a bunch of my work appears in Spanish publications such as El Budoka magazine, Tatamikos website, Hajimejudo website, the Spanish Judo Federation website and the Andalusian Judo website. My photos have also appeared in Budo magazine in Brazil, Koka Kids and Matside magazines in the UK, Adidas website in Germany and L'esprit du Judo magazine in France.
You are taking pictures for more than a decade right?
PL: "My first professional judo shoot was the 2009 Rotterdam Judo World Championships but I've been doing photography since I was a boy. I won my first camera – a Kodak – in a contest when I was 13 years old and the very first picture I took was about judo, which is a great passion of mine. I've always found it fascinating to be able to immortalize a brilliant moment of judo action in a photograph."
Spain is one of the hardest hit countries for the Covid-19 virus. Can you share with us what life is like right now?
PL: Spain is taking this crisis very seriously. We are all in isolation. We can't leave home except to buy necessities. Colleges and universities are closed and all sports clubs are closed too. All events have been cancelled.
How are Spanish judokas taking this?
PL: Obviously the situation is hurting Spanish judokas a lot because judo is a full contact sport and in order to train properly, you need an uke. You can do some solo training but it's not the same thing.
How has it affected you?
PL: Well, I had already planned my travels and paid a lot of money for plane tickets and hotel rooms for all the competitions I was going to cover this year, so this thing is causing me great financial damage.
So, you had already booked your flight to Tokyo?
PL: Yes, both the flight and the hotel room. I'm not sure if I can get a refund. But I would like to send a message of encouragement during this difficult time. I am sure we will defeat this virus and we will emerge stronger.
Related judoka and events
Related Judo Photos
Related Judo News

Assia Said Errhamani (FRA)
21 years
| Result | City | Date |
| --- | --- | --- |
| 1 | Budapest | 23 Oct |
| 2 | Düsseldorf | 21 Feb |
| 1 | Budapest | 2019 |
| 2 | Qingdao | 2019 |
| 1 | Osaka | 2019 |
| Result | City | Date |
| --- | --- | --- |
| 1 | Düsseldorf | 21 Feb |
| 2 | Osaka | 2019 |
| 1 | Tokyo | 2019 |
| 1 | Tokyo | 2019 |
| 1 | Hohhot | 2019 |