The latest Judo News offered by JudoInside.com
Judo in the time of Covid-19: Manuel Lombardo
JudoCrazy by Oon Yeoh Athlete Instagram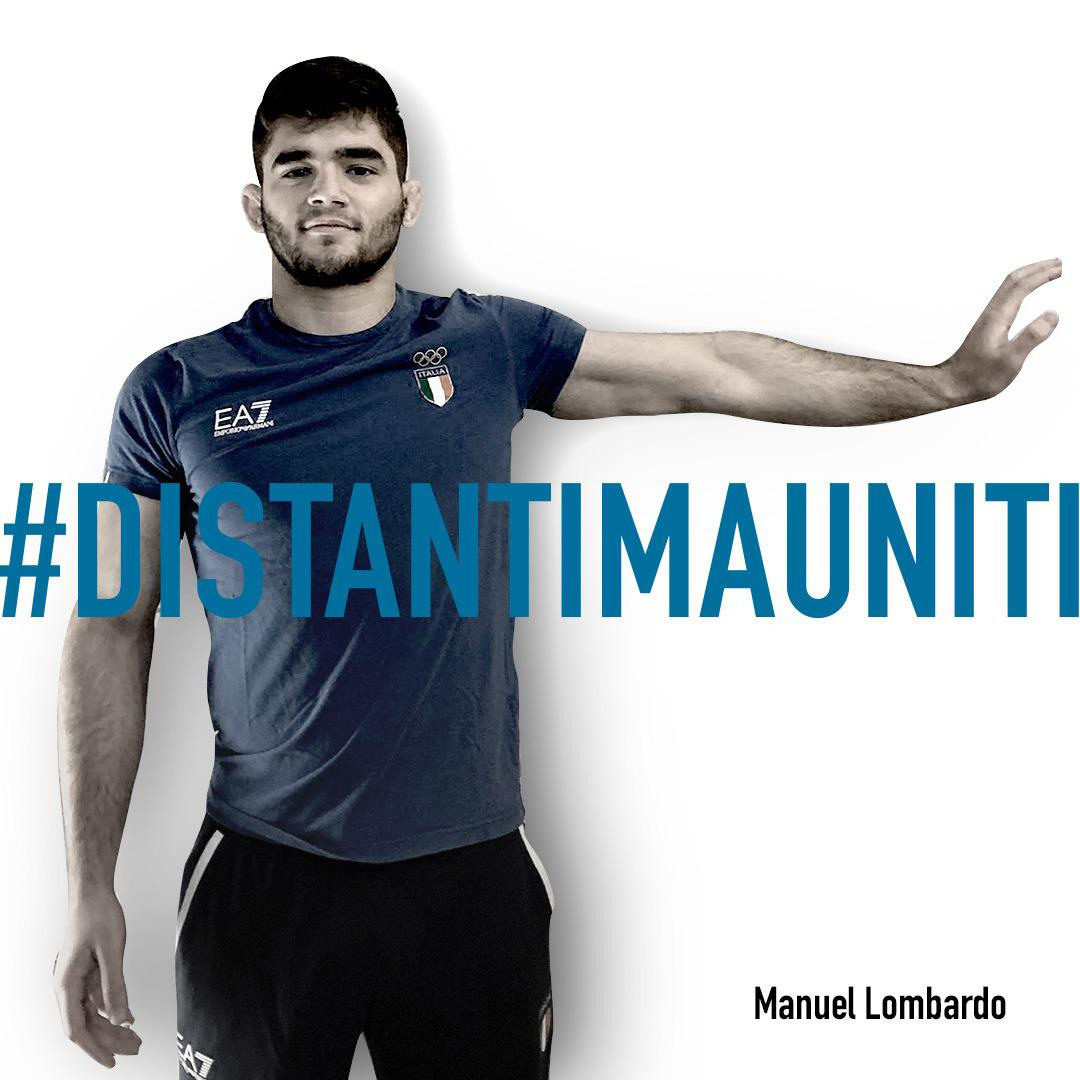 Manuel Lombardo started last year well by winning the gold medal at the 2019 Tel Aviv Grand Prix. He followed that up with a brilliant upset against Japanese superstar Hifumi Abe at the 2019 Paris Grand Slam. But he didn't catch the broader judo public's attention until the 2019 Tokyo World Championships where he threw Abe with a stunning counter that was awarded ippon by the referee. Locked up in Italy Lombardo speaks up about all questions of JudoInside partner Oon Yeoh of JudoCrazy.
Although it was later cancelled by the video judges, and he was subsequently thrown by Abe, it was clear to everyone that Italy had a new rising star. Before year's end, Lombardo would go on to win the Abu Dhabi Grand Slam and the prestigious Qingdao World Masters. Manuel is currently locked down in Italy, the epicenter of the Covid-19 pandemic.
JIC: I'm dying to ask you about your controversial match against Abe in the 2019 Tokyo World Championships but first of all, I must ask how are you holding up in Italy, right now?
ML: I am now in Turin with my family and fortunately, we are all well. Sadly, in Turin there are thousands of people infected. All of Italy has been under lock-down for almost two weeks now. It's a surreal feeling, almost like in some kind of movie.
JIC: The Olympics are being postponed but before news broke out about it, the Japanese and the IOC were insisting they would go on in July. What are your thoughts on that?
ML: If I were to be completely honest, I must say that I selfishly hoped until the last moment that somehow the Games would carry on as scheduled. However, the logical part of me does acknowledge that the decision to postpone the event is the correct and responsible one. We have to put everybody's health first, so I support this decision 100%.
JIC: But you would have gone if the decision had been to hold it as originally planned?
ML: I have to admit I would have. But I am okay with having it next year as this is better from a health and safety standpoint.
JIC: Let's move on to purely judo questions. First off, congratulations on your win at the Qingdao World Masters. Is it correct that you are the first ever Italian to win a Masters gold?
ML: I am the first Italian male player to win a medal of any color in the World Masters and the first Italian player to win a gold medal in that competition.
JIC: How does that make you feel?
ML: Of course it's a good feeling but at the same time I feel I haven't won anything major yet, and I have much bigger ambitions, so I have to work harder to achieve them.
JIC: What do you mean you haven't won anything major, you have won three IJF World Tour gold medals in 2019?
ML: I really don't want to sound arrogant but for me the only results that really count are the European Championships, the World Championships and the Olympics. The rest are nice of course but those are the three competitions that matter most to me.
JIC: I noticed you didn't compete in any IJF World Tour events this year before the shut-down. Why not?
ML: I would have gone to the Paris Grand Slam but I had a small ankle injury that prevented me from going. I would have taken part in the Ekaterinburg Grand Slam had it not been cancelled.
JIC: What is the selection process for IJF events like in Italy?
ML: The Italian selection is divided into two main bands: band A and band B. The latter includes all the athletes who had obtained medals in the European Opens. They would have the right to participate, at their own expense, up to two Grand Prix events in which band A players are not competing. Band A would consist of players who rank in the Top 36 in the world rankings.
JIC: Is it true all Italian top players are in the military?
ML: Yes, Olympic sports in Italy are completely militarized. Once you reach a certain level in your sport, you will be given the opportunity to join the military but purely as an athlete. This applies to women as well.
JIC: What's the name of your judo club?
ML: The name of the club is Akiyama and the coach is Pierangelo Toniolo. It's where Fabio Basile is from too. We have many cadet and junior European and World medalists.
JIC: Speaking of Basile, are you guys good friends or best friends?
ML: We're good friends. I've known Fabio since we were young kids. My best friends is another judoka, Davide Pozzi, a -100kg player.
JIC: How popular is judo in Italy?
ML: Not that popular unlike football which is everywhere. The average Italian doesn't know who I am. They wouldn't even know who Ezio Gamba (former Olympic champion and now Russian head coach) is. If someone were to recognize who Fabio is, it would be because of the TV shows he's been on, not because of his Olympic gold.
JIC: Let's talk about your fight with Abe in the bronze medal match at the Tokyo World. You had beaten him earlier, at the Paris Grand Slam, so were you confident you could beat him again?
ML: To be frank, before the match I did not give it much thought. I did not think in terms of who he was or whether I had beaten him before. My only thoughts were that of bringing home the medal but it wasn't to be.
JIC: Now, onto the obvious question: Do you think you scored on Abe?
ML: Honestly, I'm quite tired of talking about it. A lot of people have told me they thought I had scored but I accept and respect the judges' decision. It was disappointing but I'd like to think this whole episode has made me stronger as a person. Anyway, that's all in the past. No point dwelling about it. Now, I just look forward to the Olympics.
JIC: It's not clear yet whether Joshiro Maruyama or Hifumi Abe will be chosen for the Olympics. You've fought both before. Who do you think is better?
ML: I can't really say who is better but I would say that based on my style of judo, I would prefer to fight Maruyama. It's kind of hard to explain why. I just find Abe a bit more unpredictable.
JIC: Your judo is quite an interesting mix of classical techniques like seoi-nage, uchimata and yoko-tomoe-nage and unorthodox techniques like drop kata-guruma and one-handed sode-tsurikomi-goshi. Can you tell us how your judo developed?
ML: When I was a young boy, Pierangelo's brother, Massimo, was the one who taught me the basics, which is really important for establishing a good foundation. But my favourite techniques like the kata-guruma and the sode were techniques that I developed myself, later on.
JIC: How did you develop your own techniques, was it by watching videos?
ML: For kata-guruma, I learned it by watching Rishod Sobirov of Uzbekistan. At first, I copied what he did. Over time, I modified it and made it my own.
JIC: What about the one-handed sode, who did you learn that from?
ML: Nobody, I developed that completely on my own.
JIC: But that's such a complex move, how on earth is it possible you managed to develop such a move without referring to anyone?
ML: I was trying to do sode the normal way, with both hands, but it wasn't really working. Then one day, the one-handed version happened by chance and I realized it could actually work for me that way.
JIC: You've mentioned your coach Pierangelo and his brother, Massimo. Is it these two coaches who are responsible for the massive success of your judo club?
ML: Actually, there is a third brother, Raffaele, who follows me to all the competitions. So, yeah, these brothers are the ones who made the club a success.
JIC: Any words for other judokas who are stuck in lock-down too?
ML: I would like to tell the global judo family to persevere. At this critical time, we need to respect the rules and stay at home. Eventually things will return to normal and we can go back to doing what we love, which is judo. Stay healthy, stay safe, stay strong.
Become a JudoCrazy Patron and read all their stories here
The IOC postponed the Olympic Games until 23 July 2021, the U66kg event will take place at 25 July 2021.
Related judoka and events
Related Judo Photos
Related Judo Videos
Related Judo News

Evelien Cappaert (BEL)
26 years
| Result | City | Date |
| --- | --- | --- |
| 1 | Budapest | 23 Oct |
| 2 | Düsseldorf | 21 Feb |
| 1 | Budapest | 2019 |
| 2 | Qingdao | 2019 |
| 1 | Osaka | 2019 |
| Result | City | Date |
| --- | --- | --- |
| 1 | Düsseldorf | 21 Feb |
| 2 | Osaka | 2019 |
| 1 | Tokyo | 2019 |
| 1 | Tokyo | 2019 |
| 1 | Hohhot | 2019 |