The latest Judo News offered by JudoInside.com
How the Corona virus affected the athletes at first place
Fighting Films Fighting Films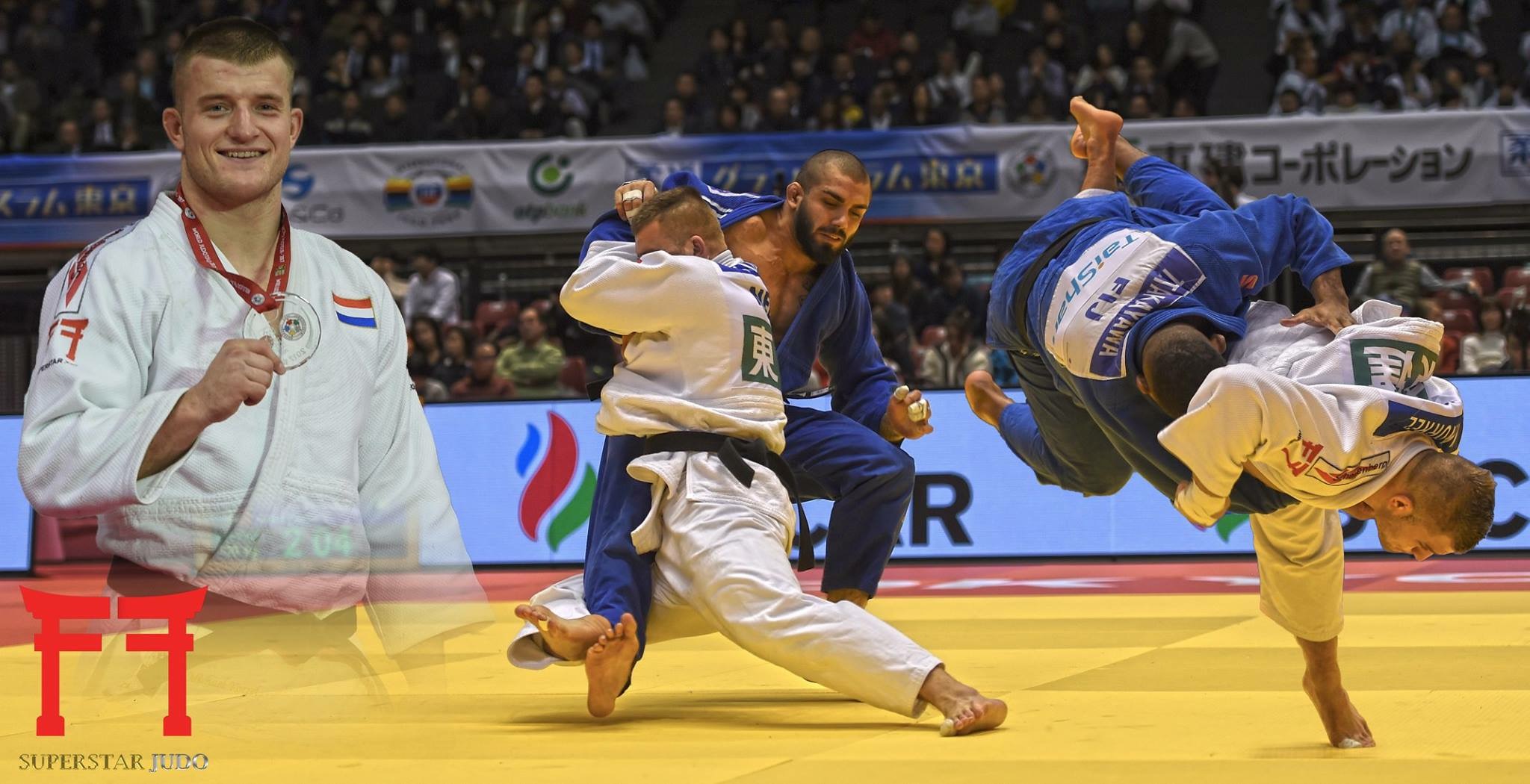 The IJF World Tour came to a hold due to Covid-19, the Coronavirus. The boys of Fighting Films spoke to various athletes on Team Superstar, how the measures affected them, including their concerns for the Judo community, future tournaments, and the Olympic Games.
Ben Fletcher -100kg IRL:
It didn't really affect my day too much as I had the afternoon off, and was actually gardening when I found out! Although it is a real shame to not be able to compete in Rabat, as for some reason I always manage to have success in Africa, and managed to win the GP in Morocco last year, I know that it is the best thing for us as individuals and the judo community as a whole. We as athletes just have to see the extended break as an opportunity to improve ourselves again and use the time to train. It is the same situation for everyone and we just have to accept the unfortunate circumstances. It will be interesting to see what happens going forward for the upcoming qualification tournaments. For me I am fortunately in a reasonable position for qualification, but I do feel for those who are desperately trying to qualify for the Olympic Games.
Prisca Awiti-Alcaraz -63kg MEX:
I was pretty upset to say the least. It kind of takes you out of the swing of things. My training had been better and I had a good feeling about this weekend, so for it to be cancelled was a shame. But after feeling down a little I went for a food shop, got some snacks and then felt better! It's hard how things are now with this virus going around and with the end of qualification so close it does make me stress a little, but I'm trying to keep a level head and not let it affect me so much. I'm happy I get some more time now to prepare and train hard for the next events.
Michael Korrel -100kg NED:
When the Corona Virus came in the news I didn't see it as a big deal. When it started to grow around the globe and moved to Europe I still was quite relaxed about it. It didn't affect me until my coach told me we were not allowed to train in Japan this March, so had to cancel the training camp and find some alternative. Then my point of view changed because it directly affected my next steps, and this is when it got more serious for me.
The cancellation of Rabat didn't affect me at all directly. I have a few tournaments coming up but everything leads up to the Olympics. So the only thing that matters for me is that the Olympics continues this year. They talked about delaying the event. That again, is no problem. I know I have no influence on these kind of decisions. I will adapt and make the right choices to be on top of my game at the right moment.
Megan Fletcher -70kg IRL:
I bought all my competition food yesterday before I knew it was cancelled. Only issue is that now I need to eat everything…. Challenge accepted! Not sure the 6 caffeine gels is a good idea though – Might give them a miss! Obviously the cancelling of the Grand Prix in Rabat is a big disappointment to any athlete that was supposed to be competing. I feel that at this time we have to be adaptable in every sense. I would much rather be fighting this weekend, but now it's extra time I can train and get ready for the next tournament. We have to reframe it into a positive. I am just trying to keep my head down and focused on getting better all the time. Concerns about other tournaments and the Olympics games do come into my thoughts, but the outcomes are completely out of my control. All I can focus on now is my daily training and working on improving as much as possible!
Gregg Varey -66kg GBR:
When I found out the news the comp was cancelled, I was absolutely gutted. I've been working so hard and had a good few training camps in the build up to the event and was looking forward to seeing what I could produce. I had just finished doing some video editing on Dimitri Dragin's upcoming SuperstarJudo.com content and about to start packing my bag for Rabat when I got a phone call from one of my coaches telling me the news.
I thought I would ask British Judo if there was any possibility I could fight the Ekaterinburg Grand Slam instead. I knew this would be a long-shot, as the BJA have a set performance criteria for entry into Grand Slams, and that's to be ranked in the Top 35 in the IJF World Ranking. I'm currently nowhere near that position. I had a feeling I knew what the answer would be, but if you don't ask you don't get. At around 6pm I got an email saying that nothing had changed. This put another dampener on my mood, as now not only was I still not allowed to compete in Grand Slam's but I had one less Grand Prix in the Olympic qualifications to compete in.
Never the less I woke up the next morning and decided that I just needed to concentrate all my energy on getting ready for my next tournament (Tbilisi Grand Prix). But this all changed around 11am when I received an email from British Judo stating that after further discussion the Performance team have now opened up all the remaining tournaments in the Olympic cycle for athletes to fight in, despite their World Ranking (subject to review and approval from the Performance Team).
Now I can't wait to get out their competing and trying to earn those valuable Olympic qualification points, as I now have the possibility to also compete at the Azerbaijan Grand Slam as well, which wouldn't have been possible if Rabat hadn't been cancelled. Fingers crossed that no more tournaments are cancelled and I can try to get some big results and secure a late qualification to the Olympics.
Patricia Sampaio -78kg POR:
It's really scary how big this "virus" thing is becoming. I was definitely not expecting that they would cancel the Rabat Grand Prix. I was at the gym when a friend that was supposed to be competing sent me a message, warning me – I was really surprised. Although primarily I'm really worried about the health of the World's population, it was actually in some senses a "relief" for me, because it wasn't in my plans to compete there, and this way my opponents won't get any extra points. Now I'm just hoping that they don't cancel the Ekaterinburg Grand Slam, because I'm planning to compete there! But if they do I understand it is with the best intentions. I'm becoming increasingly worried about future competitions and especially my biggest dream and goal: the Olympic Games… Let's wait to see what the federations decide.
Maruša Štangar -48kg & Anja Štangar -52kg SLO:
Hello – sadly from Ljubljana … We should have left today at 7:00 am. Yesterday on our way to training we went to buy the final things for the competition. After we paid, we got a message from our coach Olga: 'Rabat GP is cancelled – it's still unofficial, but 99% sure'. We were in front of the supermarket, holding bags of food for competition, standing still and looking at the message. "No! No, no, noo! It can't be true! They can't do it now!" But obviously they did… We exchanged that confused look with our mouths wide open, beginning to realise what it means…
Anja: My first thoughts were that I need points for Olympic qualification, and I really felt prepared to fight on Friday. I don't have many competitions left, and Rabat GP was very important for me. Moreover, we just came from Japan where we made good preparations for this competition. It's just not fair!
Maruša: I was shocked that this really happened. Our programme collapsed. It was a programme made long ago with deliberate decisions from Olga – to have one month in Japan rather than do Paris and Düsseldorf GS with training camps. After training hard in Japan I felt ready for competition.
Now there's no World Tour … But wait – it still wasn't official, so we still behaved like we were competing. When we came to the gym, we dressed us up in sauna suits and had our Judogis. However, we returned to dressing room before we reached dojo, because the official announcement came. So instead of training, we had pancakes! Strange, a situation where we'd prefer to cut weight and sweat in sauna suits than eat delicious pancakes.
Not much later more severe measures were taken by the IJF by cancelling the events of Tbilisi and Antalya and many nations decided to close national training centres.
All athletes are in the team of Fighting Films' Super Stars
Related judoka and events
Related Judo Photos
Related Judo News