Jorge Fonseca stars for Portugal with first ever world title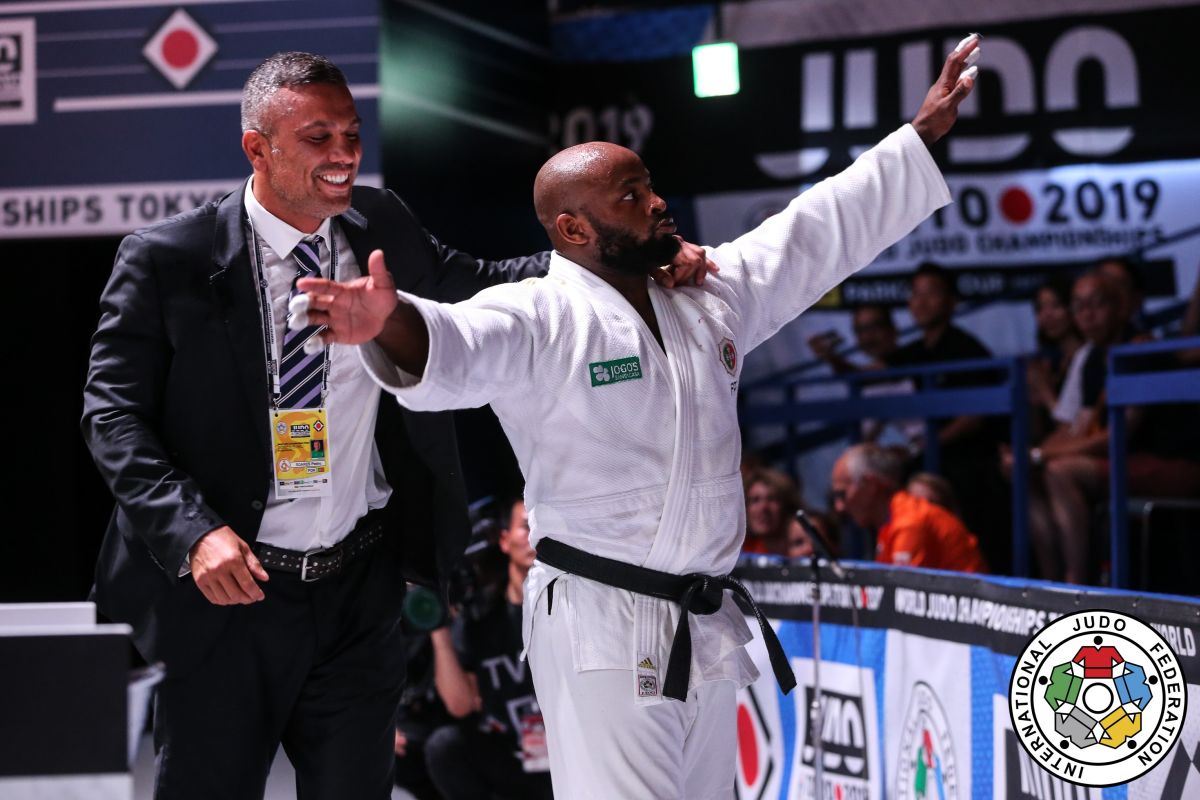 30 Aug 2019 17:25
Mark Pickering - IJF and JudoInside
IJF Gabriela Sabau / International Judo Federation
Portugal finally has a world champion. So often they were so close in the finals with Telma Monteiro four times, Barbara Timo on Thursday but finally Jorge Fonseca secured that beloved title. Another world title for Sporting Club de Lisbon where also Daria Bilodid is fighting.
Jorge Fonseca made a mockery of his previous record on the international circuit, having never won a gold medal in his 44 appearances in IJF competition, as he went all the way for Portugal. The feared Portuguese powerhouse was crowned his country's first world judo champion after beating 2018 world bronze medallist Niyaz Ilyasov (RUS) in the U100kg final. A low seoi-nage was the difference as 2015 Junior World Championships winner Ilyasov came up just short while Fonseca went one better than his teammate Barbara Timo (POR) who took silver on Thursday.
The gold medallist, once seen as a nearly man on the IJF World Judo Tour, blew kisses to the crowd and danced his way to the edge of the tatami before a deep and extended bow to show his usual high level of respect to his opponent, the competition and the sport.
In the first semi-final defending champion Cho Guham (KOR) fell to Ilyasov after a mammoth battle that required six minutes of additional time. Cho had come out on top before in such situations and had to be favoured when going deep into golden score but made a telling mistake as he went out of the area to avoid his opponent and was penalised with his third and final shido to concede his red backpatch.
In the second semi-final Fonseca dropped under Olympic silver medallist Elmar Gasimov (AZE) to throw for a waza-ari score in the closing seconds. Fonseca, Portugal's second finalist in as many days, was overwhelmed with his victory as he guaranteed his first medal on the World Championships stage. The Portuguese thanked the referee and kissed his opponent twice on the forehead having already secured the best result of his career.
In the first bronze medal contest world number four Michael Korrel (NED) consigned Cho to fifth-place as the 2018 winner failed to reach the medal podium this year. Korrel, who was no doubt inspired by the sensational golden day his teammate Noel Van 't End (NED) enjoyed on Thursday, produced a waza-ari score which was the only time the scoreboard was breached as the Dutchman outworked his rival to capture his first medal at the World Championships to nudge his country further up the medal table.
In the second bronze medal contest Gasimov could not take his red-hot form from the preliminaries into the final block. Gasimov lost out to 2017 world champion Wolf Aaron (JPN) who famously won the coveted All Japan Openweight Championships in this building in April. By missing out on gold Wolf has left the door open for former world champion Haga Ryunosuke (JPN) and youngster Iida Kentaro who may be ready in time for Tokyo 2020. Wolf salvaged a spot on the podium with 33 seconds remaining as he countered a desperate lunging attempt from the Azeri for the smallest score possible to swell Japan's vast medal tally.