The latest Judo News offered by JudoInside.com
Lukas Krpalek in his best years of Life
Anthony Diao L'Esprit du Judo Rafal Burza - Judo Canada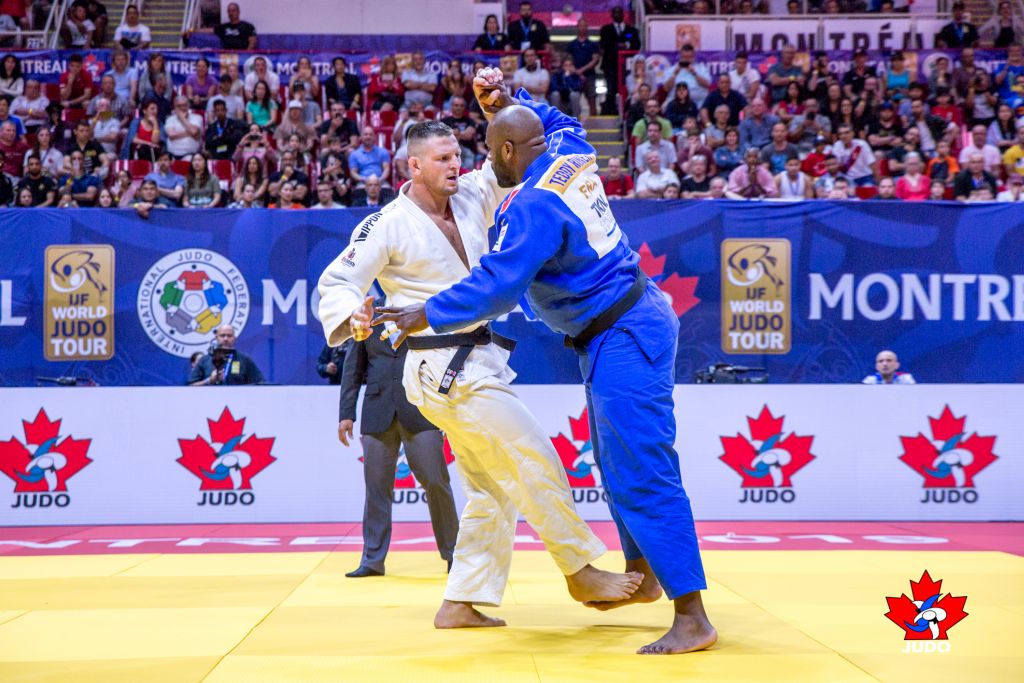 Continental golds. World gold. Olympic gold. The giant Czech was only 25 when he settled the question in the U100kg category. Three years later, he's already European champion of the O100kg and highly motivated to keep climbing till the summits of those new mountains. A category dominated since 2007 by the Teddy Riner-Everest, twice Olympic and ten-times World champion. The reporters of L'Esprit du Judo went to Prague to Lukas Krpalek in person.
The Olympic champion, World champion and three times European champion, his name and his country's make one. He's on every wall, every poster and every local kid-eyes' star. In 2019, Lukas Krpalek is Czech judo.
Lukas is born in the autumn of 1990, exactly two days before the first anniversary of what History remembers as the official beginning of the Velvet Revolution. Second son of an entrepreneur and a textile factory employee, his childhood is spent outdoors. His headquarter? Jihlava, about 130km south-east of the capital of a country named Czechoslovakia until 1993. Ice hockey on frozen lakes, ski, football, basket-ball, volley-ball, swimming… "Sports are my life" admits that hyperactive lefty who studied carpentry. Detected for his judo abilities – despite the fact that him and his brother both believe for months that their uncle has enrolled them into karate classes! -, his mother allows him to go to USK Prague the year he turned 16. Pavel Petrikov and Jaromir Jezek, both 20 years old, are Czech judo's locomotives at that time.
During Teddy Riner's pause in 2018, the young father and carp fisherman ticked the first box out of three of his 2020 project's list: the European title in Tel-Aviv. Will he manage to challenge the French scarecrow for his comeback? "Maybe he will need a few extra kilos. He weighs as much as Tushishvili but is not as explosive. Despite his speed, he could be crunched" says Cyrille Maret, who is used to fight and train with the best from the two categories. One thing is for sure: even if he has already won it all in his former category, Lukas Krpalek wants more. As it seemed already obvious at the end of our first randori, he wishes it, says it and sweats for it. He even paraphrases the famous French writer Victor Hugo in a much-improved English: "The best years of a man's life are the years he hasn't lived yet."
Read the full interview of L'Esprit du Judo in their website.
Related judoka and events
Related Judo Photos
Related Judo Videos
Related Judo News
Guglielmo Imperato (ITA)
21 years
| Result | City | Date |
| --- | --- | --- |
| 2 | Düsseldorf | 21 Feb |
| 1 | Budapest | 2019 |
| 2 | Qingdao | 2019 |
| 1 | Osaka | 2019 |
| 1 | Odivelas | 2019 |
| Result | City | Date |
| --- | --- | --- |
| 1 | Düsseldorf | 21 Feb |
| 2 | Osaka | 2019 |
| 1 | Tokyo | 2019 |
| 1 | Tokyo | 2019 |
| 1 | Hohhot | 2019 |