Japan has the youngest athletes of the top teams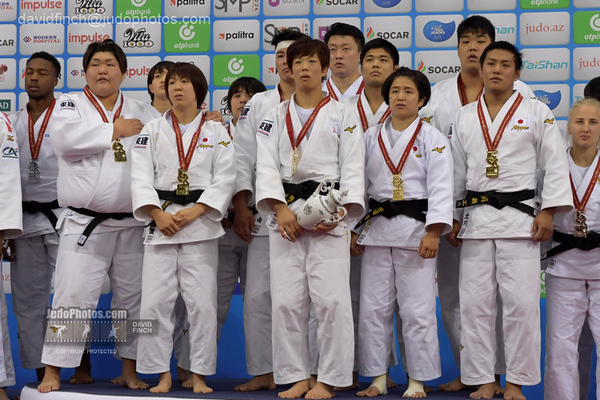 7 Aug 2019 09:30
by JudoCrazy and JudoInside
David Finch / Judophotos.com
For the forthcoming World Championships every judo fan will be looking for the Japanese team. The home team will send a full squad to Tokyo. That means nine men and nine women and seven titles to defend. Usually that means two weight categories from each gender division will have a second player.
In the case of the men, that's the U60kg and U66kg categories. With the former, Japan will be sending Takato and Nagayama, both top favorites for the world title. Takato is the more established by Nagayama has beaten him before. It could very well end up an all-Japan final.
At U66kg, it's Abe and Maruyama. Although Maruyama is older, Abe is the more accomplished at the World level. That said, Maruyama has beaten Abe on a few occasions. We could very well see an All-Japan final here too.
Japan is very accomplished at the U73kg division but since it has decided to use its additional two places for U60kg and U66kg, there's no more slot for U73kg. Ono will be going instead of Hashimoto (who will be fighting in the Mixed Teams event). In these three men's divisions Japan is with no doubt the favourite for a gold medal. All other men's division's European athletes have far more chances. We foresee a final though in the men's U100kg and possibly U90kg.
For the women, the extra fighters are in the U52kg and +78kg divisions. In the former it's World Champion Uta Abe and 2017 World Champion Ai Shishime. Both are awesome although Abe is seen as the rising star and the one to beat. Will she be able to overcome Kelmendi? They've never fought before so it should be a super exciting match up. For now Kelmendi has enough worries to reach the final at first place, but is still the best European contender to do so.
In the +78kg division, they have Asahina and Sone. An All-Japan final? Very possible. Sone is booming and Asahina also still very young. The average age is 23.5 years, quite a young team. Three years younger than for instance France (without Riner) or Georgia or Russia although the Russians made a choice for the future taking Adamian and Tasoev. Only Korea comes quite close to Japan with an 24.5 years avg
There will be lots of medals for Japan, but we doubt if Japan will take more than eight gold medals. Statisticians in the world even said Japan would gain twelve gold medals at the Olympic Games. It's based upon historic figures, that means that they are now at that level, for sure they won't make twelve world titles this edition. With or without Riner, for the moment he is not on the list, whoch is good news for Harasawa, Tushishvili, Krpalek, Tasoev and all those others.