The latest Judo News offered by JudoInside.com
Matthias Casse captures European gold for first time since junior world title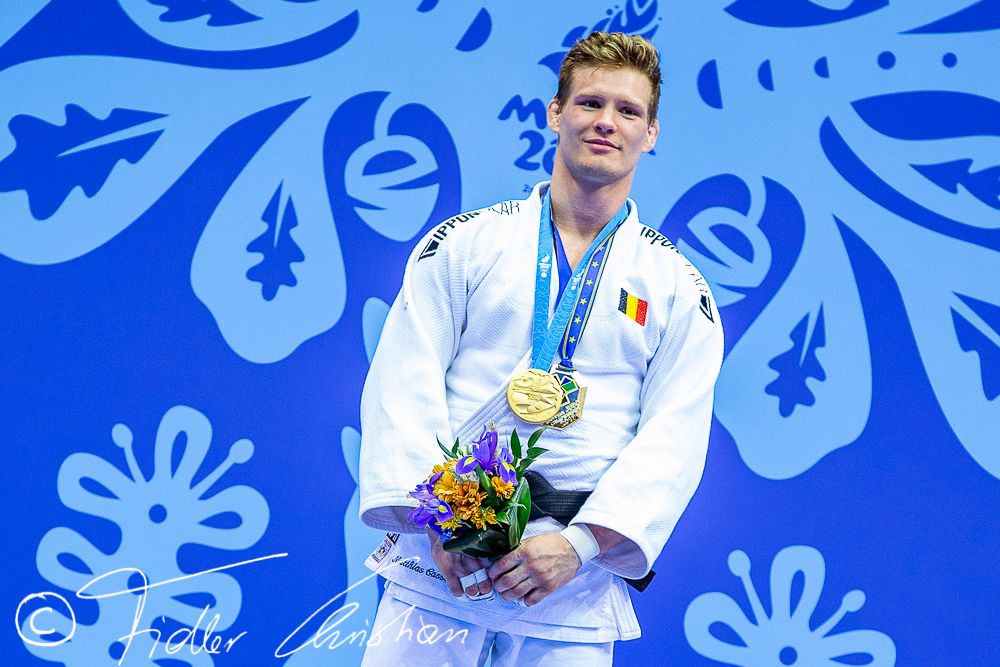 What an tremendous day for Belgian Matthias Casse. He captured the European Games title in Minsk and was among the favourites. The absence of his nemesis Sagi Muki might have helped him in the end, but he was the best of this top field and defeated opponents this he usually experiences difficulties fighting them including 2017 World Champion Alexander Wieczerzak (GER).
In the final Casse overcame Ivaylo Ivanov of Bulgaria. It was a tough day with a lot of big fights, long contests taking a lot of extra time but the condition and preparation was good and from the start he showed he was a top candidate for the title.
JudoInside's Matthias Casse didn't have an easy road with World Junior Champion (his successor) Christian Parlati of Italy in his first contest. Casse showed he is further with his development and progressed to the next round with Robin Pacek, the dangerous Swede who can surprise anyone. Casse won by wazari and Wieczerzak was his next opponent in the quarter final. He was so close last fight but lost. This battle went into golden score but Casse got awarded for a throw by wazari and after more than six minutes he qualified for the semi final against Georgian Luka Maisuradze. Another fight in the golden score, even eight minutes, so conditional it was a huge day for Casse who scored ippon afterall. In the final Casse bested Ivanov by wazari which was enough for the victory and his career best. Finally gold for the Belgian youngster who was always so close to be on the highest stage.
JudoInside: "You know you are close to the world top and you take a lot of medals, however a gold medal is quite unique and must give you a satisfying feeling after such as long day with long contests?"
Casse: "My last gold medal was from the world junior championships in 2017. In between I took a lot of bronze and silver medals. So I'm really glad I finally got a gold again in a big championship. It is very special and to get two medals is nice. It is also nice to be here with Team Belgium. Everybody is supporting each other. I was happy to hear the people in the crowd."
JIC: But does it surprise to be here with the gold medal on your chest?
"My preparation went really good. I felt super coming into this competition. I knew it was going to be tough because there are a lot of opponents I know from before. In the end everything went I how I wanted it to go."
JIC: So now you will be confident for the World Championships, how does your road to Tokyo look like?
Casse: "In two weeks I'm going to compete at the Grand Prix in Canada and after that it is only the preparation for the world championships. There of course I want to be on the podium again and I hope to get a gold medal."
Silver medallist Ivaylo Ivanov: "I am happy I won a medal, but I don't feel too good. I'm not a winner. I don't know what went wrong. Maybe I started too easy and didn't take enough risks. I tried to stay stable for one moment and I lost."
Attila Ungvari took a bronze medal for Hungary: ''I'm very happy for the medal but it wasn't easy, but it was a good experience. The bronze medal match was difficult at the beginning, but at the end I won and I'm very happy and my family will be proud of this.''
Georgia bronze medallist Luka Maisuradze: "At least I got a bronze medal. Obviously, I was aiming for a better result. But this is judo, you never know what is going to happen. Today my opponent in the semi-final Casse beat me in the golden score and next time I hope to do better. I am glad I was able to get the fifth medal for Georgia, and I think there will be more medals on the last day."
Related judoka and events
Related Judo Photos
Related Judo News

Samira Bock (GER)
18 years
| Result | City | Date |
| --- | --- | --- |
| 7 | Paris | 2020 |
| 1 | Tel Aviv | 2020 |
| 5 | Abu Dhabi | 2019 |
| 3 | Tokyo | 2019 |
| 7 | Ekaterinburg | 2019 |
| Result | City | Date |
| --- | --- | --- |
| 3 | Paris | 2020 |
| 3 | Brasilia | 2019 |
| 1 | Zagreb | 2019 |
| 1 | Budapest | 2019 |
| 7 | Hohhot | 2019 |