The latest Judo News offered by JudoInside.com
Abe vs Kelmendi would be the highlight of Tokyo Worlds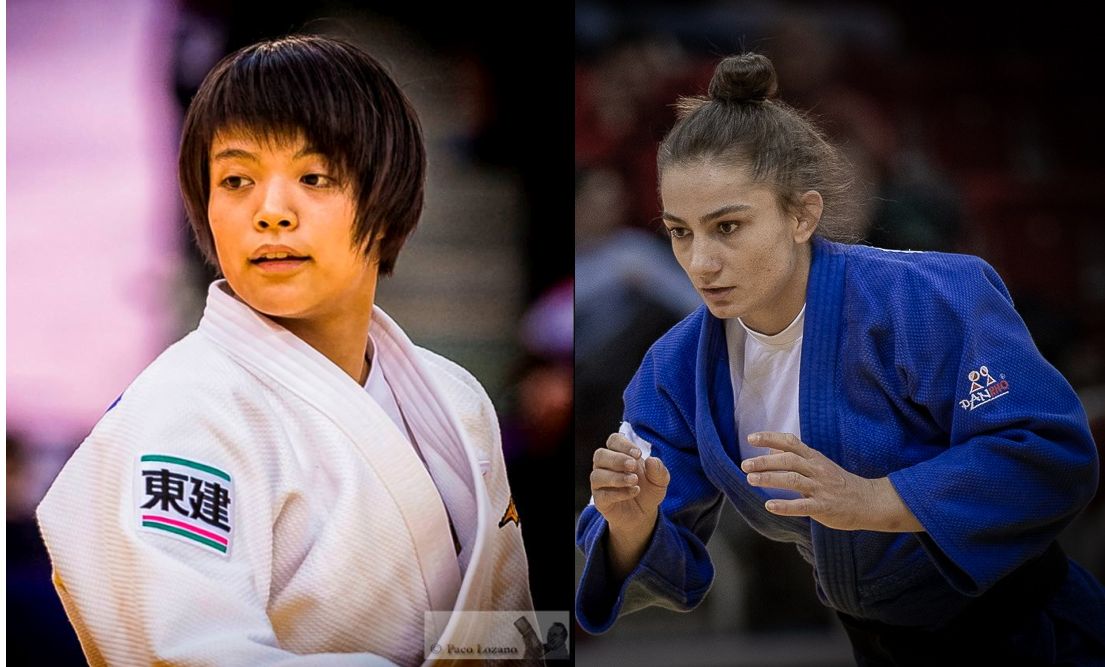 Although Uta Abe has been competing internationally since December 2016, until today she has not met up against Olympic and double World Champion Majlinda Kelmendi in any IJF World Tour events. Although one would expect that these their paths would cross certainly at the World Championships level, this also hasn't happened in the last two editions of the World's.
At the 2017 Budapest World Championships, the two Japanese players sent in the U52kg category were Natsumi Tsunoda and Ai Shishime (who ended up defeating Kelmendi in the semi-final and also beating her teammate Tsunoda in the final).
2018 Worlds
At the 2018 Baku World Championships, Abe had replaced Tsunoda as the second Japanese in the U52kg division but Kelmendi was still recovering from a serious injury, so she did not participate in that event. As it turned out, Abe defeated Shishime in the final, to become World Champion.
Since then, Abe has competed in two IJF World tour events, the 2018 Osaka Grand Slam and the 2019 Hohhot Grand Prix, both of which she won.
Kelmendi back from injuries
Kelmendi returned to competition, after more than a year off to recuperate from a serious injury, in October 2018. She has since competed in the 2018 Abu Dhabi Grand Slam, 2018 Tashkent Grand Prix, 2019 Tel Aviv Grand Prix and 2019 Dusseldorf Grand Prix. She won gold in the last three events but had to be content with silver at the Abu Dhabi event after having to withdraw due to an injury to her face.
There are still three IJF World Tour events to be held before the 2019 Tokyo World Championships (Montreal Grand Prix, Budapest Grand Prix and Zagreb Grand Prix) but it doesn't seem like either Abe or Kelmendi will be going for these. And even if one does, the other might not, so it looks like the first time they will meet up would be in Tokyo.
Let's look at what each player has got going for her.
Uta Abe
Abe has got the hunger and confidence of youth (she's still only 18 years old) on her side. Technically, she is equally comfortable fighting in tachi-waza and newaza. And she has got home ground advantage in Tokyo. So far, she's had 42 international fights under her belt with only one defeat, to teammate Tsunoda in the final of the 2016 Tokyo Grand Slam. She fought Tsunoda again in 2018 at the Osaka Grand Slam final and this time, it was Abe who won. Other than that single defeat in 2016, Abe has had a string of 41 consecutive victories at the international level.
Majlinda Kelmendi
Kelmendi, although already 28 years old, is still as strong as ever. In fact, in terms of pure physical strength, she is probably the strongest player in her category. She's got superb throwing capabilities and seems more inclined to throw than to do groundwork. With 263 international competitions under her belt, she is a seasoned fighter and the pressure of competing in Tokyo will probably not faze her one bit. It's worth remembering that she won her first World title in 2013 in Rio while battling home favourite Erika Miranda, who had the whole stadium rooting for her.
Erika Miranda nemesis
Speaking of Miranda, the 32-year old Brazilian has beaten Kelmendi three times before, at the 2010 Tokyo World Championships, 2015 Abu Dhabi Grand Slam and the 2017 Budapest World Championships. So, she could pose a threat to Kelmendi. The other threat is Japan's former World Champion, Ai Shishime, who had beaten Kelmendi at the 2017 Budapest World's.
It's worth noting that Abe has never fought Miranda. She has, however, fought Shishime in four IJF events and won all four times.
Abe-Kelmendi match up
Abe is right-handed while Kelmendi is left, so it would be a classic kenka-yotsu (opposite stance) situation. This could be an ideal situation for uchimata, which both players are adept at. Kelmendi would probably have the upper hand in terms of pure physical strength and would try to pull Abe's head down so she could do either an uchimata or some kind of hip throw. Abe has very strong groundwork so if the match goes to the ground, she has the advantage there.
Without question, an Abe-Kelmendi showdown at the 2019 Tokyo World's would be one of the highlights of the tournament. Two World Champions, right vs left, youth vs experience, battling it out for the world title. Surely a sight to see.
Patreon
Read more sticky judo content on Patreon
Related judoka and events
Related Judo Photos
Related Judo Videos
Related Judo News

Iván Duarte (ARG)
27 years
| Result | City | Date |
| --- | --- | --- |
| 2 | Düsseldorf | 21 Feb |
| 1 | Budapest | 2019 |
| 2 | Qingdao | 2019 |
| 1 | Osaka | 2019 |
| 1 | Odivelas | 2019 |
| Result | City | Date |
| --- | --- | --- |
| 1 | Düsseldorf | 21 Feb |
| 2 | Osaka | 2019 |
| 1 | Tokyo | 2019 |
| 1 | Tokyo | 2019 |
| 1 | Hohhot | 2019 |