The latest Judo News offered by JudoInside.com
Medals for the European Games in Minsk unveiled
Local Organising Committee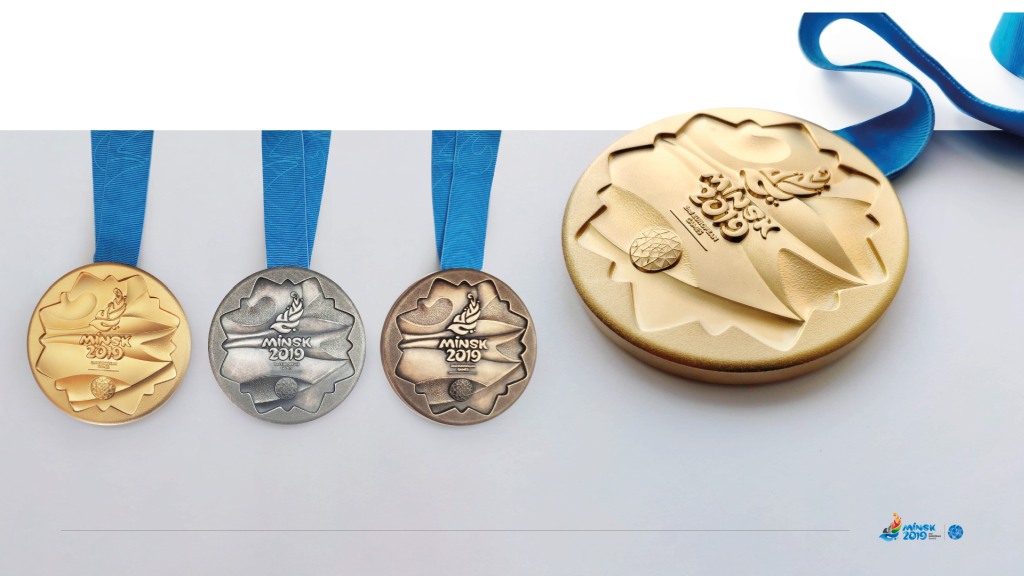 The prize and commemorative medals of the 2nd European Games were presented a month before the start of the multi-sport event. The torch relay has already started. The relay symbolises the core principles of the Olympic movement: understanding, friendship, an atmosphere of solidarity and global unity, as well as the harmonious development of the human body and soul.
The shape of the medal is a classical circle in the middle of which there appear to be sunbeams with fuzzy outlines. This is exactly how the sun looks on a bright summer day - a nod to the season when the 2nd European Games will be held. The end of June is the hottest time during the Belarusian summer when the sun seems to be melting in the sky. A design without any sharp edges also symbolises the main characteristics of the Belarusian people: softness, friendliness, heartiness and a closeness to nature. The diameter of the medal - 9.5 cm - comes about from the 9.5 million people who live in Belarus. The case for the medals, made from wood, will add to the cozy feel and warmth of the prize. It brings forth associations with traditional Belarusian crafts, Belarusian nature and, in part, with forests. It is here in the very heart of Europe, as legend claims, that the magical flower Paparats Kvetka blooms and makes dreams come true.
A total of 1,084 medals will be made for the 2nd European Games, including 329 gold and silver medals, as well as 426 bronze medals. The name of the sport and the discipline in which the medal is awarded will be engraved on the back of each medal. Each medal will be packed in a wooden case made from hardwoods, which will have the logo of the Games embossed on the top in a colour that corresponds with the medal (first place - gold, second place - silver, third place - bronze).
The 2nd European Games will take place in Minsk from 21 to 30 June 2019 across 12 sporting venues. More than 4,000 athletes from 50 countries will compete for 200 sets of medals in 15 sports. Competitions in eight sports will double as qualifiers for the Tokyo 2020 Olympic Games.
Related judoka and events
Related Judo Photos
Related Judo News

Gulzhaz Saiimova (KGZ)
33 years
| Result | City | Date |
| --- | --- | --- |
| 1 | Paris | 8 Feb |
| 1 | Qingdao | 2019 |
| 2 | Osaka | 2019 |
| 3 | Brasilia | 2019 |
| 1 | Tokyo | 2019 |
| Result | City | Date |
| --- | --- | --- |
| 5 | Paris | 8 Feb |
| 3 | Qingdao | 2019 |
| 1 | Osaka | 2019 |
| 2 | Chiba | 2019 |
| 5 | Budapest | 2019 |