The latest Judo News offered by JudoInside.com
Majlinda Kelmendi ten years after her golden debut in judo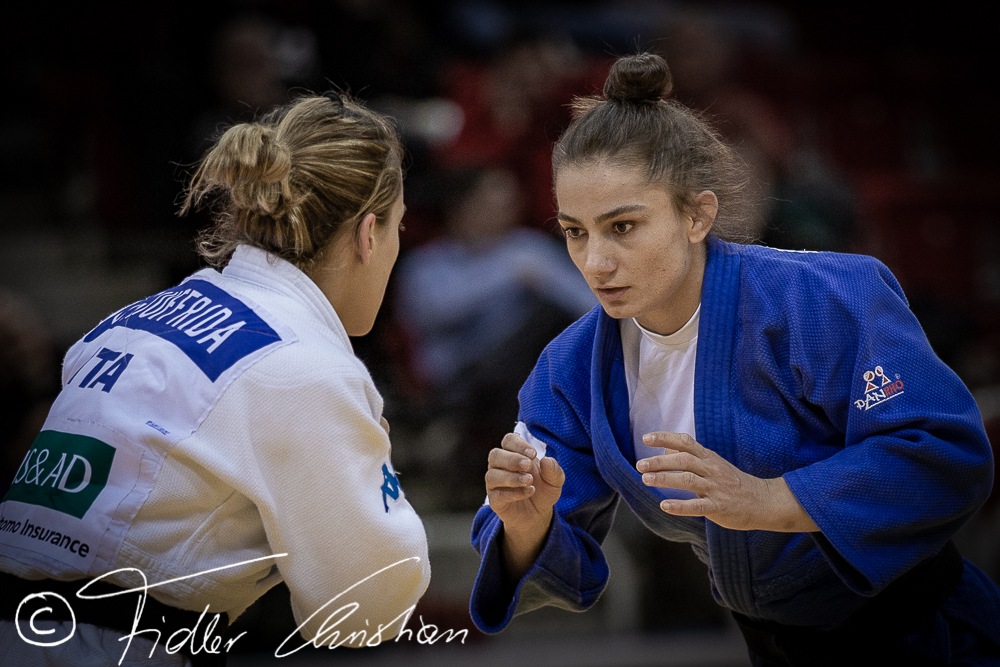 The U52kg was always dominated by Asian athletes. Since the 2004 Athens Olympic Games Asian women won the World and Olympic titles. Majlinda Kelmendi of Kosovo was the only exception two win three major titles. Kelmendi turned 28 and is working on a big comeback going for those big titles. Ten years at top level Majlinda Kelmendi catapulted sports in Kosovo.
Ten years ago we didn't really know Majlinda Kelmendi, from Kosovo. Okay, we saw the name of the tiny Kosovarian a few times at small tournaments in Switzerland or closer at home in Sarajevo, but in 2009 her career really lifted off with participation at the senior World Championships at the 18th. Quite rare for such a new country Kosovo that was still recovering from the Yugoslavian war. Normally we would have recognized young talents at some cadet European tournaments, but Kelmendi was still under the radar. Obviously she couldn't impress at the senior World Championships in Rotterdam in her second year in her current category U52kg. But any fighting experience she integrated into her system and despite she didn't win any official European cadet tournament, she competed at Junior level and debuted with a European junior title in Yerevan (ARM), the first serious step into recognition of this raw diamond coming out for Albania as it took another six years before the federations were able to recognize Kosovo as a member of the international judo world. All of this was the effort of Majlinda Kelmendi, coach Driton Kuka, NOC president Besim Hasani and IJF President Marius Vizer. It started though with the amazing performances of Kelmendi in that first junior year, as the European title was followed by the world title for juniors in Paris. Majlinda Kelmendi was meant to stay, to win and to be meaningful for her proud country.
Recognition of Kosovo
It resulted in three European titles, two world titles and the Olympic gold medal in 2016. But it was much more, it lifted Kosovo into a recognition, she was asked for any kind of sports promotion, she carried the flag of her country at the Rio Games and despite all injuries she also supported her fellow talents from Kosovo. She was everywhere to support her younger 'brothers and sisters' who may now aim for a team effort at the 2020 Tokyo Games.
Ten years later after her first Junior World title, Majlinda Kelmendi is aiming to qualify for Tokyo 2020 and to prolong her title. She turned 28 today and the competition is severe but the four time Paris winner is working on her comeback year with success. She won her last three IJF World tour events.
Natural promotor
Besides all of this, she is a very kind person, a natural promotor, a judo nomad showing interest in her friends and judo family. She is the number eight of the World Ranking but will soon rise even more and jump to the top. The best athletes know how to peak, one of the milestones will be the World Championships this year. Despite her debut ten years ago, she competed at only six World Championships due to several injuries. There's new competition from Japan with Ai Shishime who defeated Kelmendi in 2017 in the semi finals and obviously everyone is looking forward to a head to head with Uta Abe, the new World Champion in this category.
Judo is still evolving, becoming stronger as the U52kg wasn't so exciting ten years ago as it is right now. It was almost a boring category dominated by the Japanese, but Kelmendi was the only non-Japanese World champion of the last decade and she spiced up the category.
Competitors
With Kelmendi who celebrates her birthday other athletes flourished like Erika Miranda (BRA) who retired last year, Natalia Kuziutina (who turned 30 on Wednesday), Andreea Chitu (31 last Tuesday), and colourful winner types like Odette Giuffrida and Amandine Buchard. The U52kg category is alive and not only dominated by Japanese athletes, but Kelmendi has the key to open the box again that is locked by Abe and Shishime. Who will open it, starting this weekend in Baku.
Related judoka and events
Related Judo Photos
Related Judo Videos
Related Judo News