The latest Judo News offered by JudoInside.com
Teddy Riner's long absence, but still very popular
by Oon Yeoh of JudoCrazy IJF Media Team / International Judo Federation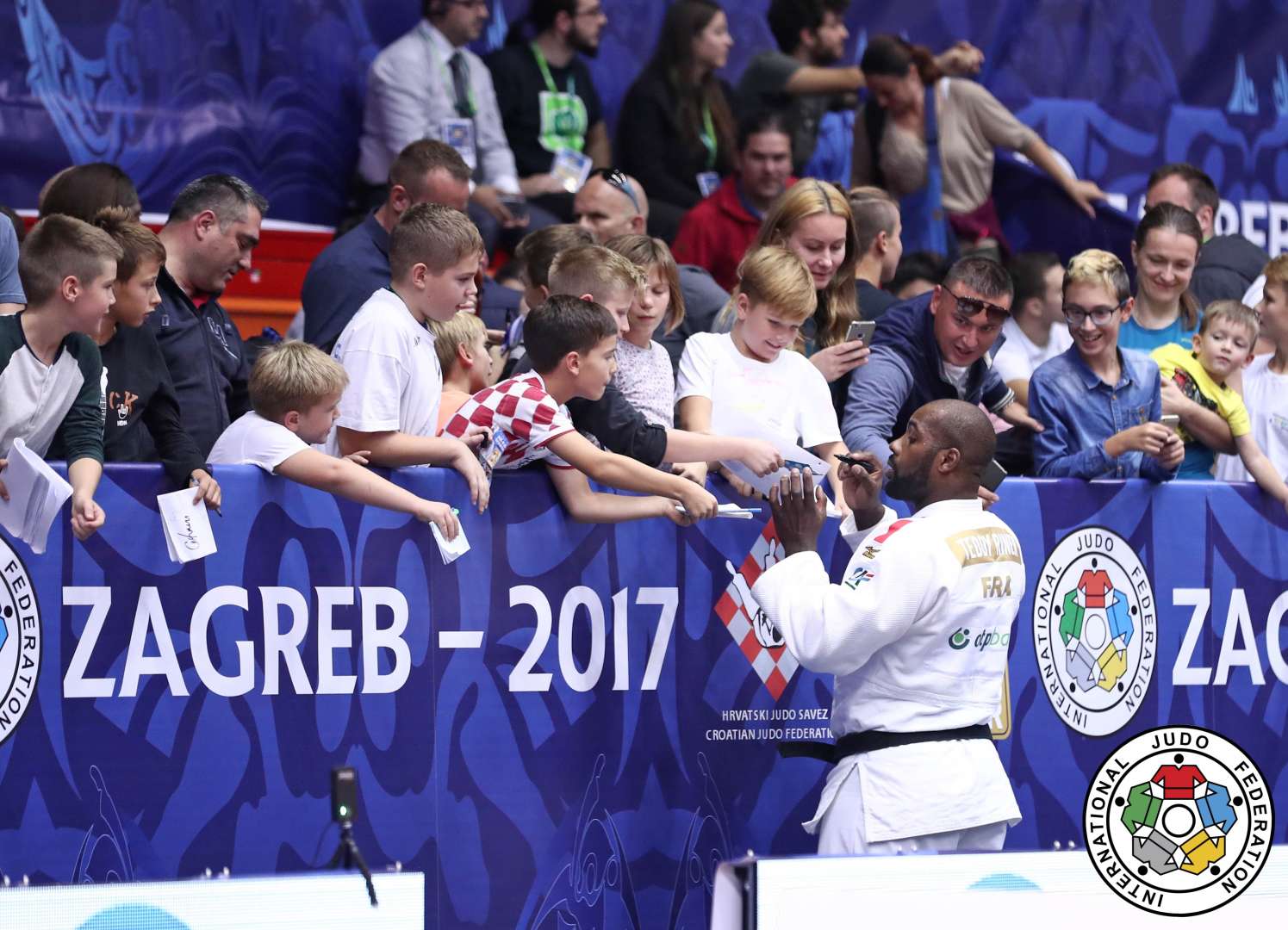 To understand Teddy Riner's absence from International competition, we spoke to Anthony Diao, a journalist and a black belt judoka who writes for the French magazine L'Esprit du judo, and for the blog of Judo Canada.
Riner has been absent from competition from more than a year. Why has he been away for so long?
In answering this question, I need to first give some context. I'm French journalist and a judoka but I'm not training at the Insep or Paris Saint-Germain (Teddy Riner's club since 2017), so I don't have the inside scoop on Riner. That said, I have been covering judo since 2006 and I have read his biography, watched his documentaries and interviews and so on, so I can give some insights.
In one long interview he gave in December to my teammates of L'Esprit du judo, Riner explained that he needed to refresh his body but also his mind. People forget that since 2007, and the first of his 10 World titles, Riner was on nine occasions the only gold medallist from the French men's team (Loïc Pietri, at -81kg, also won gold in 2013). He's also been the only French male to win a gold medal in the past two Olympics.
So, the pressure on him is huge. He is expected to win every time. Not only for himself but for his country. Most of the time, he starts competing the last day of the championships, after having seen day after day his teammates failing to get the gold, or even a medal of any colour. That is the kind of burden he has to bear.
Is there any chance he might have become "rusty" having been away from competition for so long?
According to him, the main problem for now is his weight. He needs to lose some weight to be able to move faster, like the fighter he was in the past. Right now, this is more important than ever before because of the presence of former U100kg fighters like Tushishvili (GEO), Krpalek (CZE), Sasson (ISR), Grol (NED), Naidan (MGL), Granda (CUBA) and so on. The pace and rhythm of the heavyweight category is a lot faster now.
Who among today's heavyweights do you see as the main threats to Riner?
A confident and hungry guy who has never fought him before, like Tushishvili in Budapest 2017, would always be a threat. Perhaps Krpalek or a Russian? Harasawa (JPN) is another threat. They had a close fight in the Rio 2016 final. Harasawa's performance has been spotty in recent months but he seems to be doing well lately.
One of the French coaches I spoke to in Baku said when Teddy Riner wants to qualify for the Olympics, he will get the points just like that. Is it really that easy for him?
Logically he should be able to qualify but there is always a risk. What if he gets injured and cannot fight for some time? That would certainly affect his chances of qualifying. What would happen if, for some reason, Riner doesn't qualify? Based on the rankings right now, there is a tiny but real possibility that the French men's team might not be able to send any athletes to Tokyo 2020. What a disaster that would be. So again, the burden on Riner's shoulders is a huge one.
Is it true he might skip the 2019 Tokyo World Championships?
That was what he said in April 2018 but he might have changed his mind. In the same interview he gave our magazine, Riner said that at the very least he will fight in the mixed teams event. This was something the coaches asked of him. As for the individual competition, this is what he said: "We'll see how I feel, if I feel well. And also, I have to qualify for the Olympics."
Just how popular is Riner in France?
I did an interview with another top athlete who had studied in the same class as Riner. He told me that one morning, Riner wasn't able to use his car so he took the metro. Normally the trip would take half an hour but that day, he took three hours to arrive because he was completely mobbed on the metro. Everybody wanted to take a picture with him.
In 2012, at the National Championships in Montpellier, in the south of France, Matthieu Bataille was surrounded by at least 20 kids asking for his autograph. I was about 10 meters from him, talking to someone when all the kids started running towards me, asking "Is it true that you are Teddy's father?" I turned my head and saw Bataille laughing his head off. Imagine, the kids who were initially seeking Bataille's autograph just dropped everything and ran towards who they thought could be Riner's father. These two stories should tell you just how popular he is in France.
Thanks to Anthony Diao
Related judoka and events
Related Judo Photos
Related Judo Videos
Related Judo News

Milos Mandic (SRB)
23 years
| Result | City | Date |
| --- | --- | --- |
| 2 | Düsseldorf | 21 Feb |
| 1 | Budapest | 2019 |
| 2 | Qingdao | 2019 |
| 1 | Osaka | 2019 |
| 1 | Odivelas | 2019 |
| Result | City | Date |
| --- | --- | --- |
| 1 | Düsseldorf | 21 Feb |
| 2 | Osaka | 2019 |
| 1 | Tokyo | 2019 |
| 1 | Tokyo | 2019 |
| 1 | Hohhot | 2019 |