Six winning nations at Euro Open Prague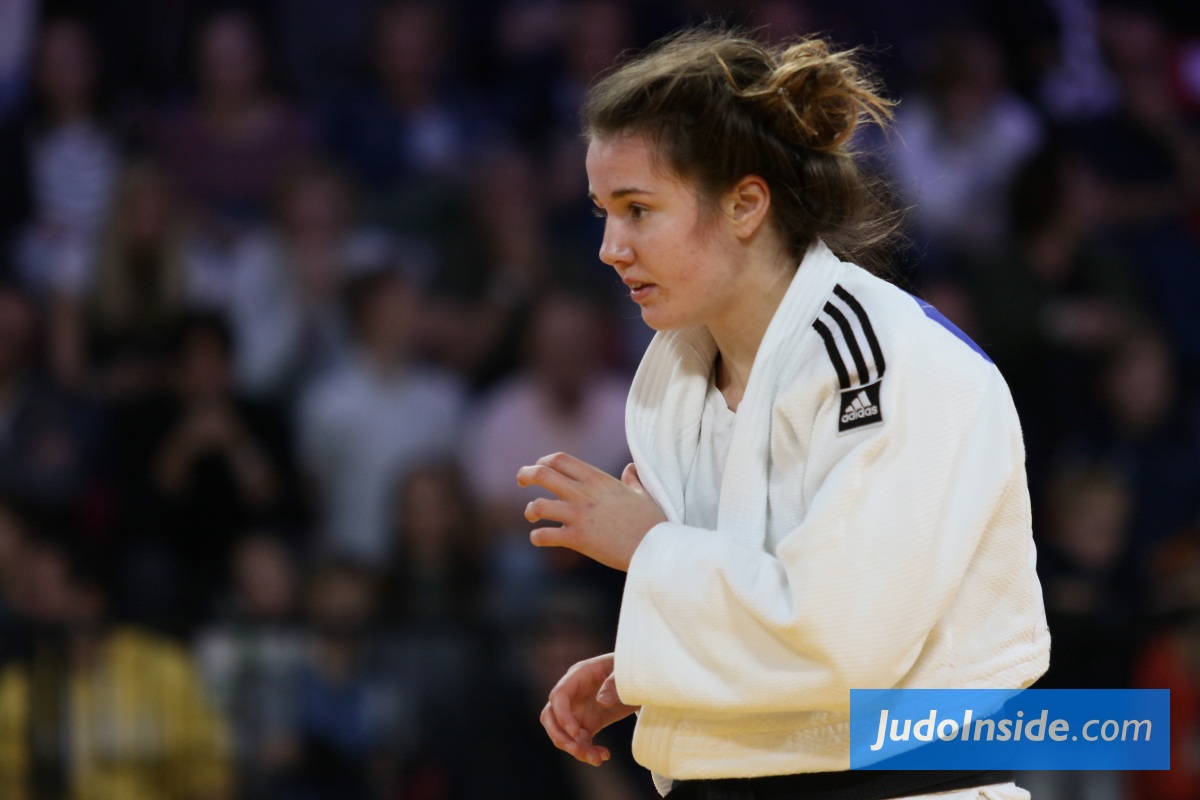 3 Mar 2019 00:45
JudoInside.com - Hans van Essen / judo news, results and photos
Surprisingly the Chinese team took two gold medal at the European Open for women in Prague. In total the Chinese collected six medals. Six nations won the titles in Prague.
The first gold however was for France, with three French on the podium U48kg. Blandine Pont captured the gold against Justine Deleuil. U52kg there was an all Mongolian final won by Sosorbaram Lkhagvasuren. Former Romanian European Junior Champion Larisa Florian debuted for Azerbaijan with a fifth place and lost in the semi final against the later winner and she fought five contests. Lkhagvasuren's win was not a surprise, the teen prodigy is on form taking silver last week at the Grand Slam of Düsseldorf.
Podolak on form in March
The Czech crowd saw Arleta Podolak getting back with a gold medal. Podolak grabbed gold in her last four international medals and this time defeated Eteri Liparteliani of Georgia in the final U57kg. Podolak is always strong in this time of the year and in a field with 32 women the Polish middleweight had to fight five contests and started with British Chelsie Giles, normally not a warm-up contest, as Giles is one of the European talents. Podolak continued with Viktoria Majorosova (CZE), Maayan Greenberg (ISR) and all fights took at least four minutes. In the semi final Podolak won by ippon against Vera Zemanova (CZE) and bested Liparteliani by ippon in 74 seconds. Not a bad day for the Georgian women who took two silver medals.
Experienced Yang
Junxia Yang is not a surprise as gold medallist. The Chinese is super experienced and won the Grand Prix in The Hague last year. On Saturday she outclassed all her opponents by ippon. She reached the final by three straight victories, all in two minutes and defeated Lucy Renshall (GBR) in the final in the last minute of regular time by ippon as well. With her 29 years, Yang was the oldest winner in Prague, quite a difference with 17-year old Lkhagvasuren who won U52kg and has a nice future in progress.
Howell back on the highest podium
The British did book success with a gold medal for Gemma Howell, her first international victory U70kg and 4.5 years after her last victory at the Euro Open in Glasgow, with too many injuries in between. Howell kept German Sarah Maekelburg of the gold. Howell was efficient in Prague with four victories in seven minutes fighting. It gives her chances of competing for Great Britain at the Tokyo Olympics next year a huge boost. Howell: "After back to back knee and neck operations I'm super happy to be back on the podium. "My mom came to watch me in Czech with Hungarian money. I walked onto the wrong mat for my final. I wonder where I get it from."
Ausma tests 78kg
Dutch woman Natascha Ausma had to work harder given her minutes on the mat, also in four fights, but double the time of Howell, 15 minutes. Ausma was one of many Dutch top fighters U70kg with Van Dijke, Polling and Jager, all in the top 40 of the world ranking. Ausma repeated her victory in Prague of 2017 and in fact prolonged the Czech Open title, but now U78kg which seems to be her new weight category as she also won the Belgian Open. Not that there's less competition with Steenhuis, Verkerk, Stevenson and Lucassen, but Ausma feels well given her stable performances and may be able to impress U78kg as a 'lightweight' in this division. In the final she defeated French Fanny Posvite in quite a good field.
The heavyweight title went to China that won the medal table. Yan Wang, the number nine of the World Championships and last year's finalist at the Grand Slam in Paris won gold in Prague. In the final she defeated Sophio Somkhishvili of the successful Georgian team, no gold but three medals is the best ever performance for Georgian women outside Tbilisi.
Host nation Czech Republic saw Marketa Paulusova and Vera Zemanova taking a fifth place.